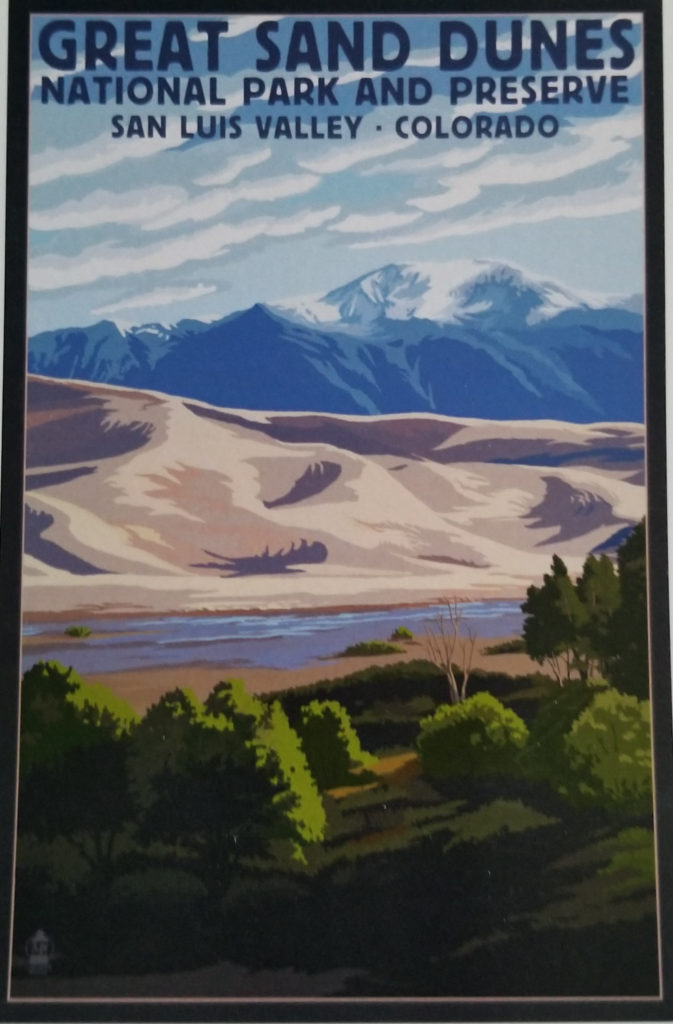 The kids were SO excited to go to this park, because, well, SAND DUNES. Having been to dunes before on our trip, we know it's a guaranteed hit with the kiddos. Nothing is better than an enormous pile of sand.
When we dove in, towards the park, this is what I saw…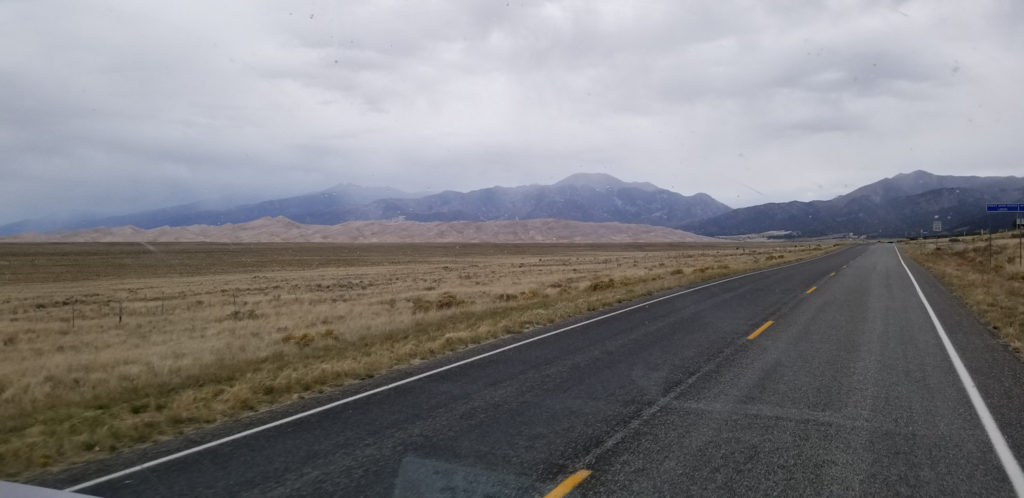 Honestly, I was like, "That's it?". Yes. That pile of sand dumped in front of the mountains. It just didn't seem that impressive.What I didn't realize is that this road continues for another 8 miles or so, so I sorely underestimated their size.
Let me answer the question almost everyone asks… why giant sand dunes in the middle of Colorado? Well, this valley was an ancient sea bed and after it dried up, the winds basically blew the sand into the Sangre de Christo mountains. In the spring, the runoff creates mini rivers around the dunes (that you can totally splash in in the spring) and washes more sand and dirt down. The air patterns in the area make for a kind of sand recycling machine and blows everything back up. The tallest dune is around 750′ and the park service is 100% for everyone frolicking in the sand, including sand boarding. It's pretty great.
That's about it. We camped in the park, right next to the dunes, and played in the sand for 2 days. The rest is just pictures, so enjoy!
Deer at our campsite. A nice welcome.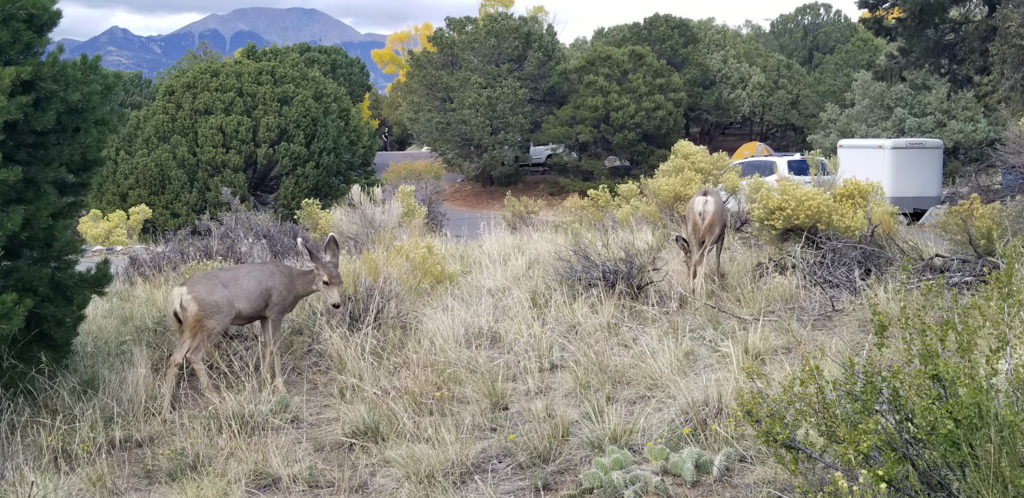 We arrived in the afternoon, so did a mini exploration behind the "big" dunes… called "The Pit" before it got dark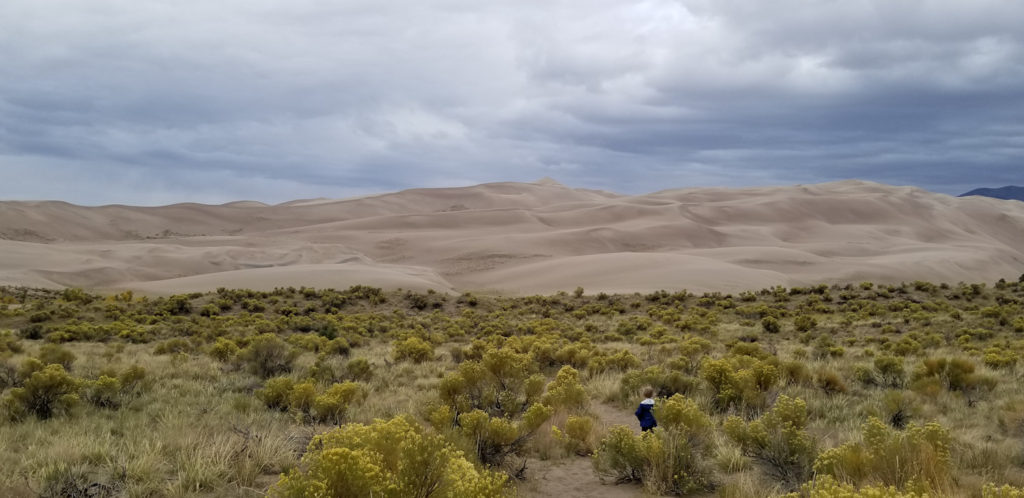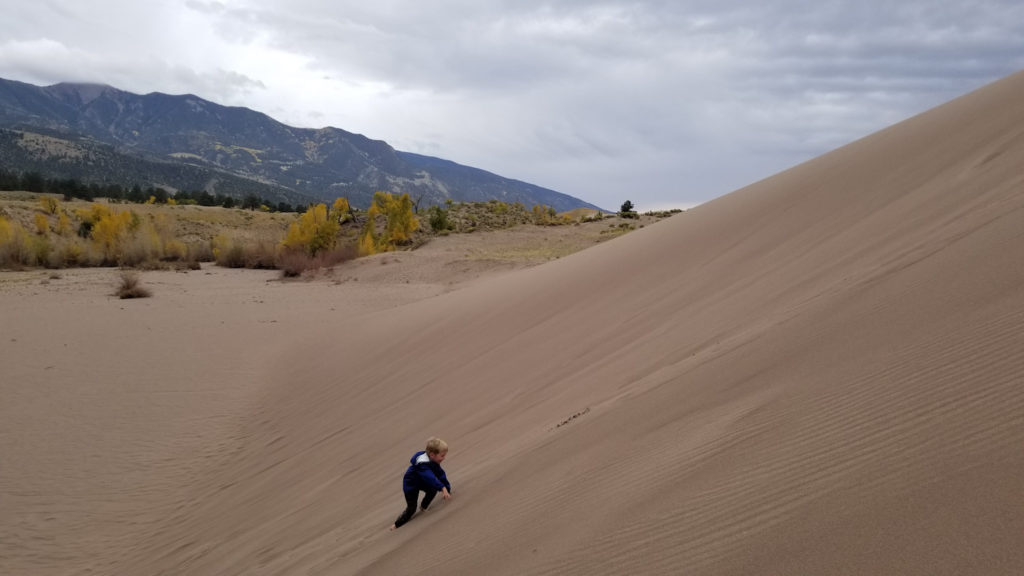 I got excited too…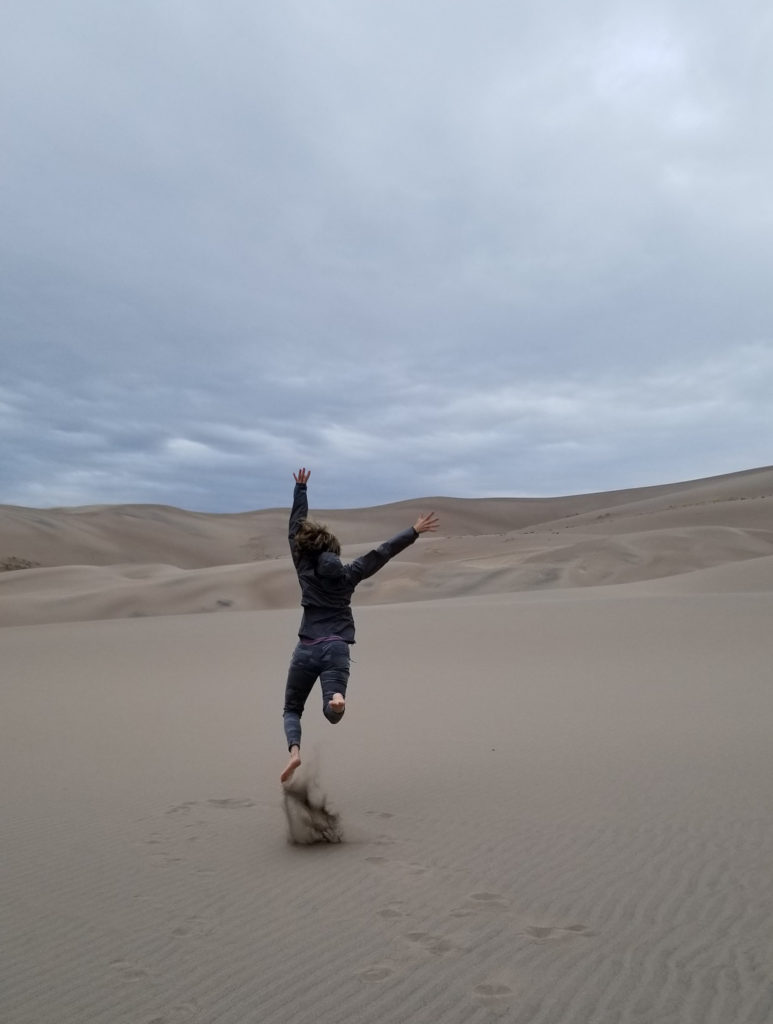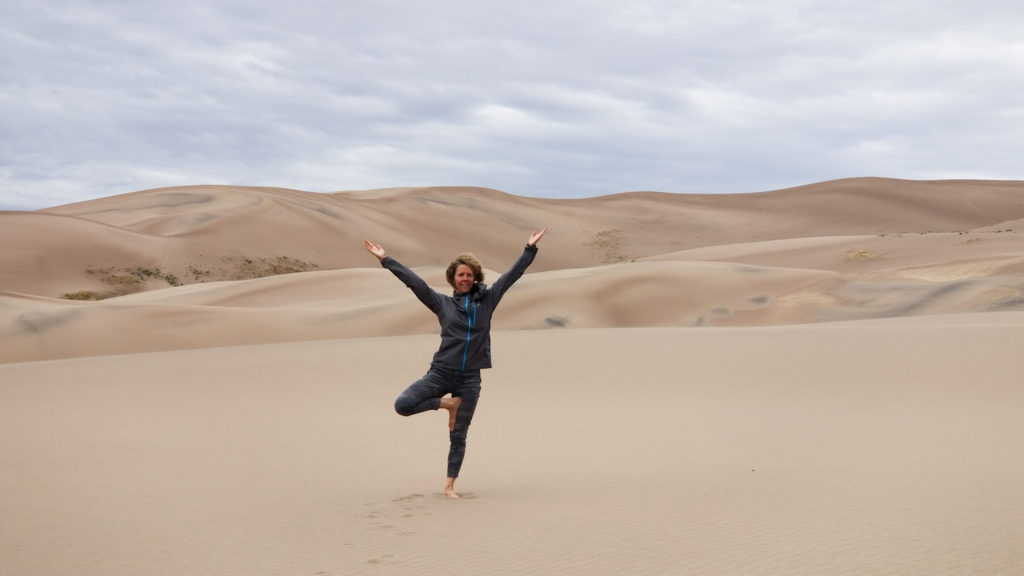 Walking in sand is tiring. Especially with a 35lb kid on your shoulder.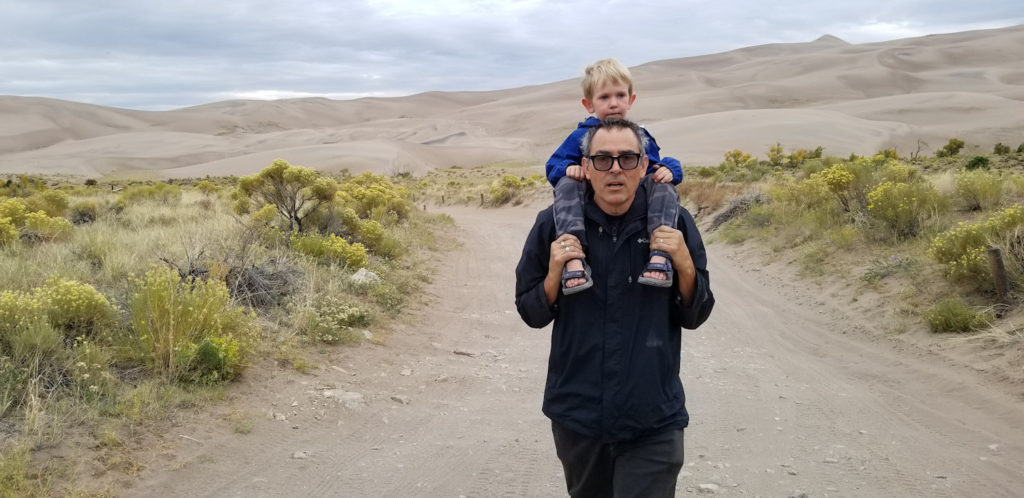 The next day we tackled the Dunes on the front side.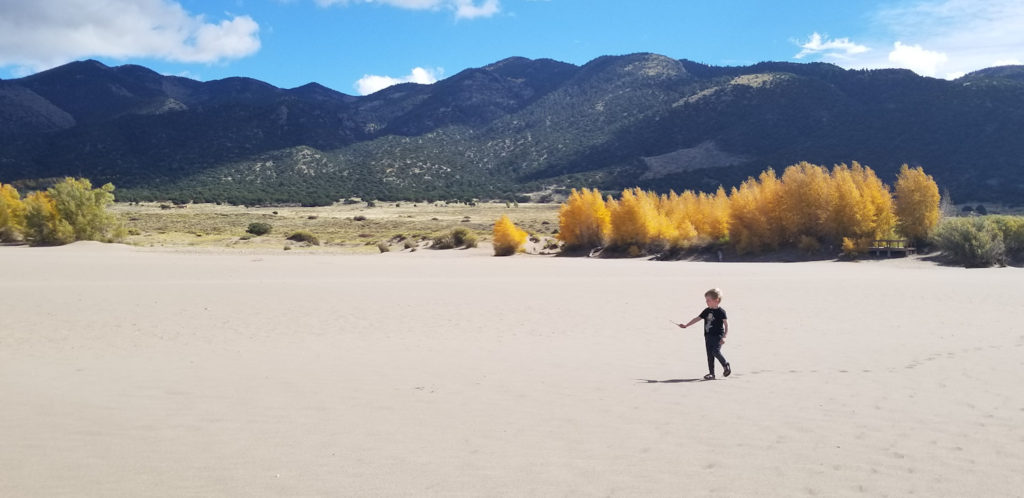 We had a grand idea to climb to the top but as we started, realized it was NOT going to happen. Behind me is Forest, Alan, then Harlan.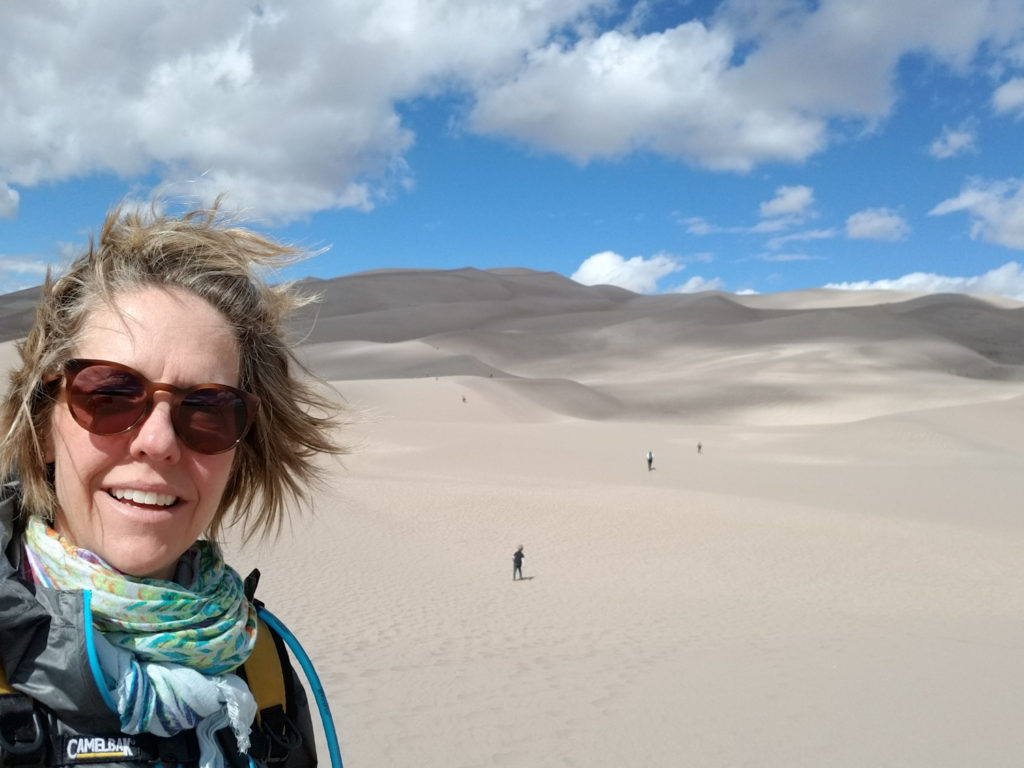 Following the ridge to the peak on the right was the best we could do with the kiddos.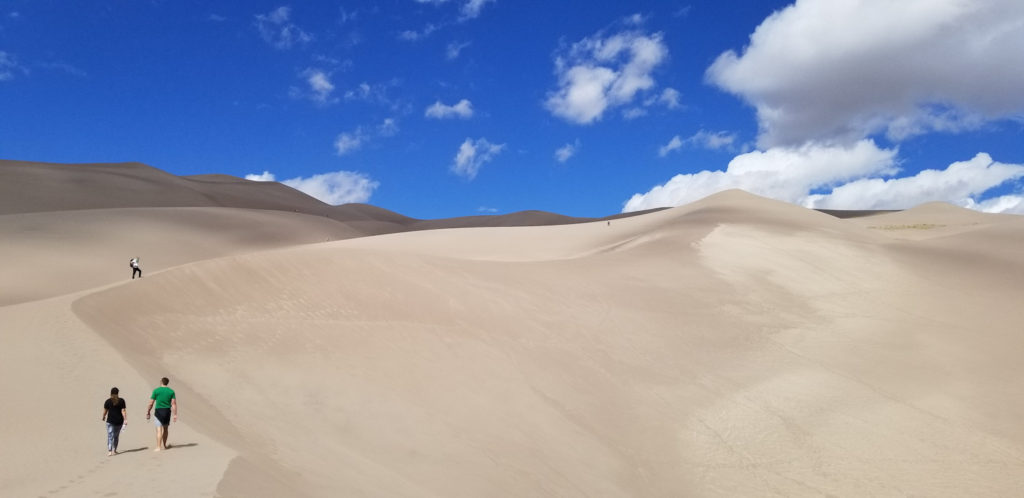 The kids frolicked in a giant sand pit below while Alan and I climbed on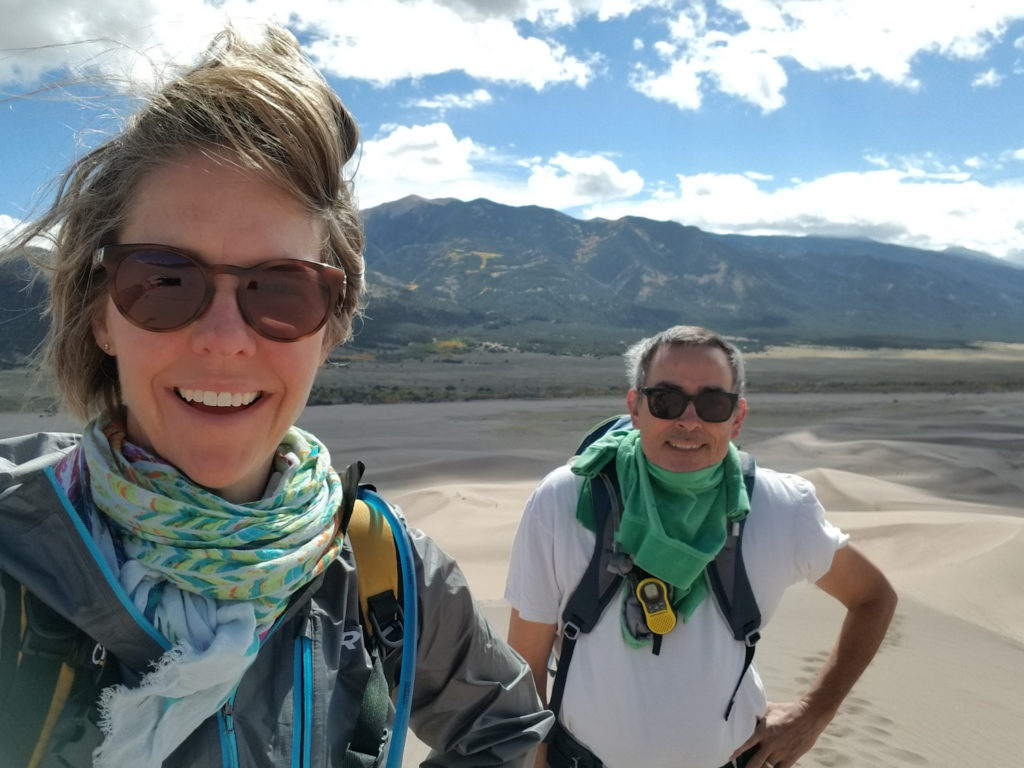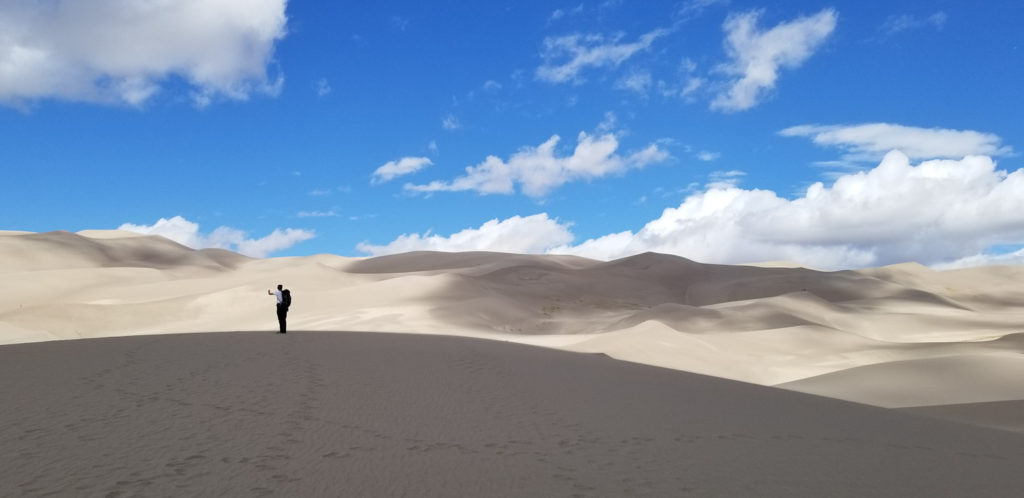 Getting closer to the top!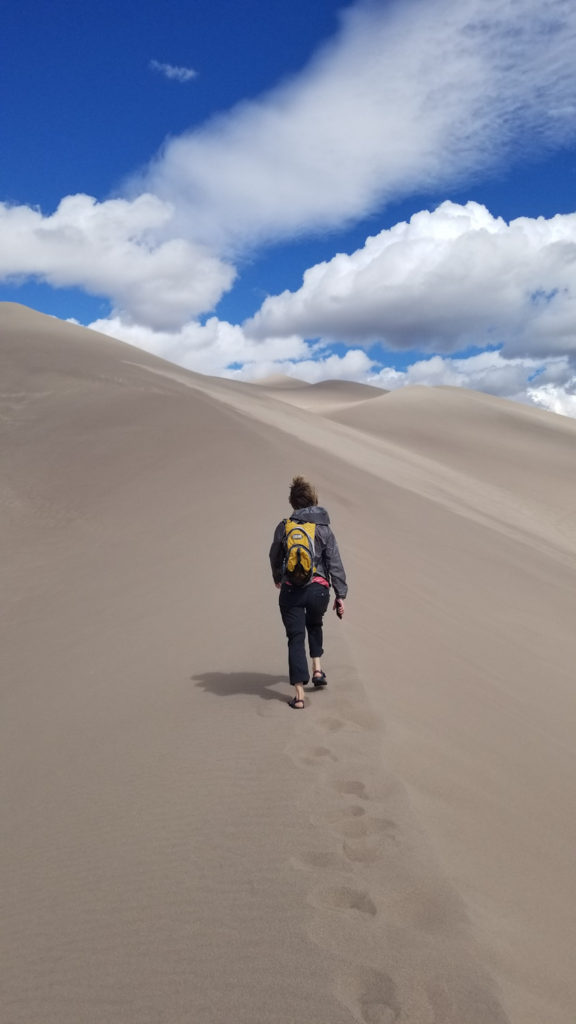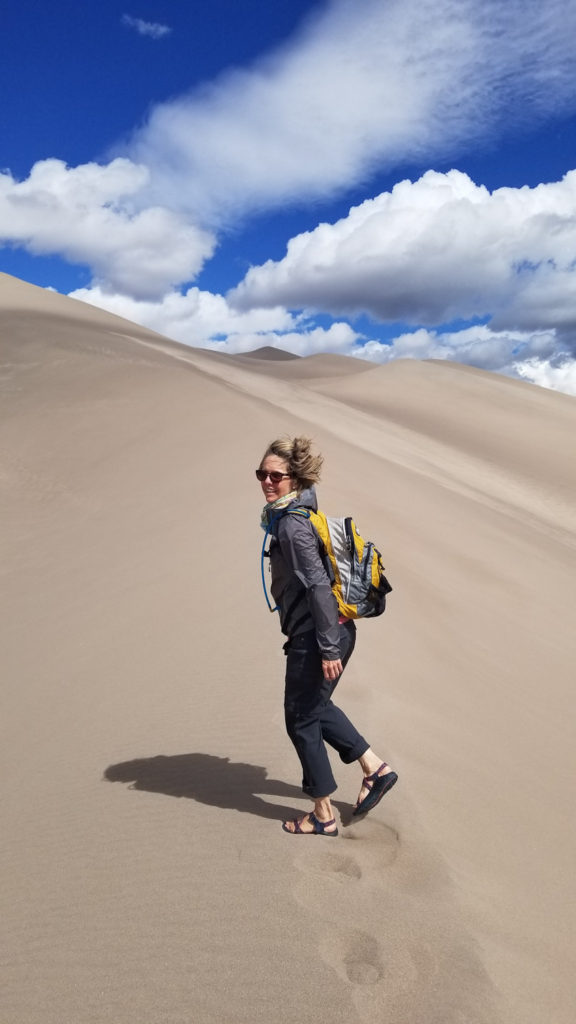 Once we got to the top, Harlan wanted to climb up to meet us. Alan went down to be with Forest while I waited for Harlan to trek up. Here is some perspective on that…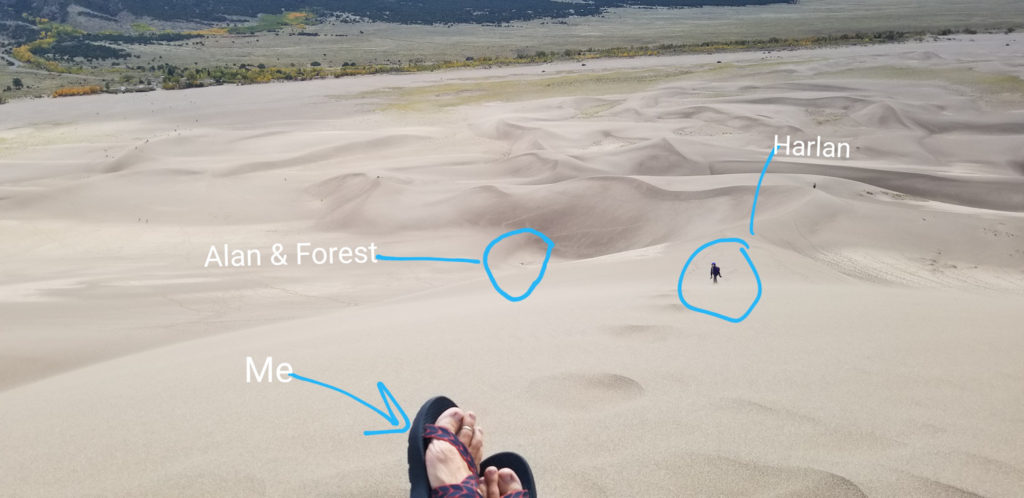 The wind was blowing real hard…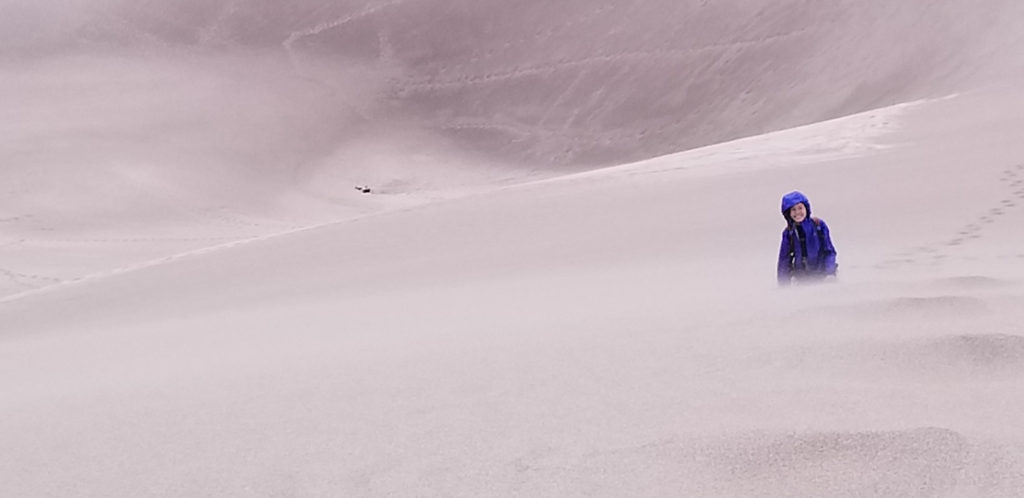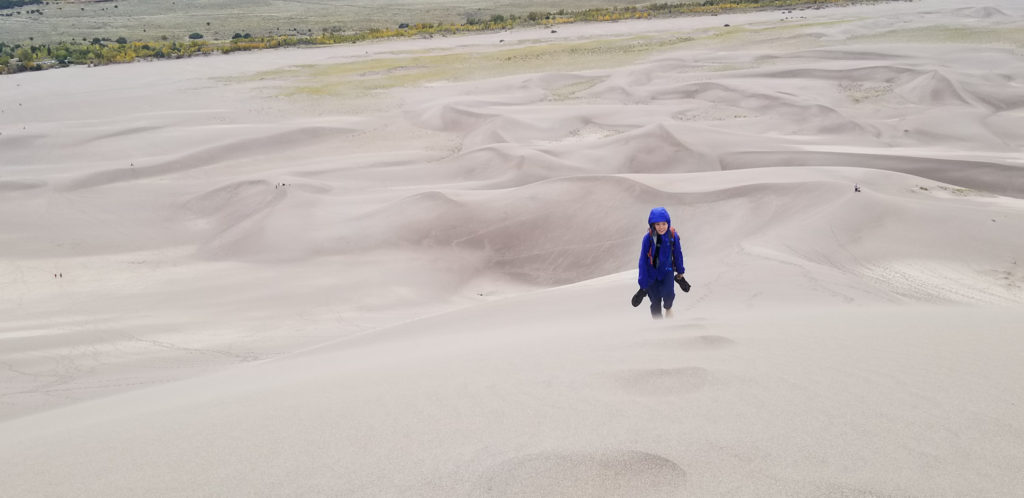 Amazing views while I waited…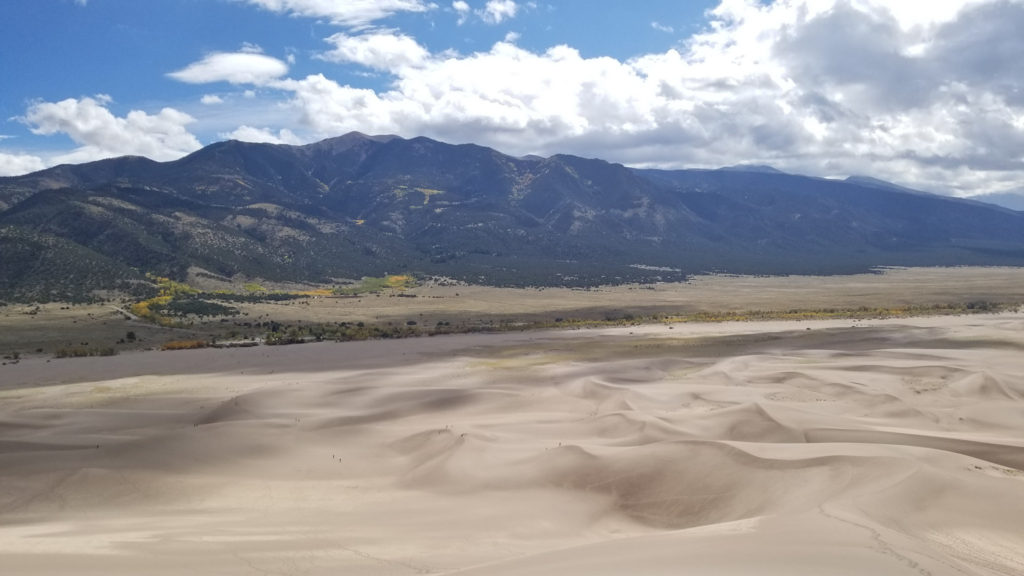 Sand and Sky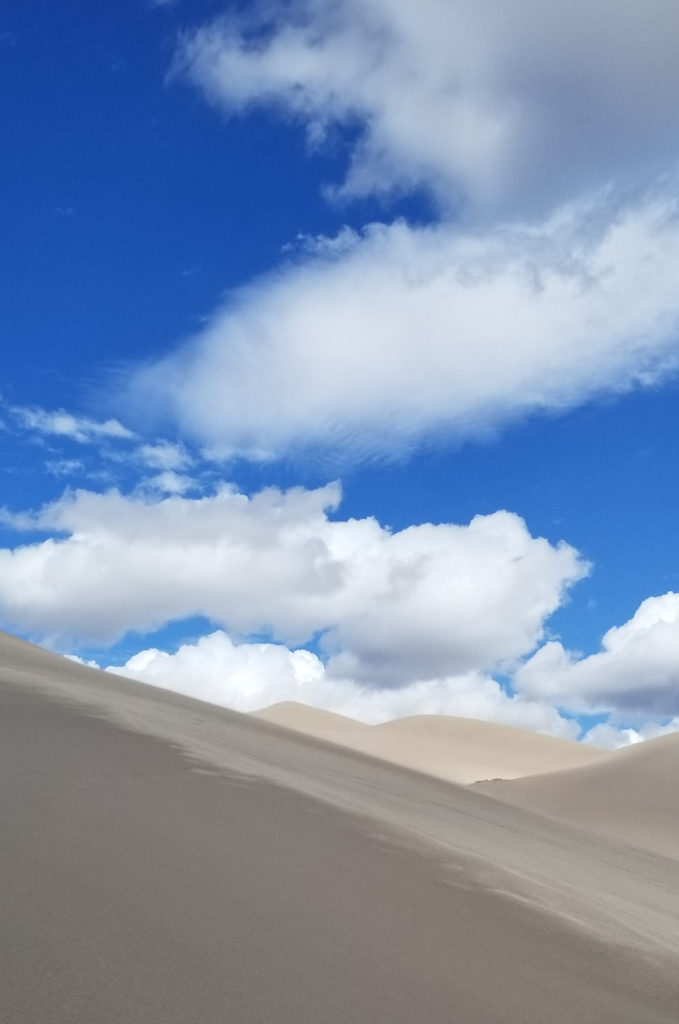 And he made it! And in 2 minutes, we were back down at the bottom.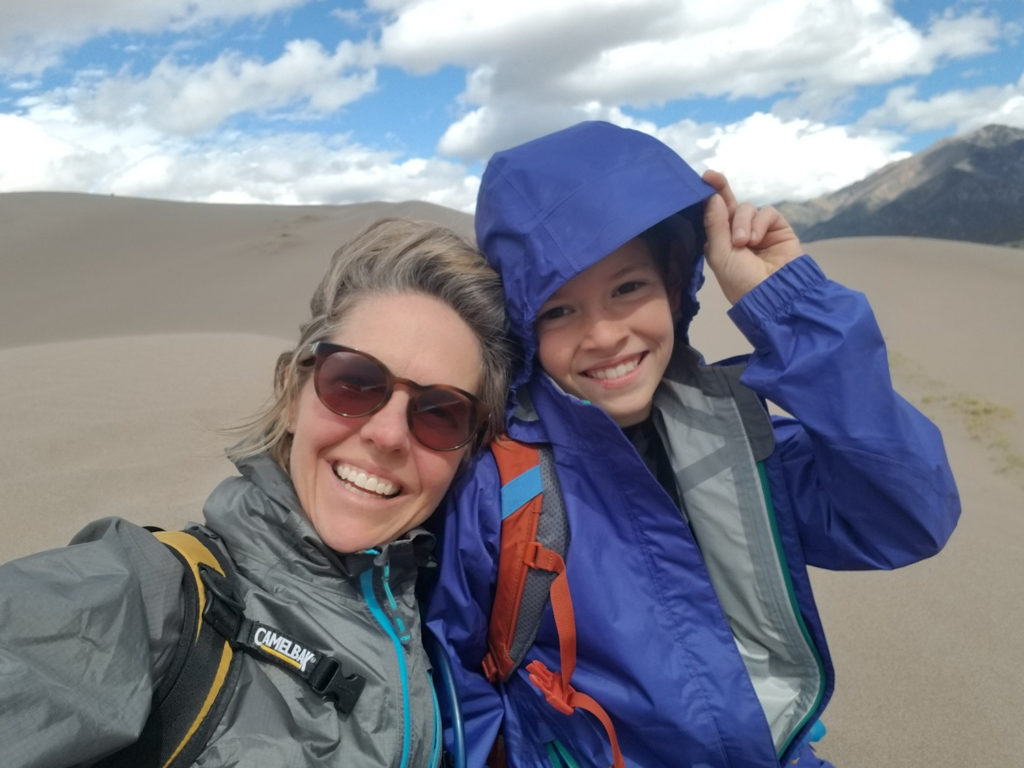 Harlan got his ranger badge after playing in the sand…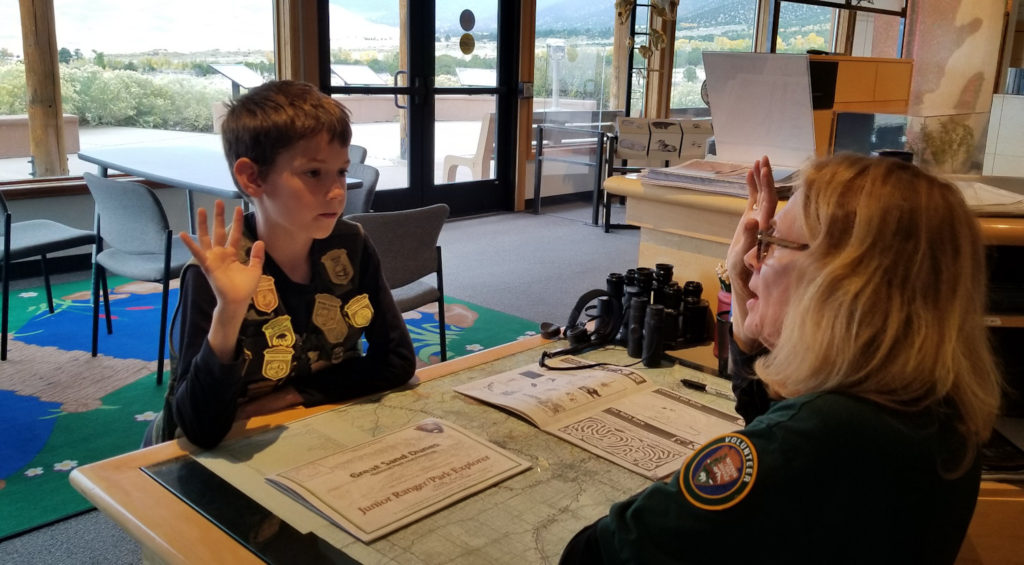 And this time, Forest did too!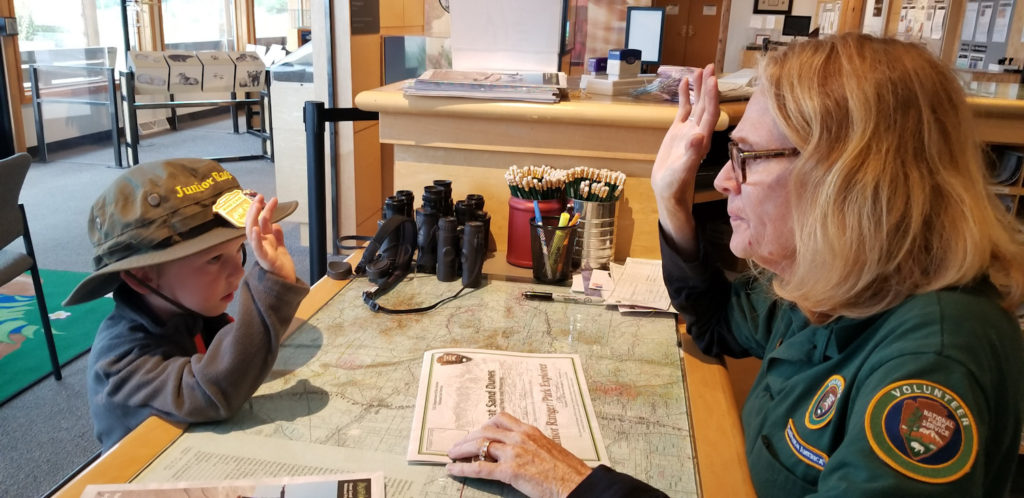 A short visit, but a really fun and fascinating place to go.
Thanks for coming along and we'll see you next in Mesa Verde!