After Disneylandia, we were SO ready to get back to our National Park gig. I was really looking forward to going to the Everglades and still couldn't believe were were REALLY going to drive all the way down to the Florida Keys!
Taking Diego to the airport, leaving late and running errands on the road got us in to Everglades NP after dark.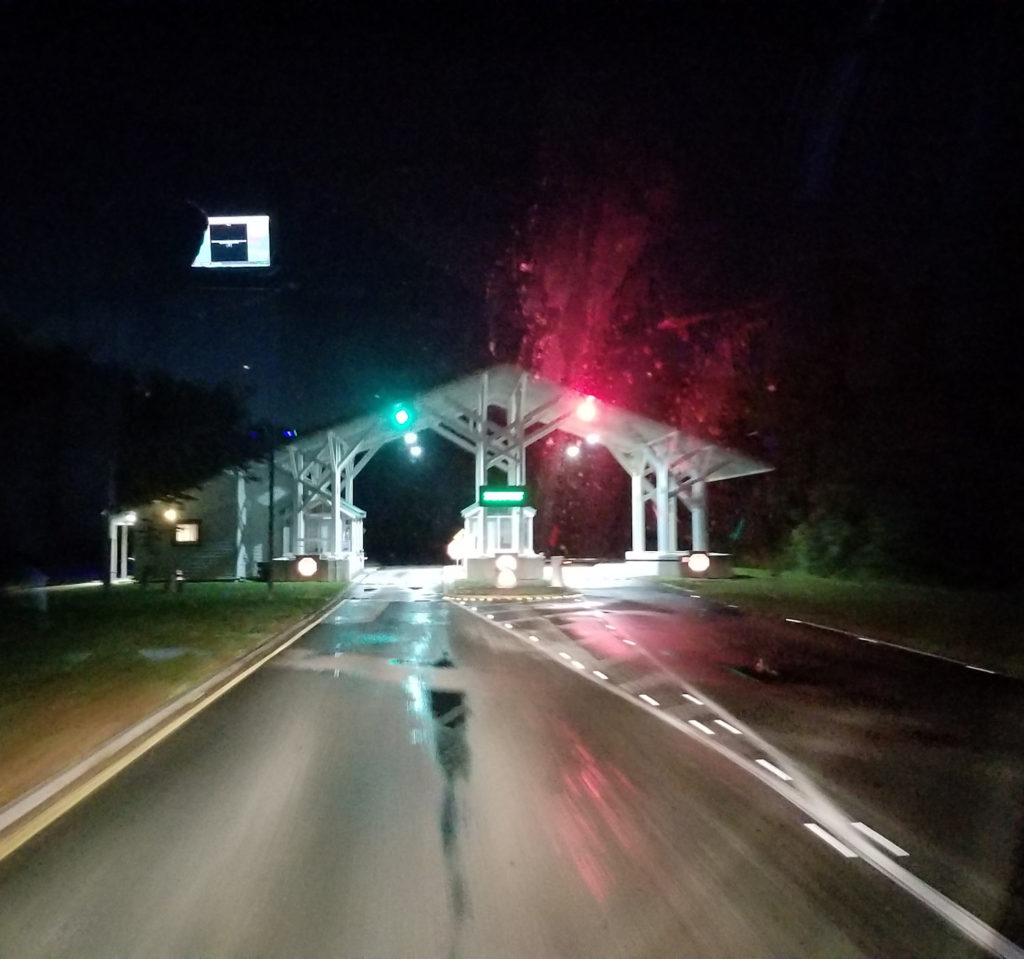 It was a little creepy and there was no one at the kiosk, or on the 40 mile drive to our campground. The park was pretty much empty.
The cool thing about coming in to a place at night is waking up to see where the heck you are.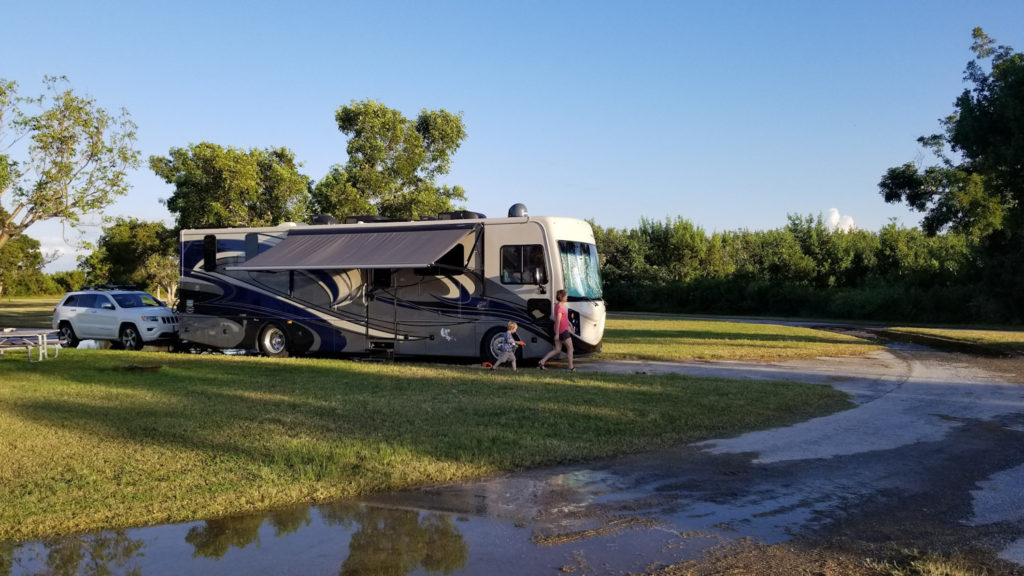 Apparently we arrived just before the beginning of the high season, and it felt like it. Crews were doing maintenance, the visitor's center was completely under repair due to the hurricanes, and it was hard to believe this place would be packed with hundreds of campers in only a few weeks.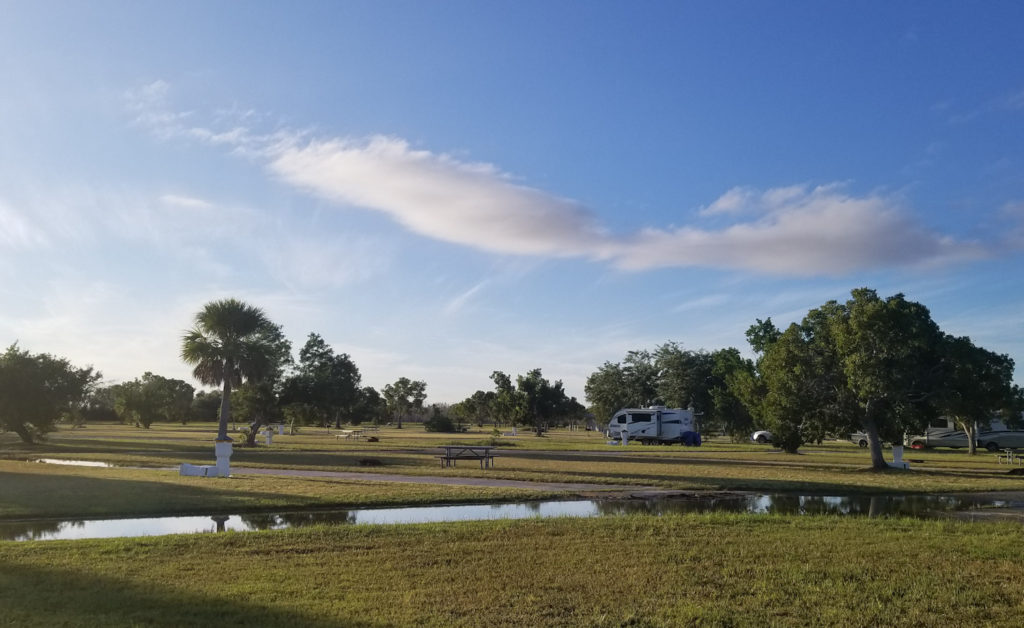 It was SUPER hot and humid, and even though the locals said the mosquitos were on the light side, we got eaten alive.
To avoid the heat, we set out early to bird watch at Eco Pond. This was the overgrown "trail". It clearly hadn't been maintained which added to the feeling that we were definitely here before the park was ready for the crowds. 5 minutes in and we were wilting and sweaty.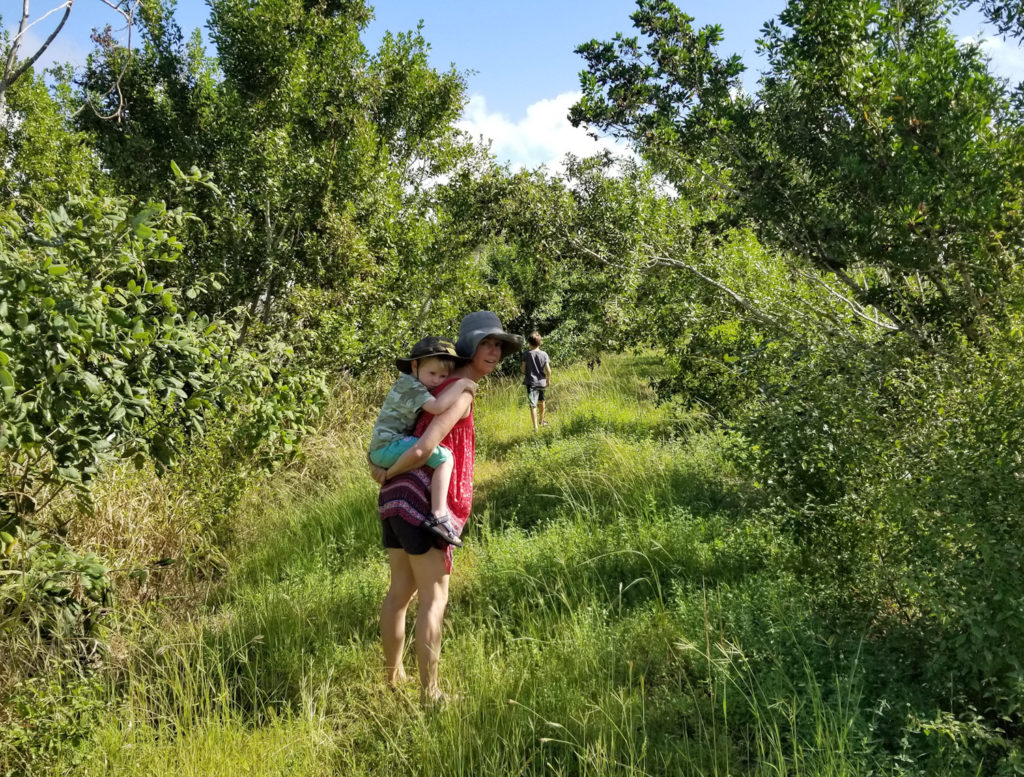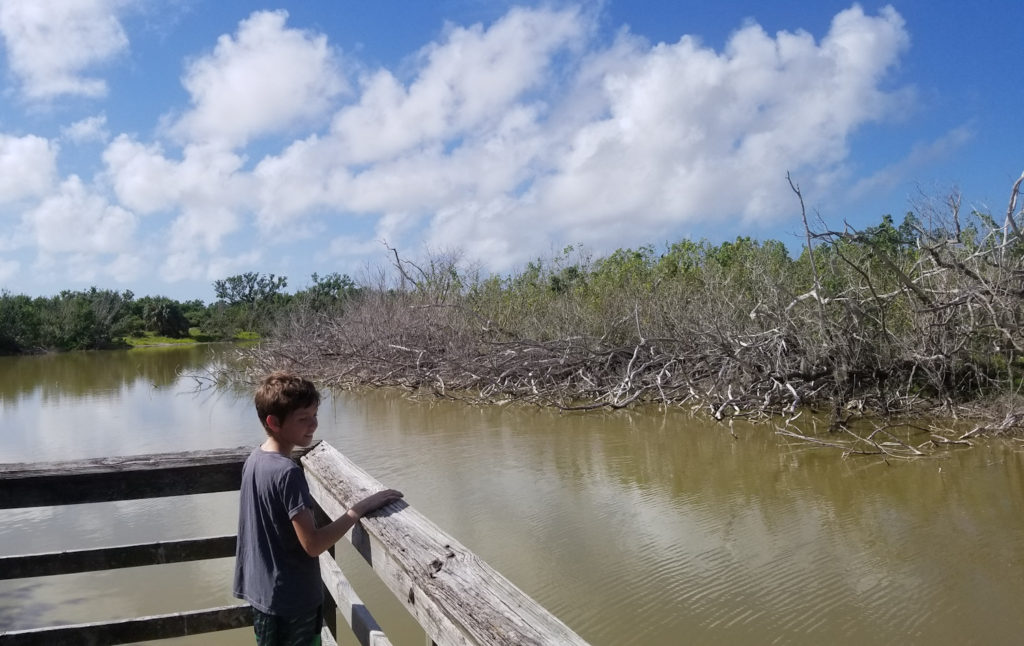 I had a vision of this place that just didn't match what I saw…especially when it came to the stunning lack of birds. When I learned more about this very particular ecosystem, I was saddened to learn of our dramatic, and potentially irreversible impact on this place. We learned a lot more about it through Harlan's Jr. Ranger Program.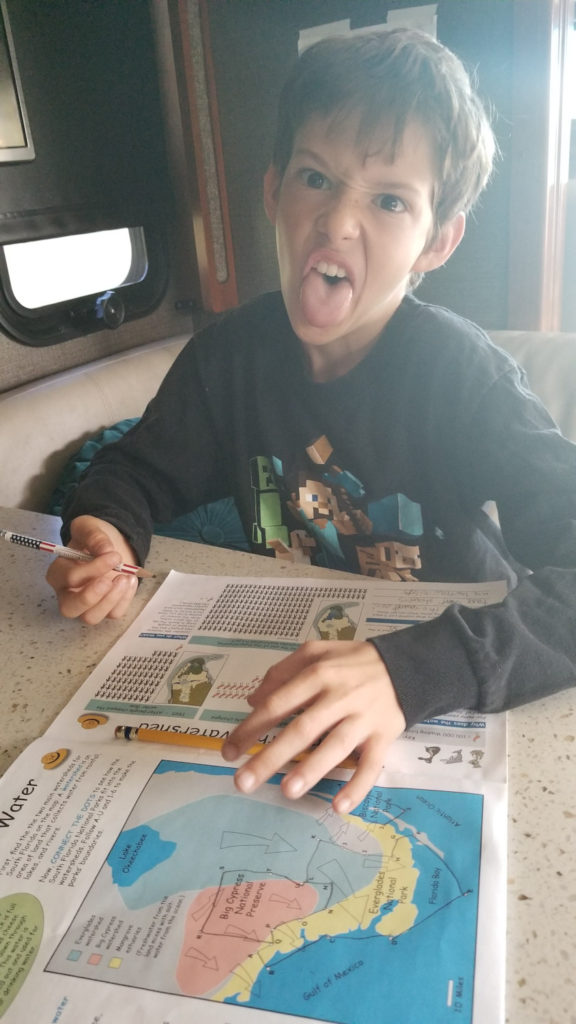 I haven't gone too much in depth about the history of the various National Parks in this blog, but I was particularly struck by the state of the Everglades. The lifeblood of the Everglades, this river of grass, is water; in particular, brackish water where salt and fresh water meet. It's also the only place in the world where crocodiles and alligators live together. As you can see from this map, the natural flow of water has been altered dramatically. There is a current restoration project in the works, and I can only hope that more life can be restored to this magnificent, and misunderstood ecosystem, and that many birds will come back.
We were told to head to the Anhinga Trail at sunset for the best chance of spotting alligators. Once again, we had the place to ourselves.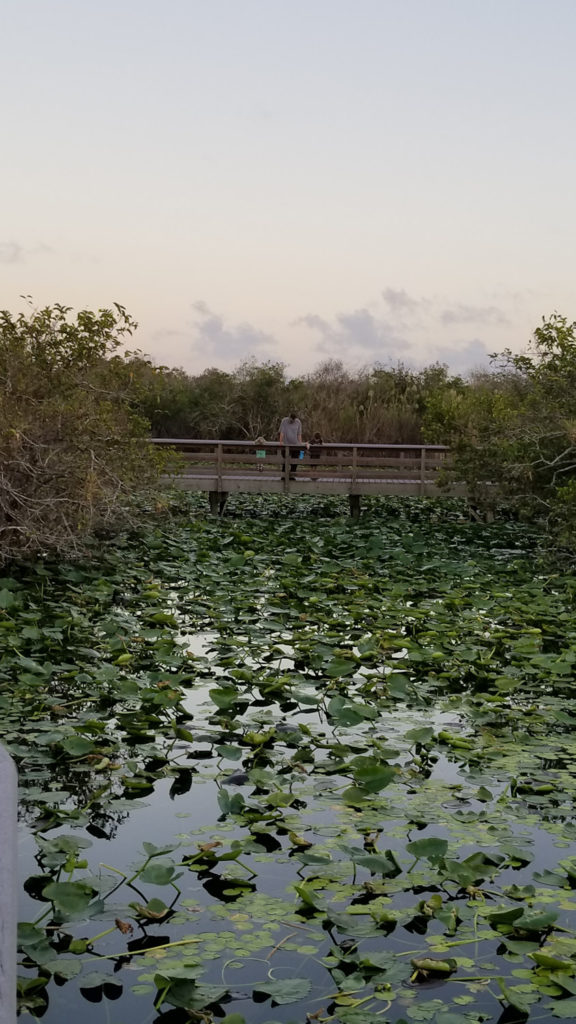 There was a boardwalk that led us through the area and although the water appears black, it was the cleanest and clearest water I had ever seen. Take a flashlight to it and you can see clear to the bottom.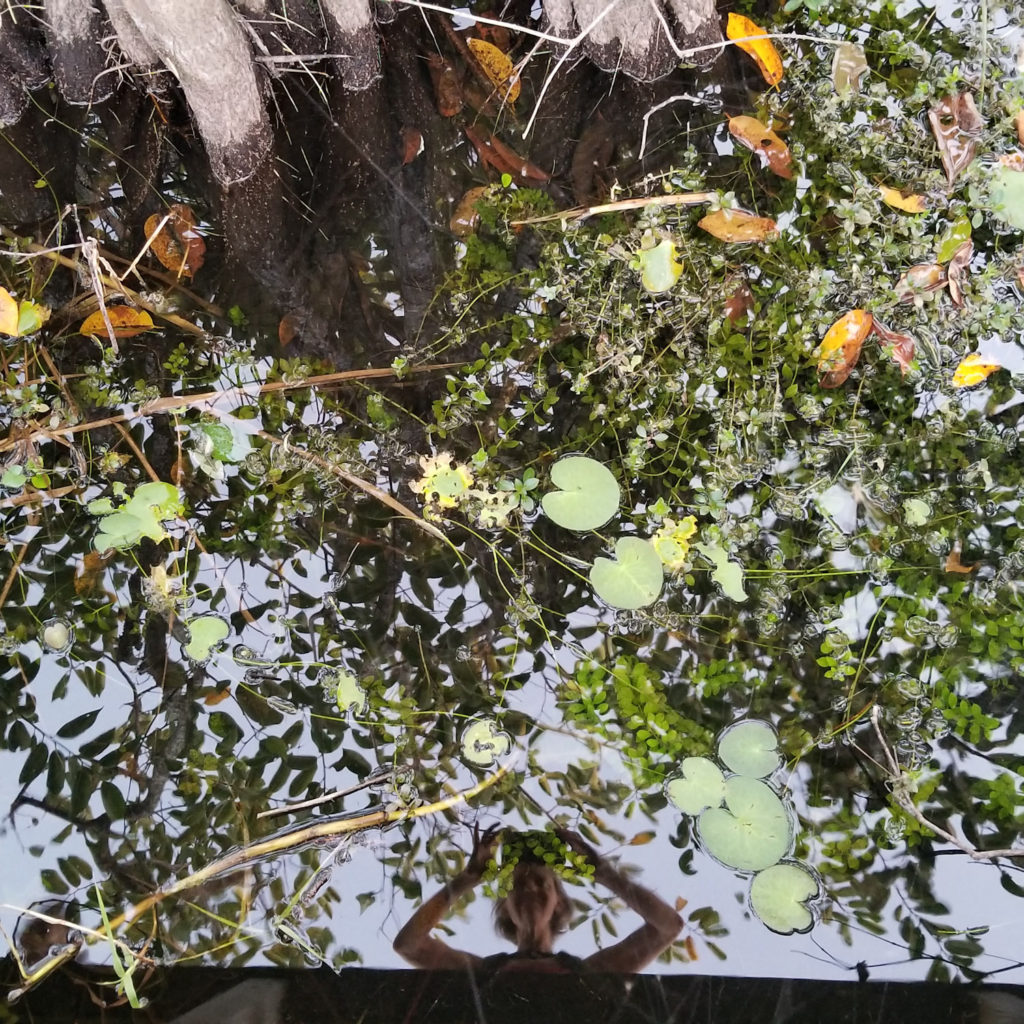 We were fortunate to spot two alligators and a pod of babies. See if you can spot them…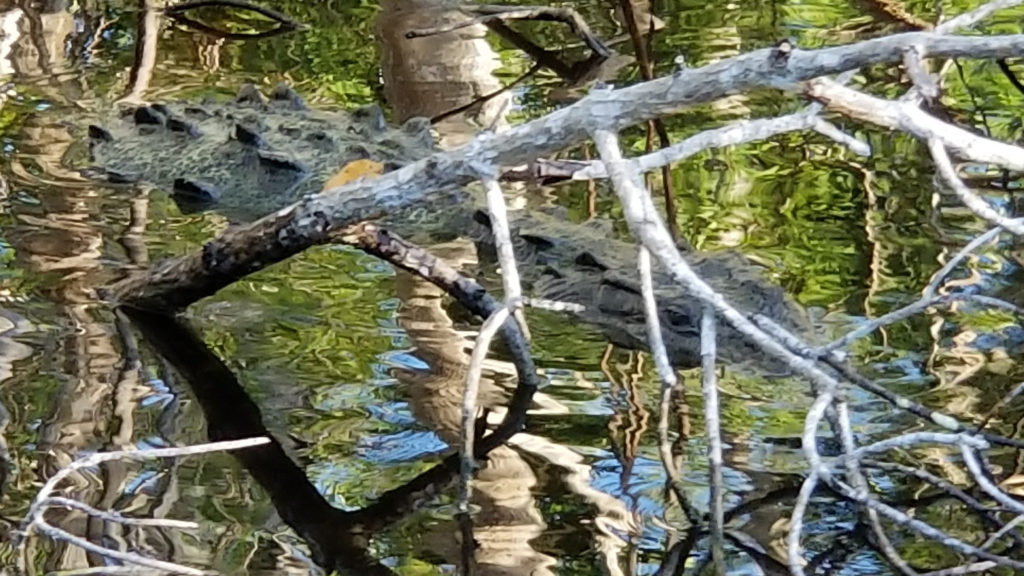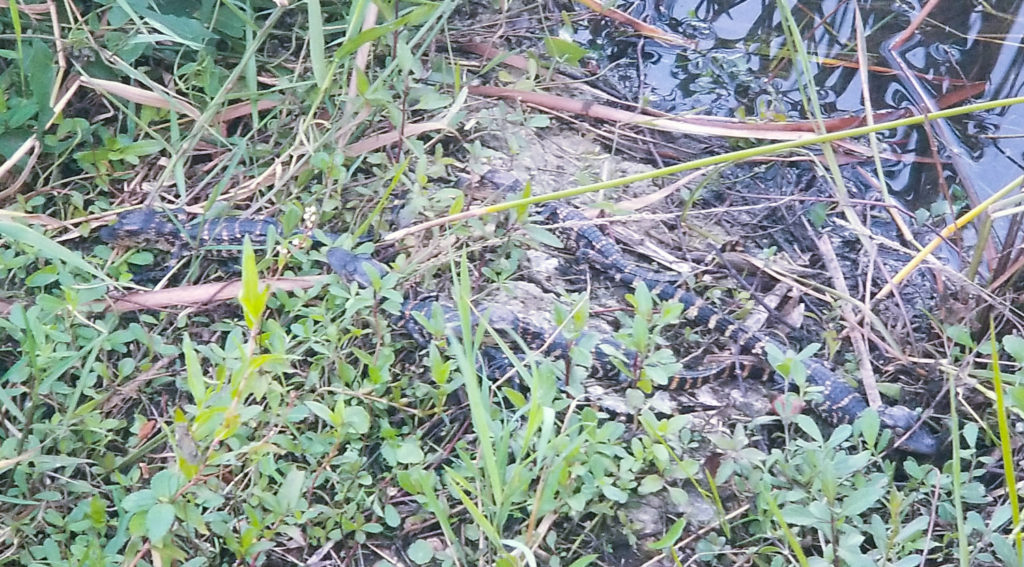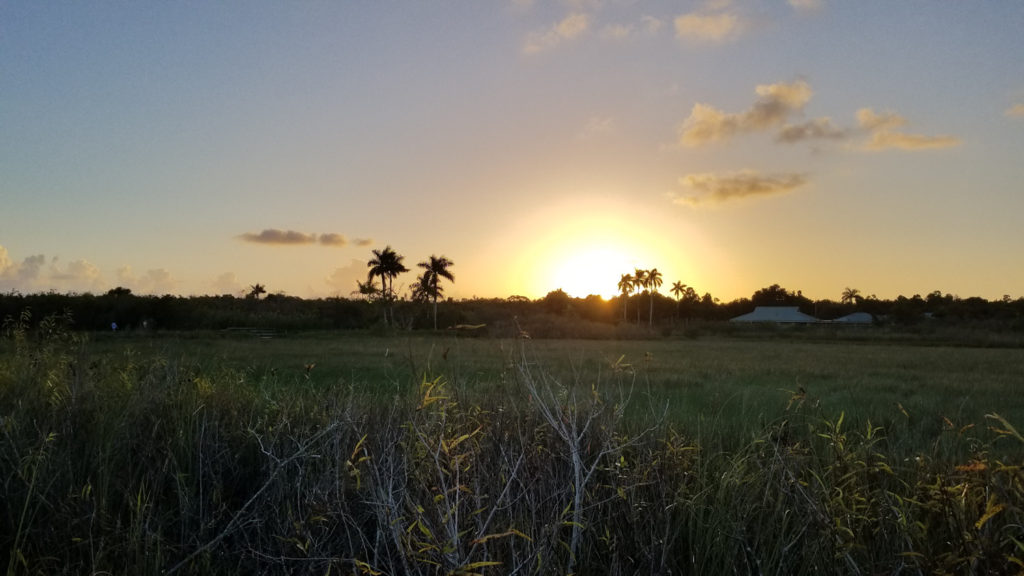 We came, we spotted, and we left as soon as the bugs started biting!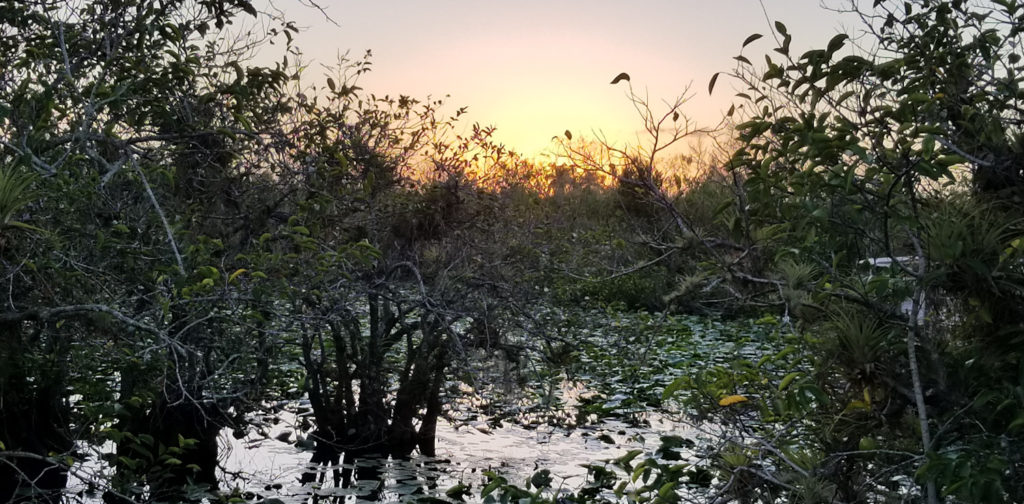 Harlan earned his Everglades badge and our next plan was to swing by Biscayne National Park on our way down to Key West.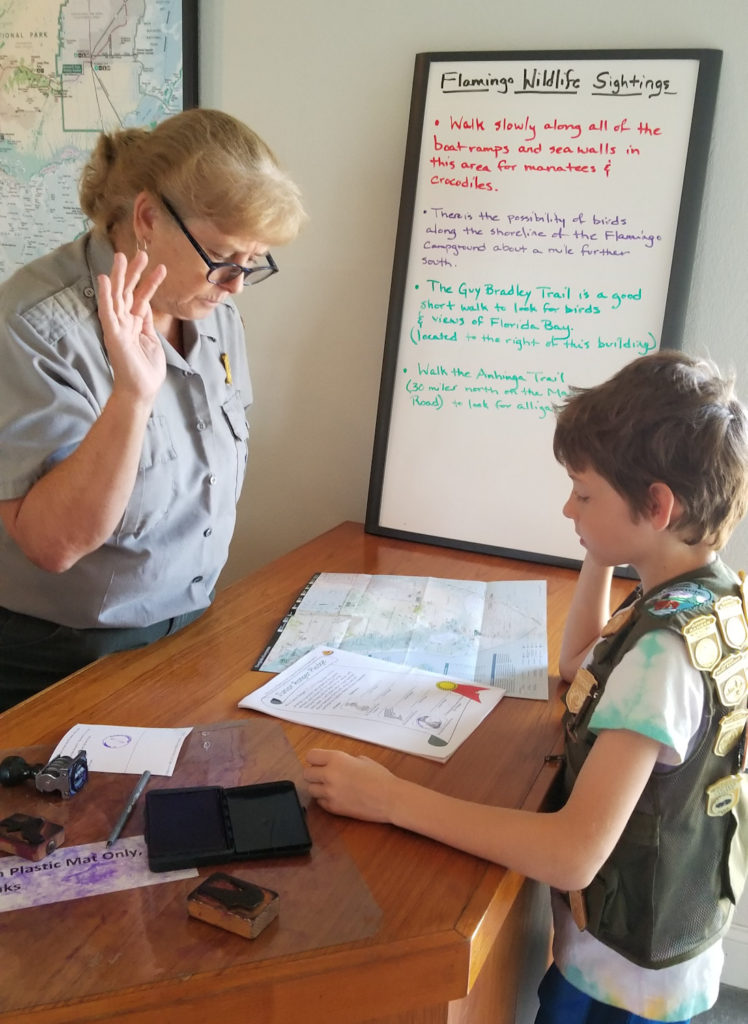 Biscayne National Park is basically an underwater park. This means the only way you can really see what it has to offer is by boat, or by scuba diving. That was not in the cards for us.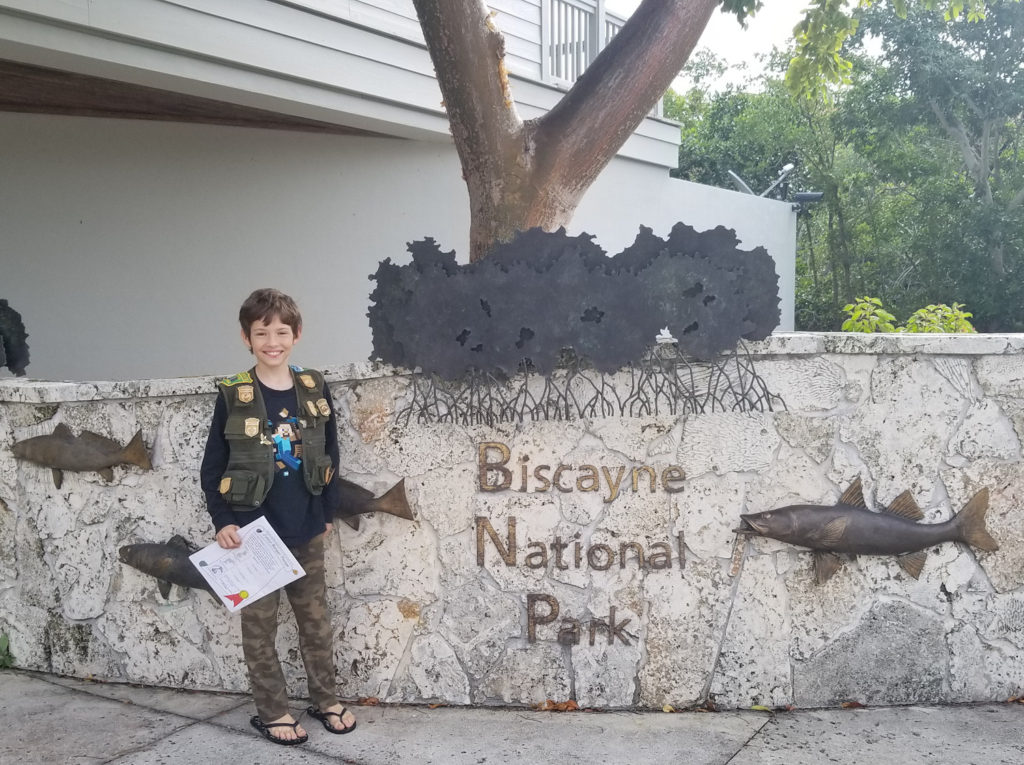 It does however, have a really nice visitor's center with a beautiful selection of marine items for the kids to touch and explore.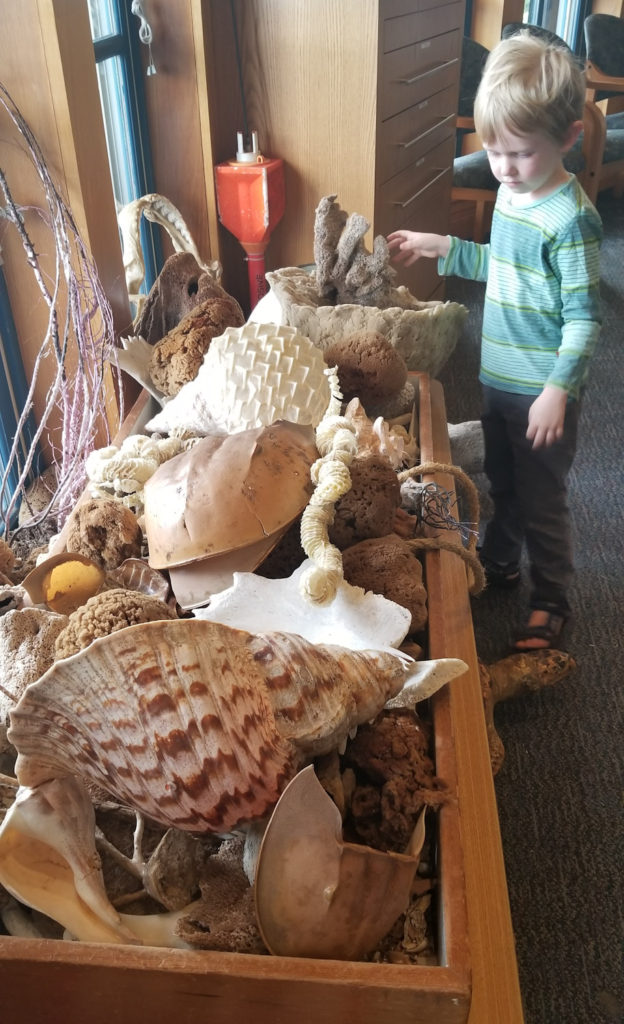 This is pretty much all we saw of Biscayne. Hard to imagine that Miami, only 30 or so miles away, shares Biscayne Bay with this protected area.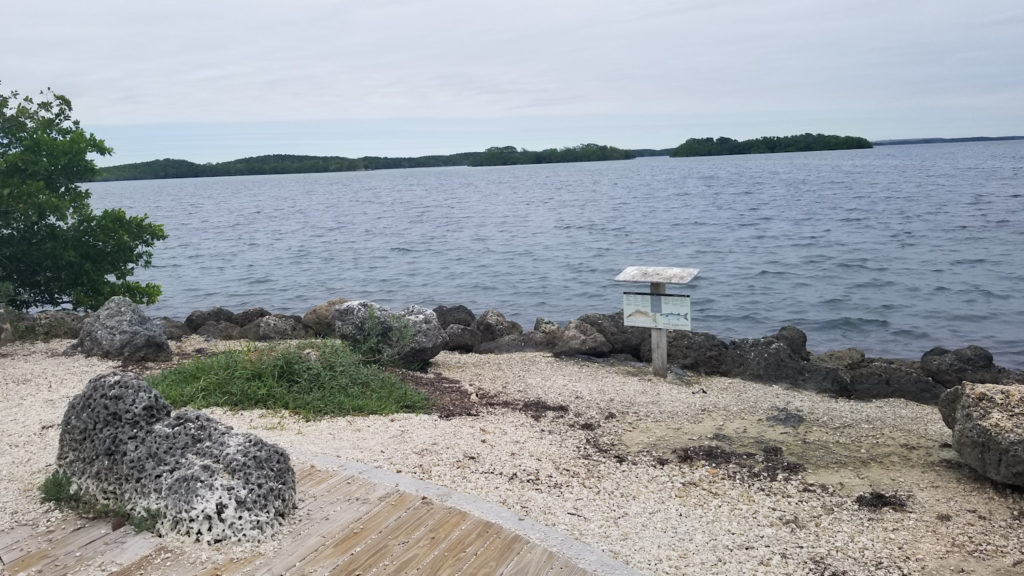 And of course, Harlan earned another badge!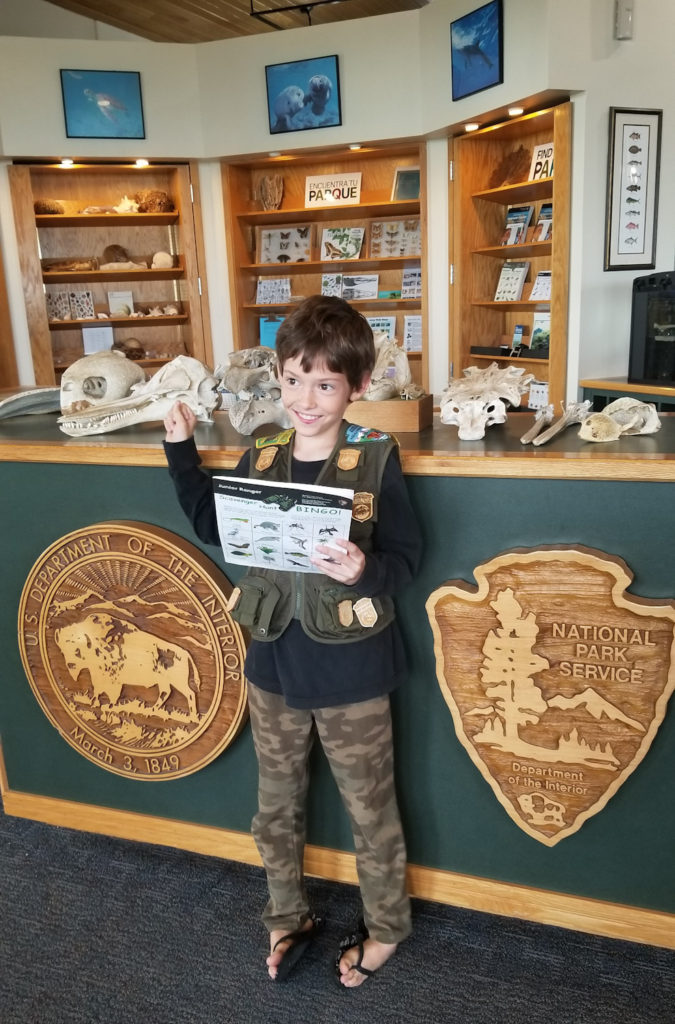 Now it was on to the Keys. I was really looking forward to the drive. These bridges between the keys are insane. I know this epic RV trip probably seems like a giant vacation, but this leg to the Keys kind of felt like a vacation "Last Hoorah", as I think it was becoming clear that afterward was the last leg of this trip and the inevitable slow ascent into the cold North.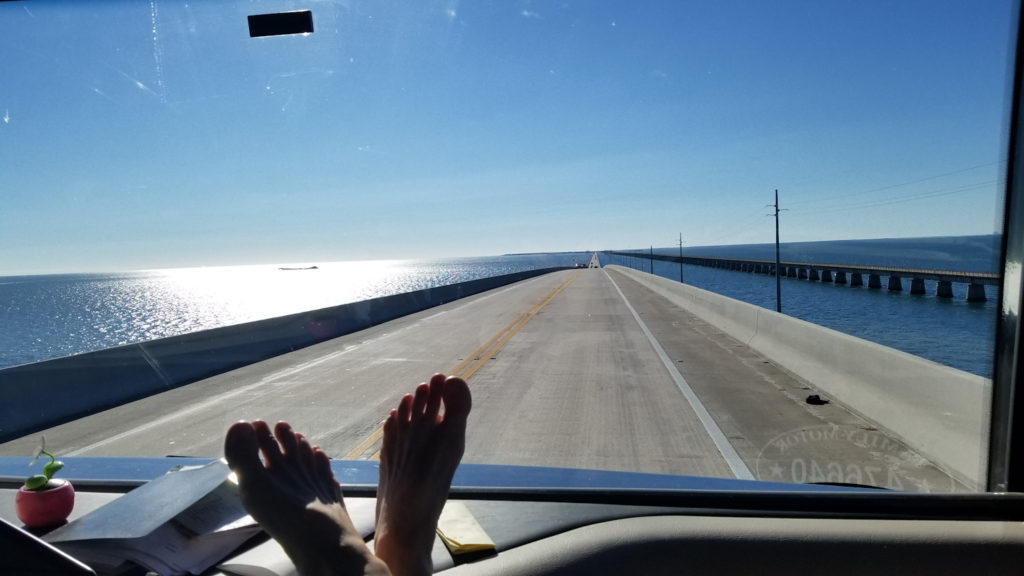 On our way there, we got introduced to a new character in our family. Meet "Fatty Lipper".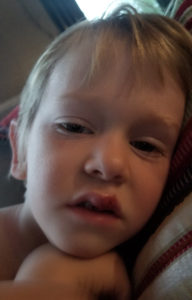 Serious mishap with a slingshot while playing in his bed. Don't ask. But don't feel too bad either because a few hours later we had this: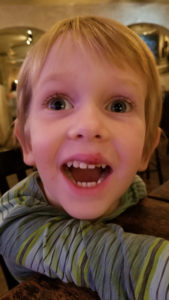 I've never been to Key West, so I wasn't really sure what to expect. I knew it had the reputation of being a party place but I had no idea how quaint it could be!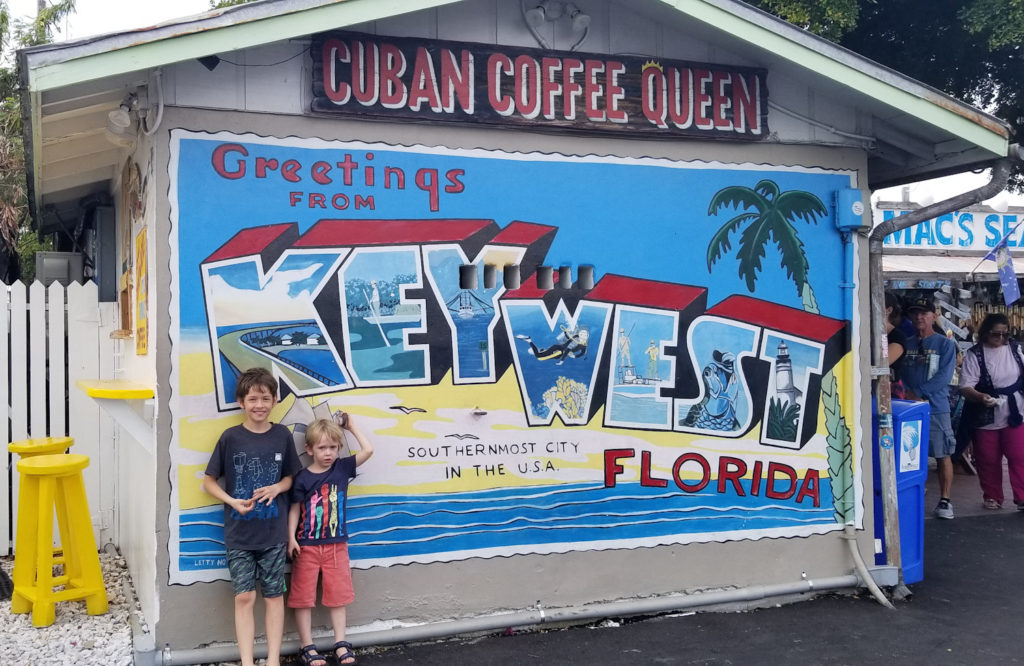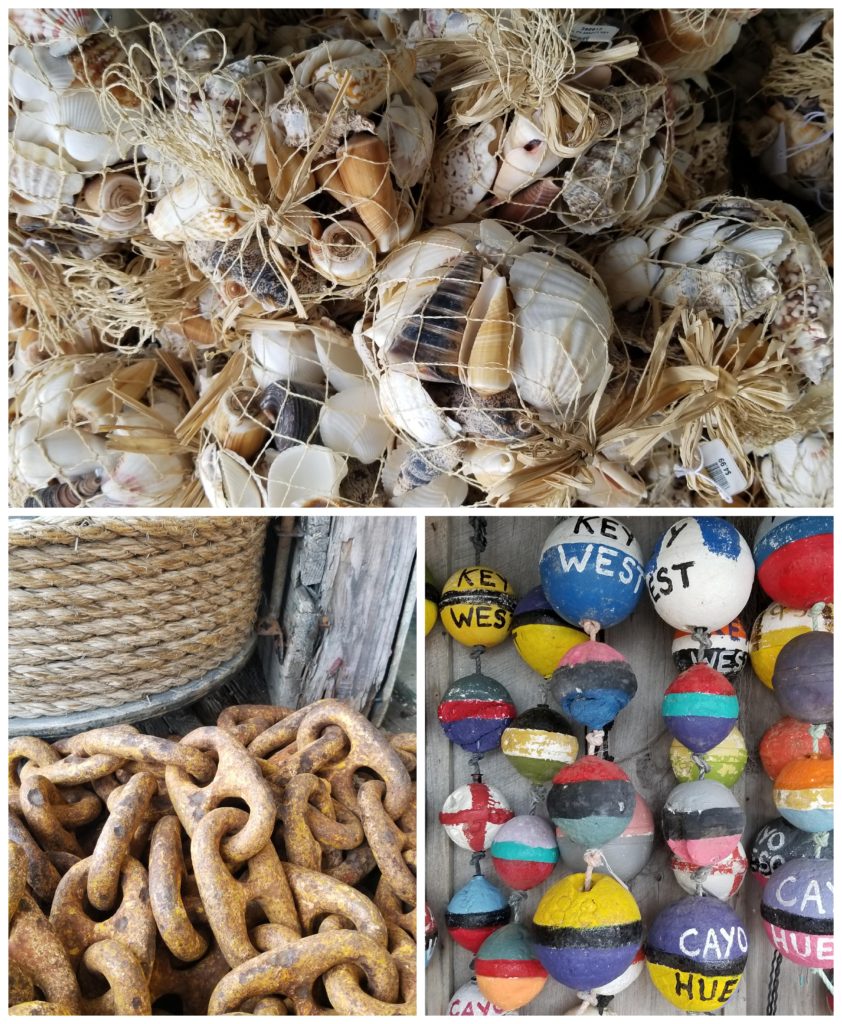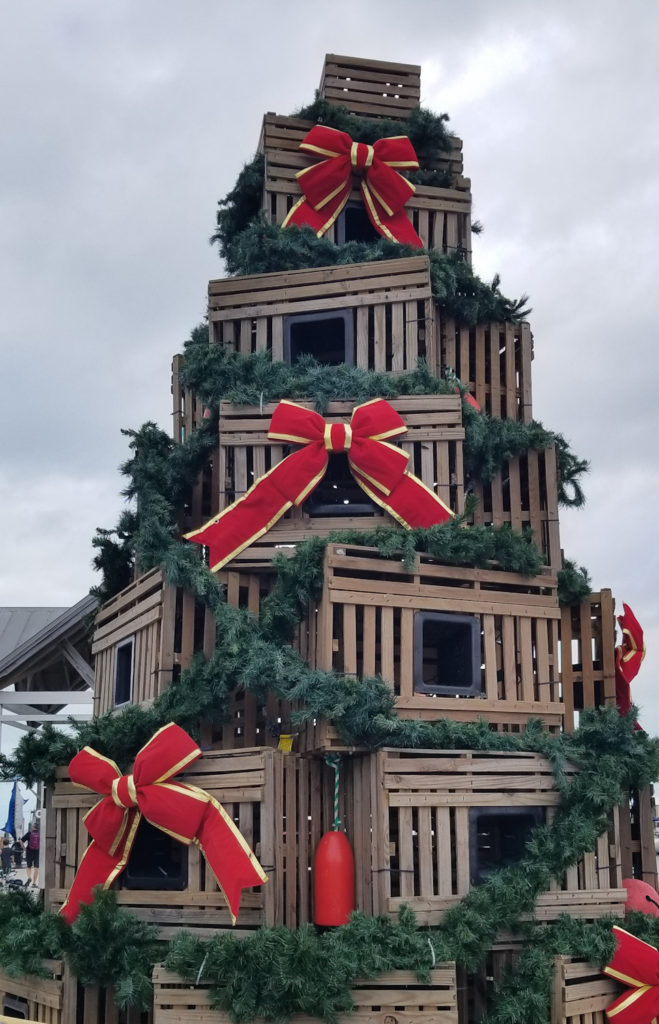 But the best part about Key West? The CHICKENS! They are everywhere!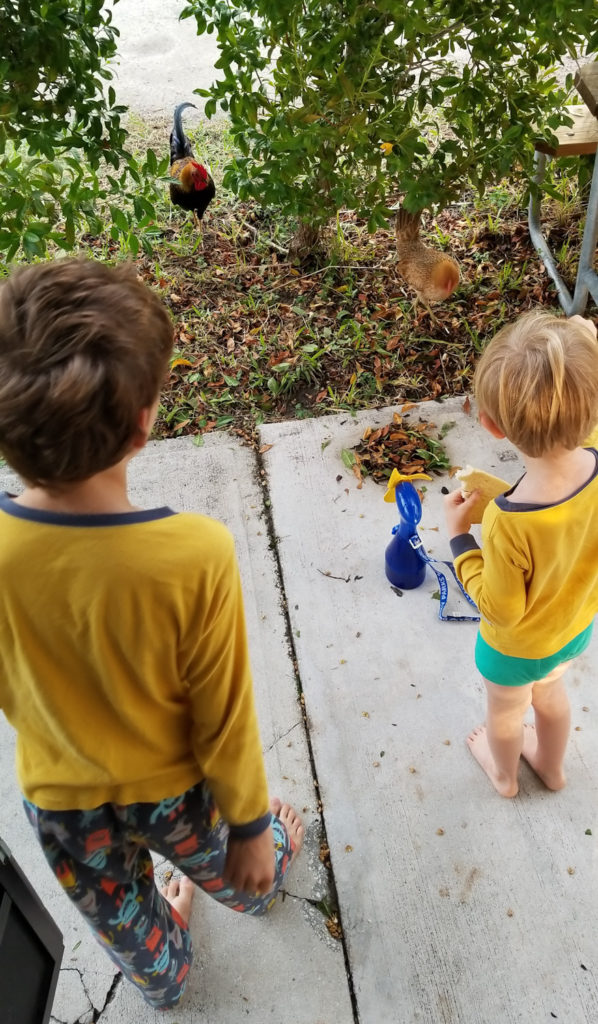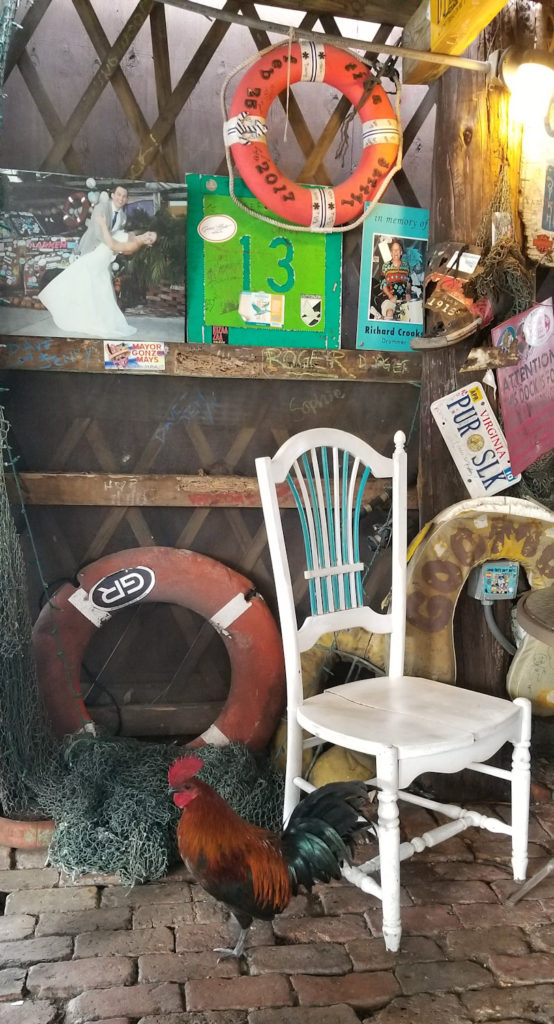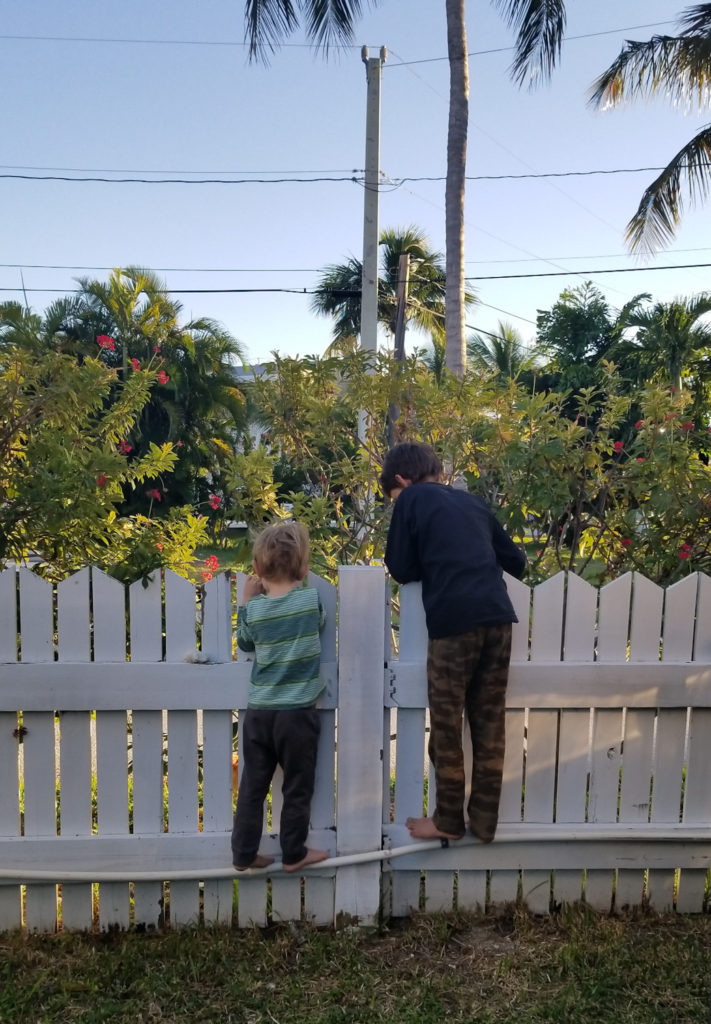 We enjoyed local casual dining… (and yummy Cuban food!)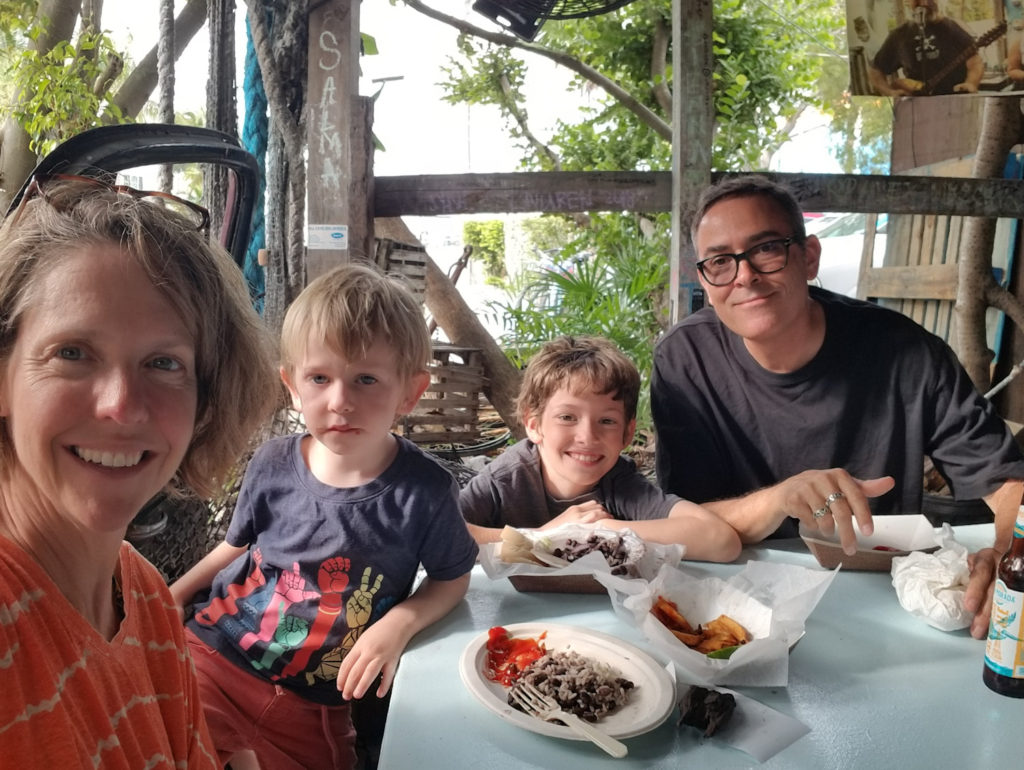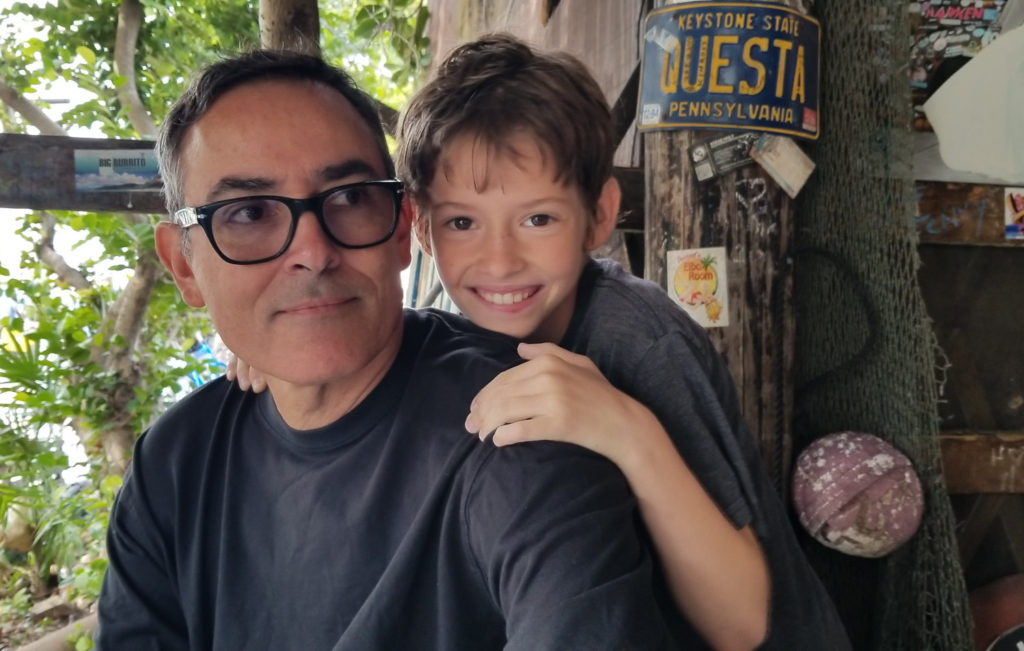 Enjoyed the local flair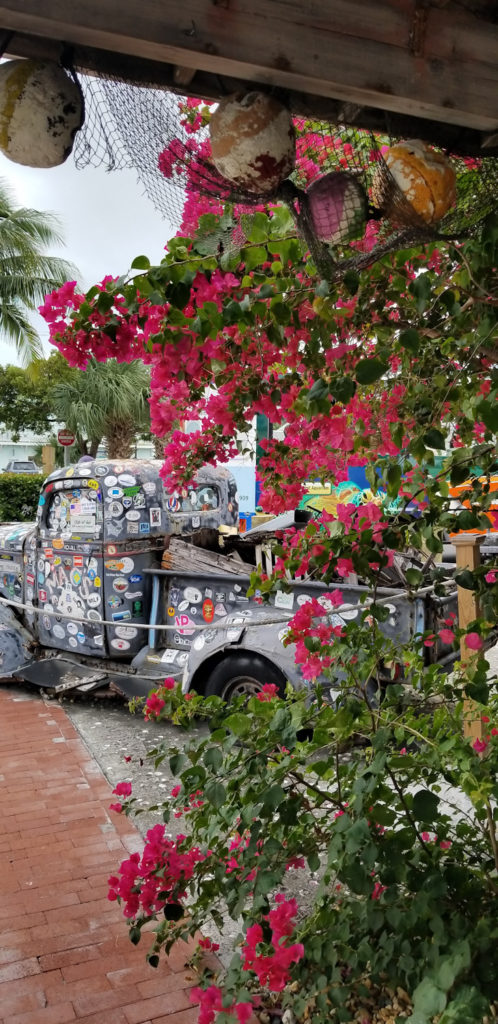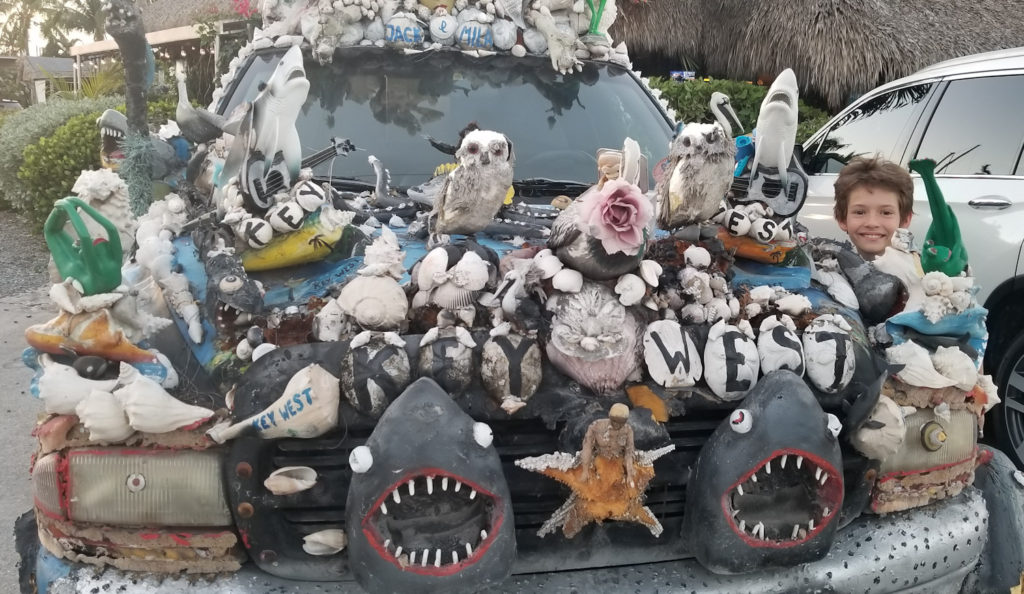 But most of all, we enjoyed the beautiful beach at Ft. Zachary Taylor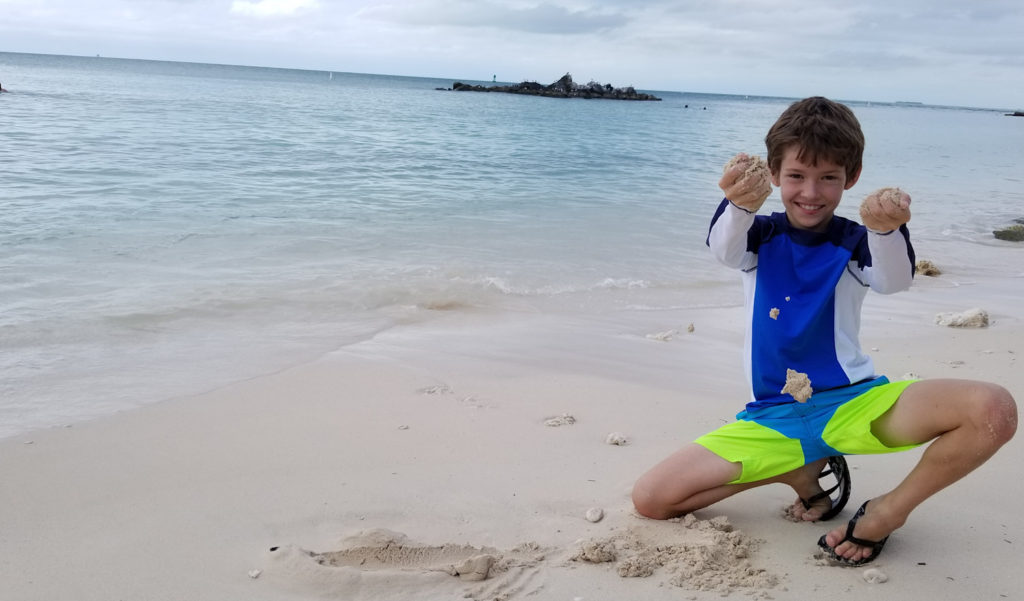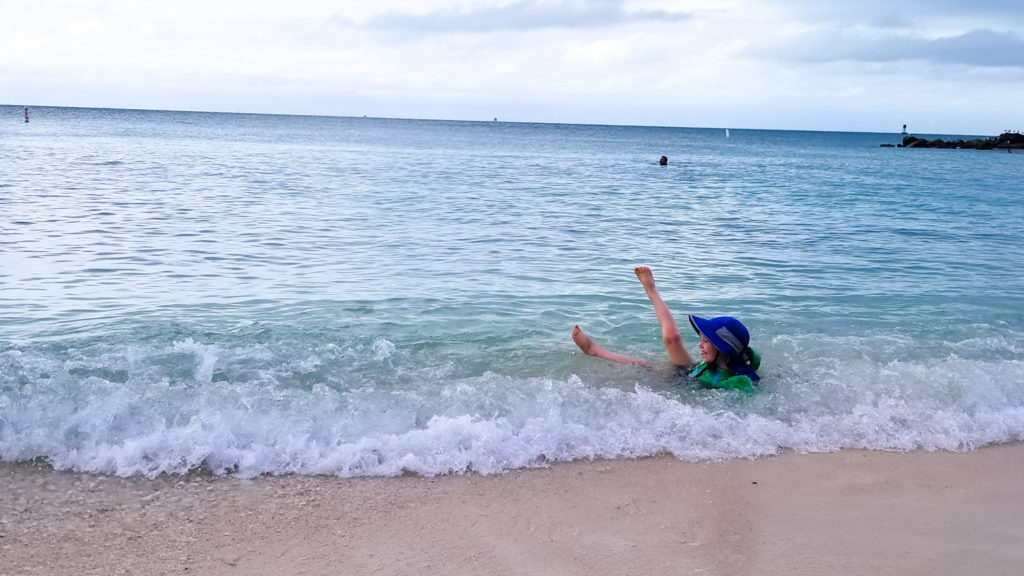 And the next best thing about going to the beach? Bubbles! We saw massive, joy inducing bubbles, so the kids and I had to investigate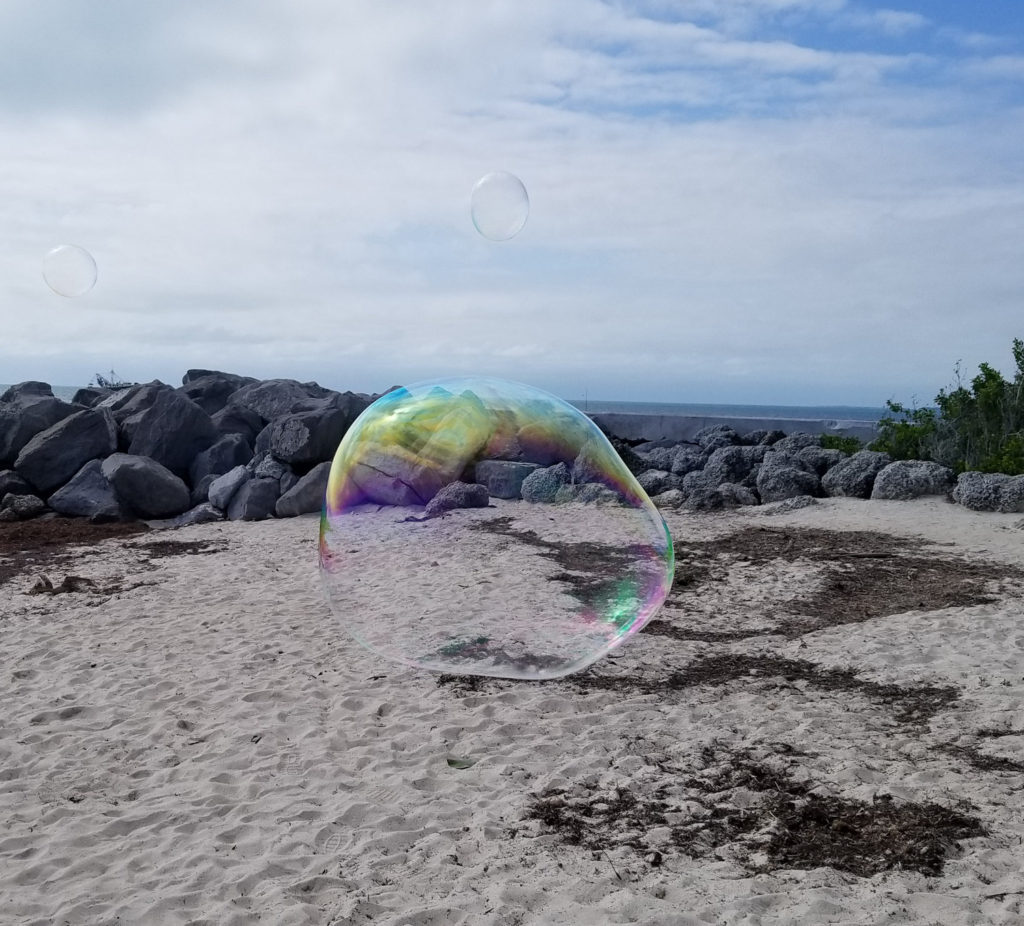 It was then that we met "Bubble George"! The nicest man who just kicks it on the beach to spread some joy by making bubbles.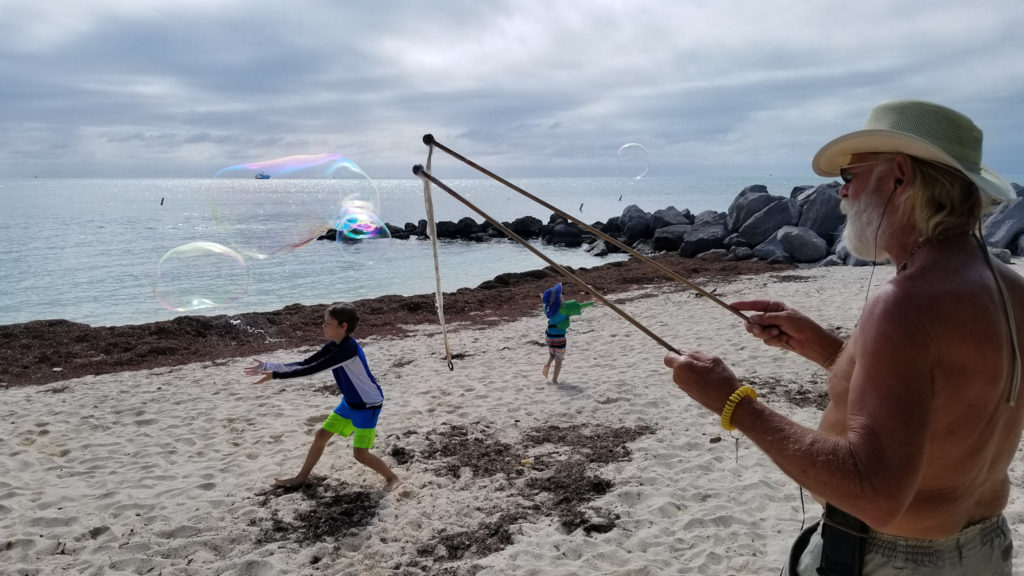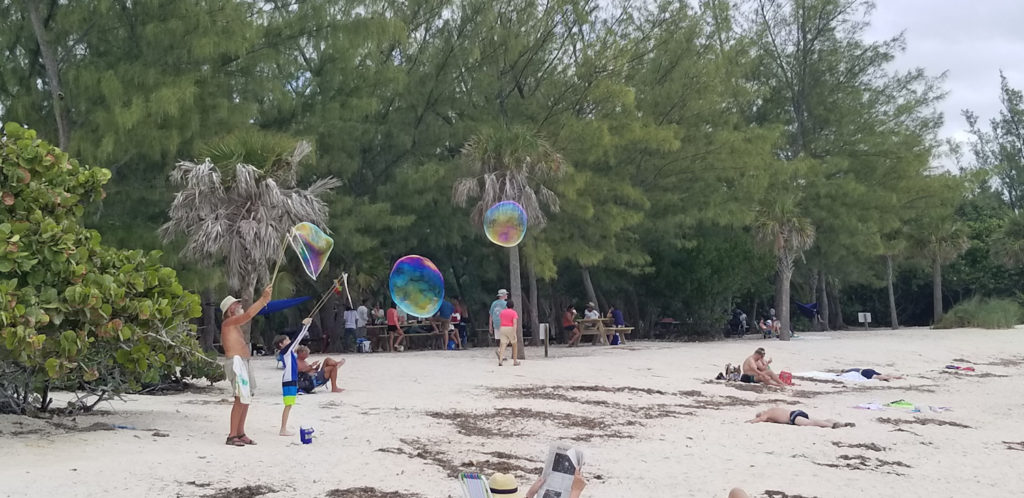 He was a gentle soul, and we followed him to his van so we could get one of his home made bubble contraptions and take the joy with us. Now this guy is a pro. He has bubble solution down to a science, and lucky for you, here is the recipe: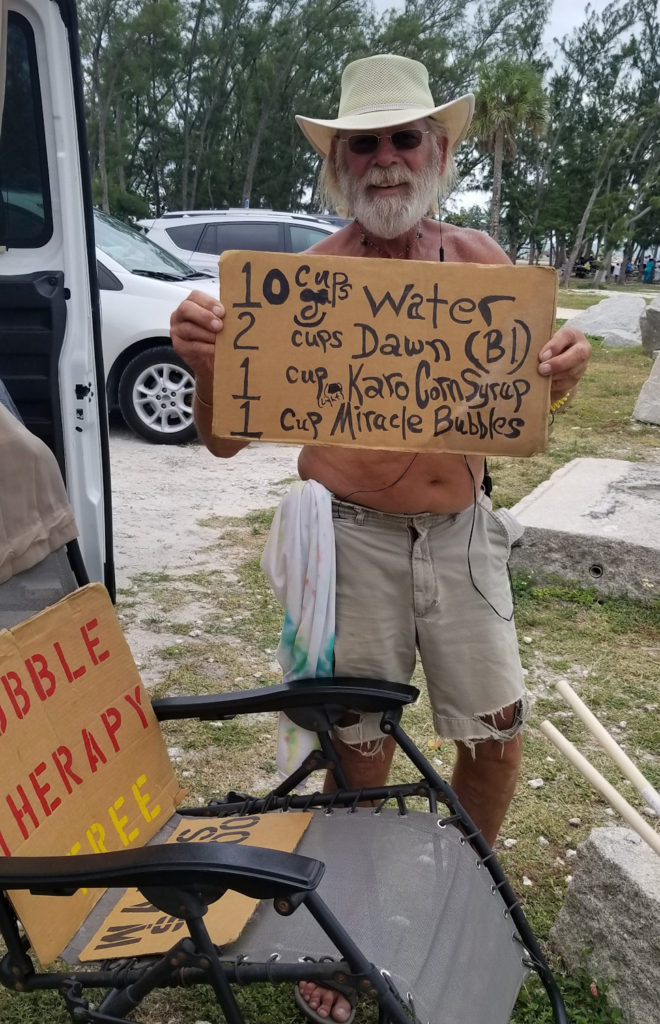 Our last day in the Keys was reserved for a special trip to Dry Tortugas National Park, which is the site of Fort Jefferson, some 70 miles west of The Keys in the Gulf of Mexico. It is also the site of some of the best snorkeling in the Keys. It can be visited only by chartered boat (4 hours) or plane (40 min). Space and reservations are limited but we secured a flight. The more we learned about this unique place, the more excited we got.
Before we went to the airport, we toured Ft. Zachary Taylor, which was similar in design to Ft. Jefferson at at the National Park. We figured we'd get a little history under our belt so we could have more free time to snorkel once we got to Dry Tortugas, NP
Historical tours are often dry, and unengaging for kids. Our guide Kevin, however, captivated the boys with his dynamic storytelling.
When we left, it was drizzling out, but we didn't care. Dry Tortugas here we come! We piled in, put the car in reverse, and then the phone rang.
Pilots cancelled all flights. Bad winds and hard to land. Can't argue with that but boy were we BUMMED!!!!!
Instead, went back to the RV park and dealt with the ongoing Florida ant situation. Good times.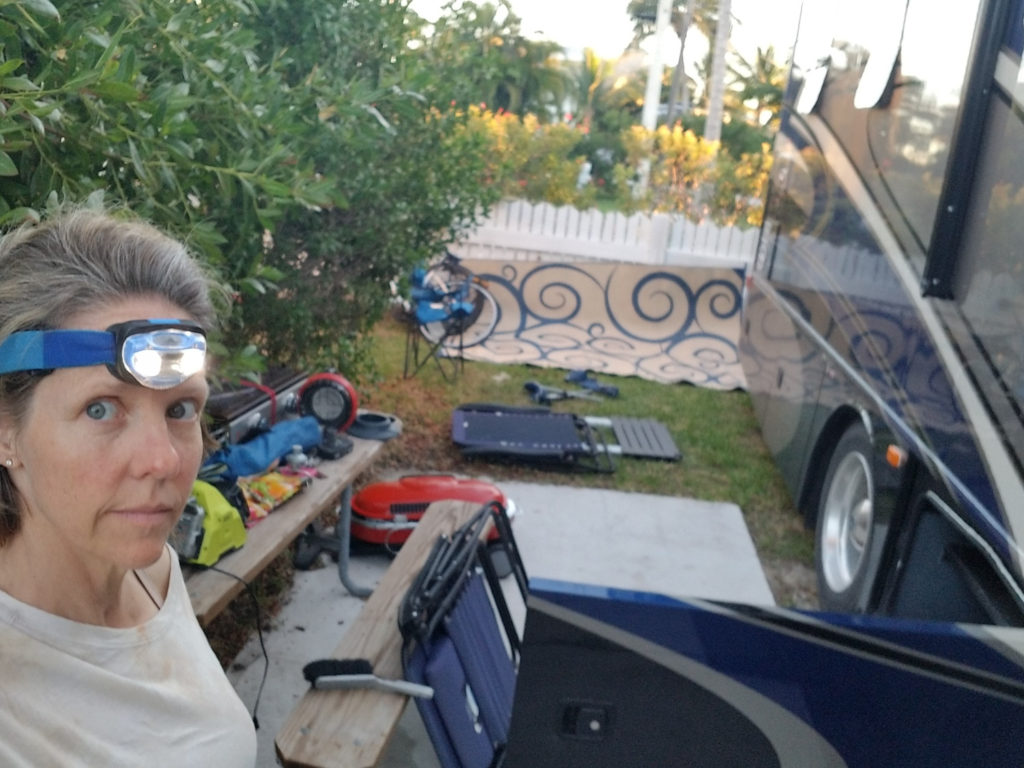 Believe it or not, Thanksgiving was only 2 days away so we had to head north for our Thanksgiving pit stop in Bradenton, FL. Family friends were taking us in for the big day!
We knew from the start of this adventure that we wanted to see as many National Parks as possible, but now we've realized, this may be a life goal to see ALL of them one day. This guarantees that we WILL be back to the keys, we WILL visit Dry Tortugas, and cross another one off the list.
I'm sure it will be a welcome future vacation when we're fed up with the NH snow!
Thanks for coming along the adventure with us!