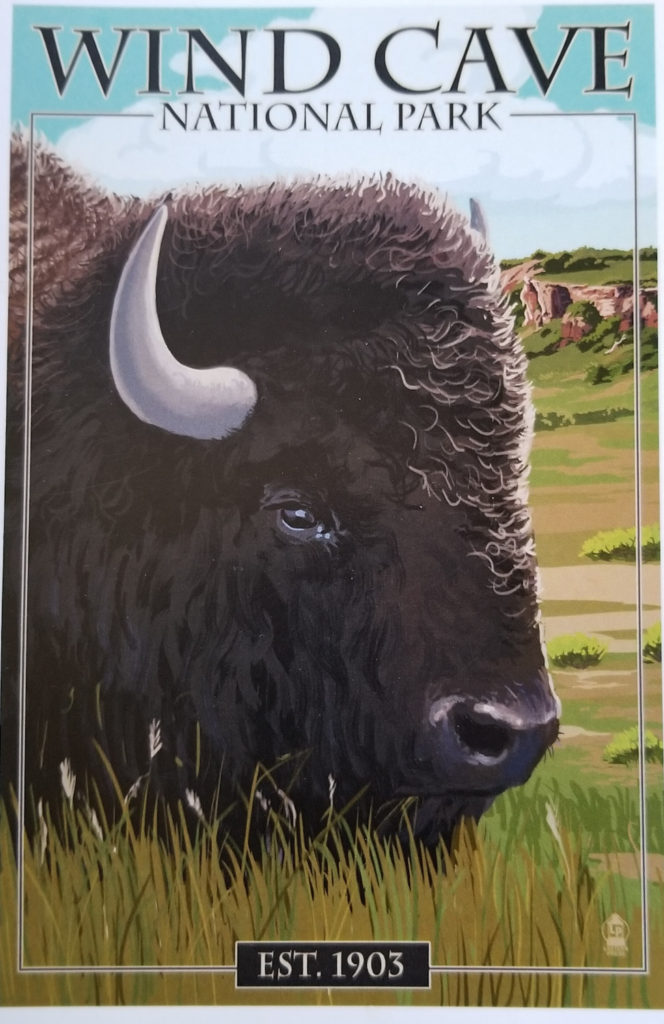 After Theodore Roosevelt, we headed south the the Black Hills of South Dakota, and to one of my favorite National Monuments…Mt. Rushmore! We visited the area 6 years ago and were really looking forward to exploring the area again.
Ok, so I'll get Rushmore out of the way. If you know me well, you know I am absolutely fascinated by this place as it produces a whole mixed bag of feelings for me about our history. I will spare you and add only a few pictures. You all know what it looks like anyway. So here it is.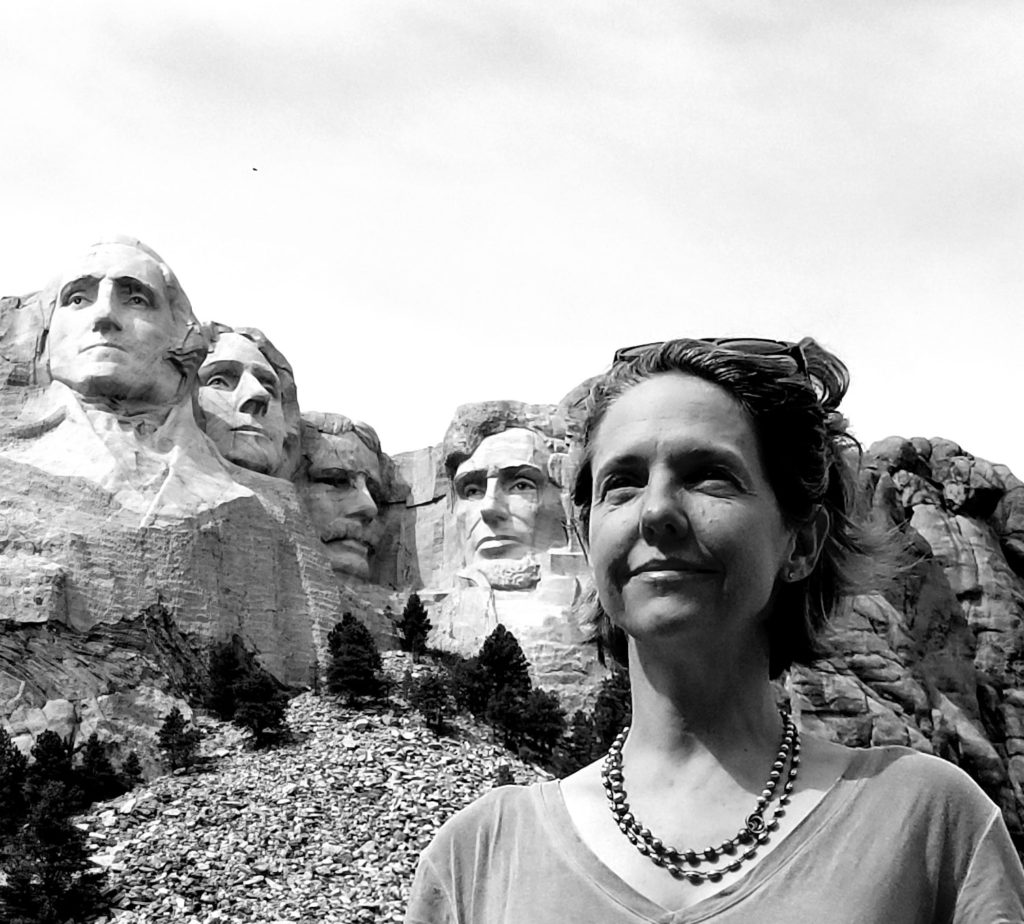 Hahaha!
This was Alan's Brainchild. Well done, babe. I then copied him after Harlan Earned his badge.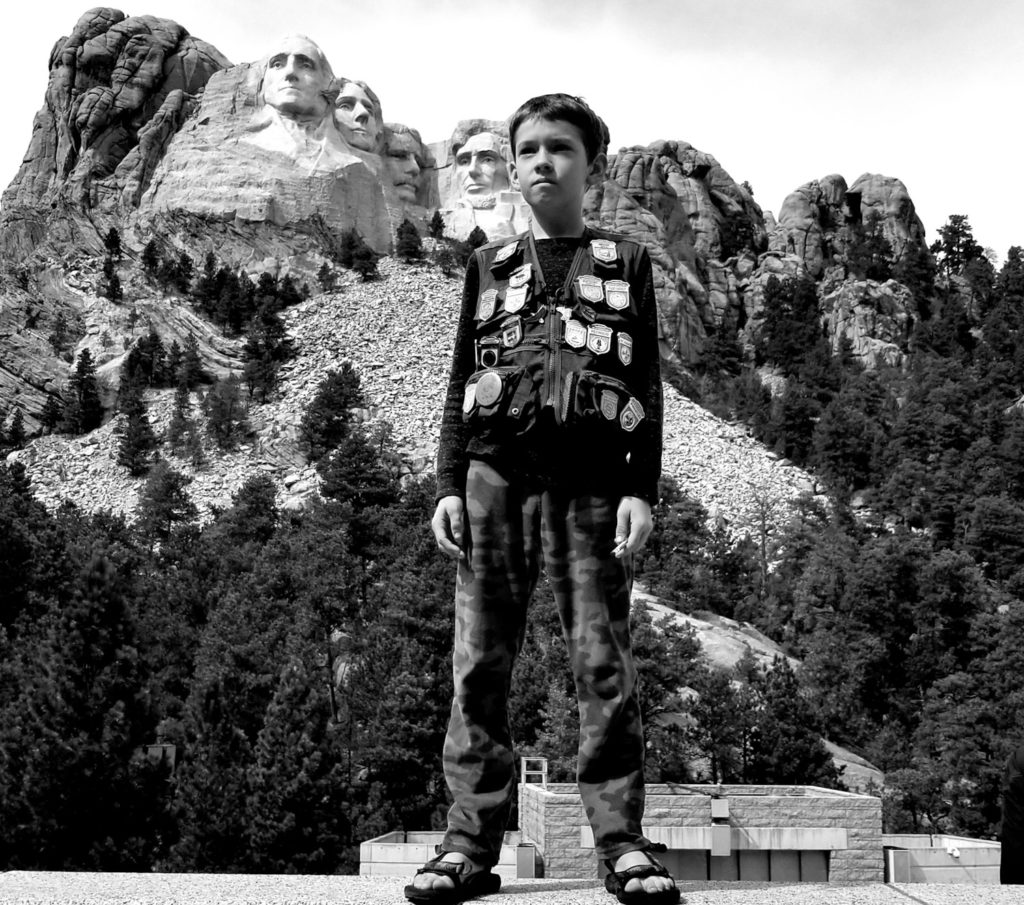 Thanks Harlan for playing along. He's a good sport and tolerates my Rushmore excitement.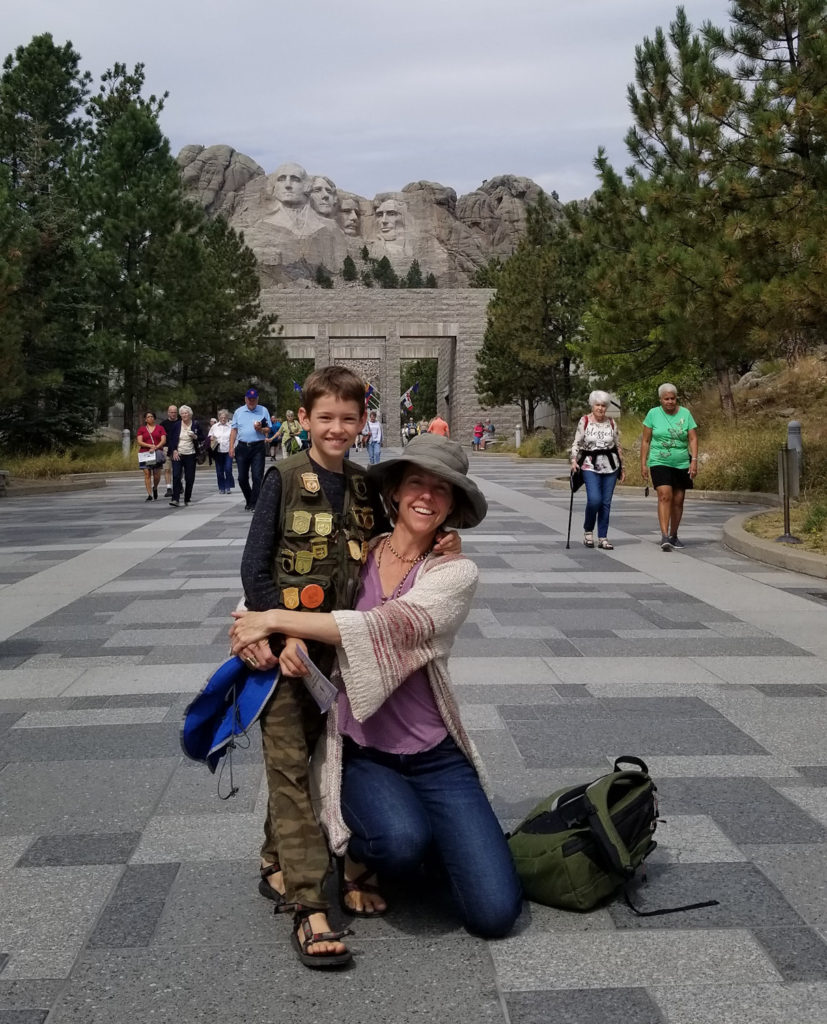 Most of the hiking trails were under construction, so we were not able to visit the sculptor's studio, which is really interesting and one of my sources of fascination with Rushmore.
If you didn't know, the presidents chosen for the monument were chosen by the sculptor Gutzon Borglund to represent these aspects of our country: Foundation (Washington) Growth (Jefferson) Preservation (Lincoln) and Conservation (Roosevelt)
And of course H earned a Rushmore badge for his mama!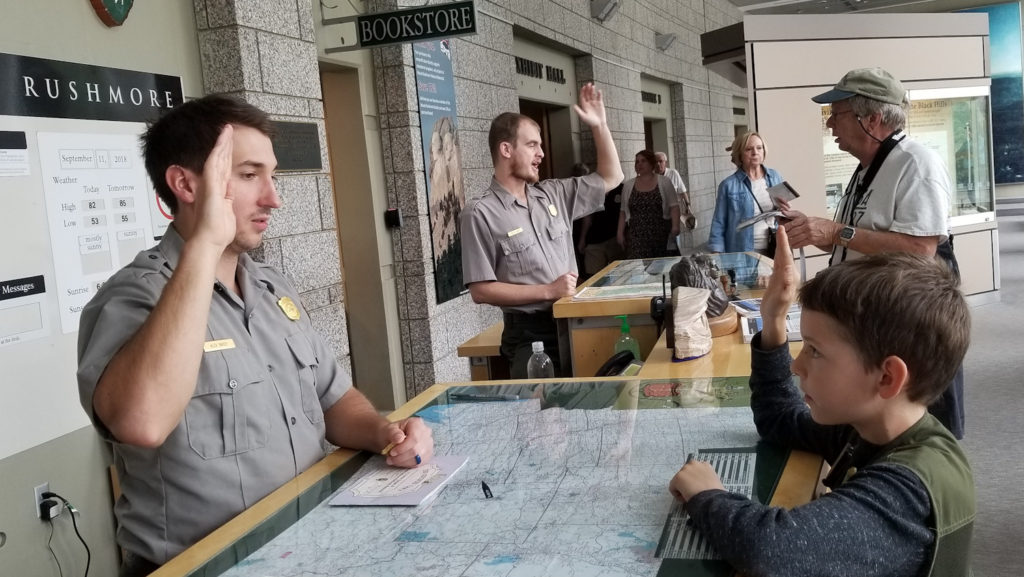 After I got my Rushmore fix, we were free to explore the Black Hills. For Alan, this meant Rock Climbing.
Forest climbed a little but mostly liked wearing as much gear as he could attached to his belt.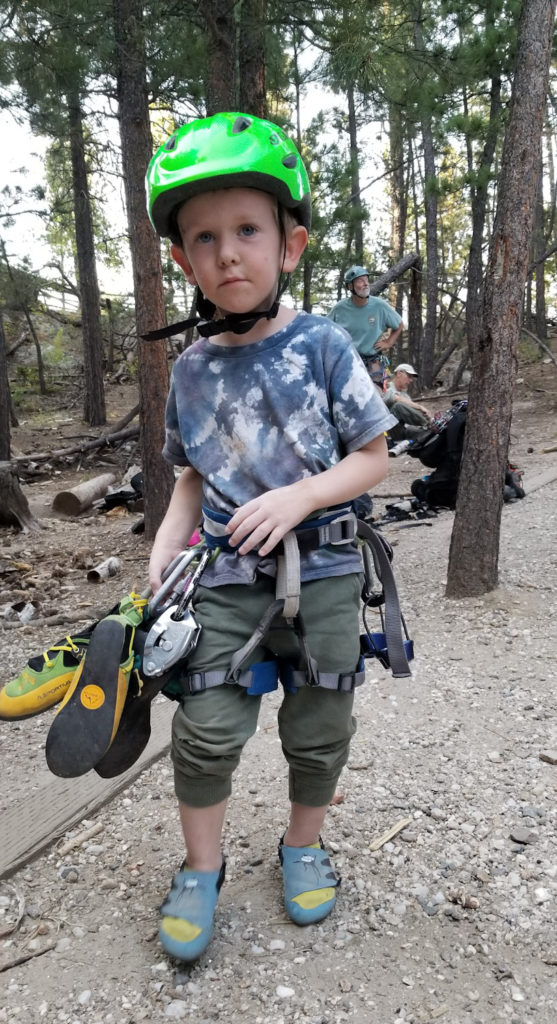 Go little man!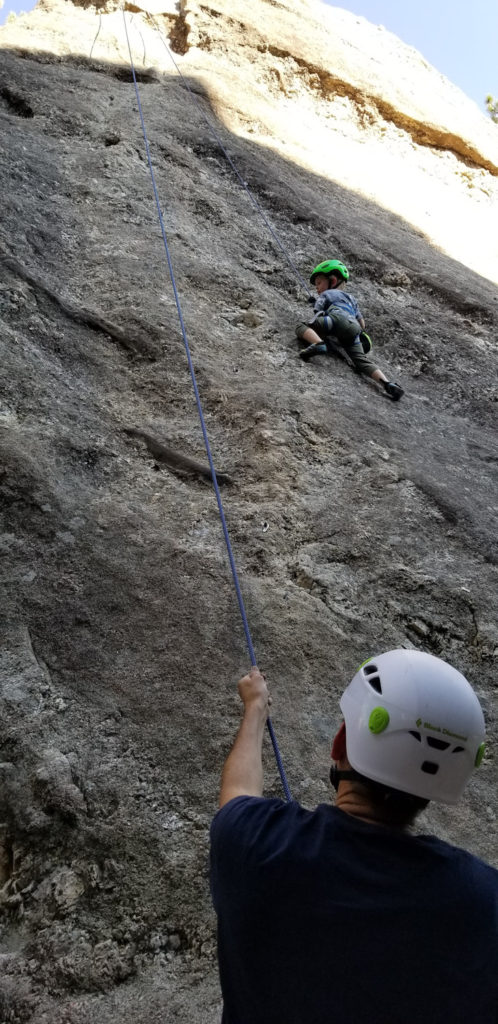 Harlan on the other hand was amazing. Alan lead a really great climb, but the top was not suitable for a top rope setup. Harlan had to climb to the top where Alan stayed and belayed him from above, then they both rappelled down. He did an incredible job.
You can see Alan at the top. This is where he belayed Harlan from.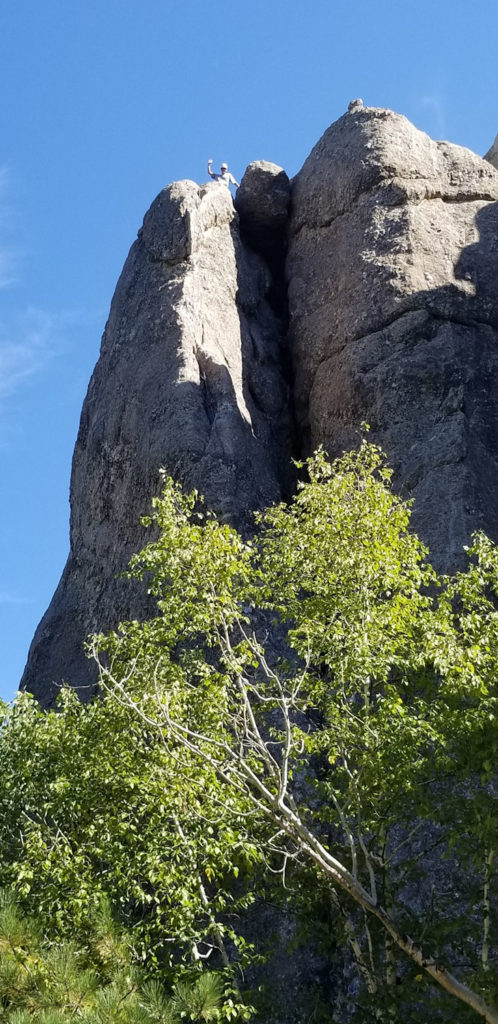 And here is Harlan, totally killing it, 120ft up!
(with Forest at the very bottom)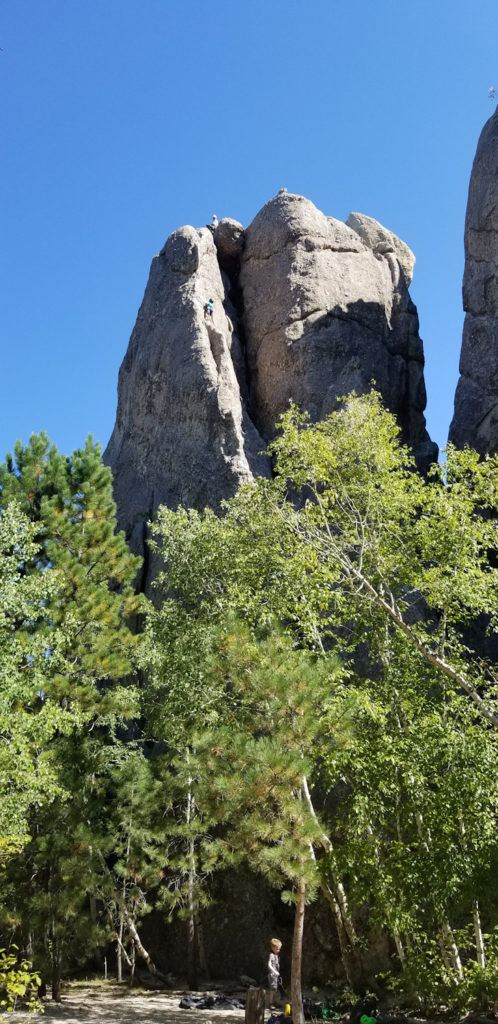 Alan rappelling down. If it wasn't for his skill and safety, this NEVER would be happening.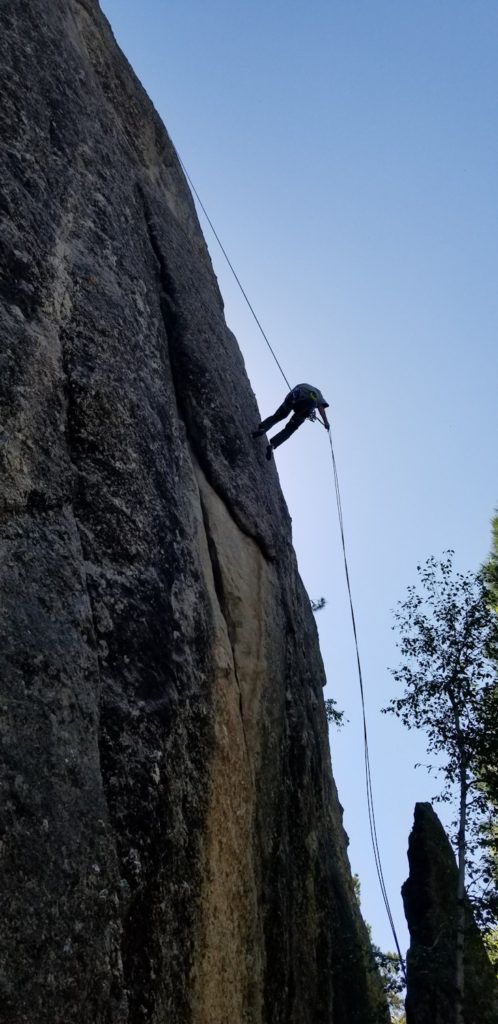 Cleanup!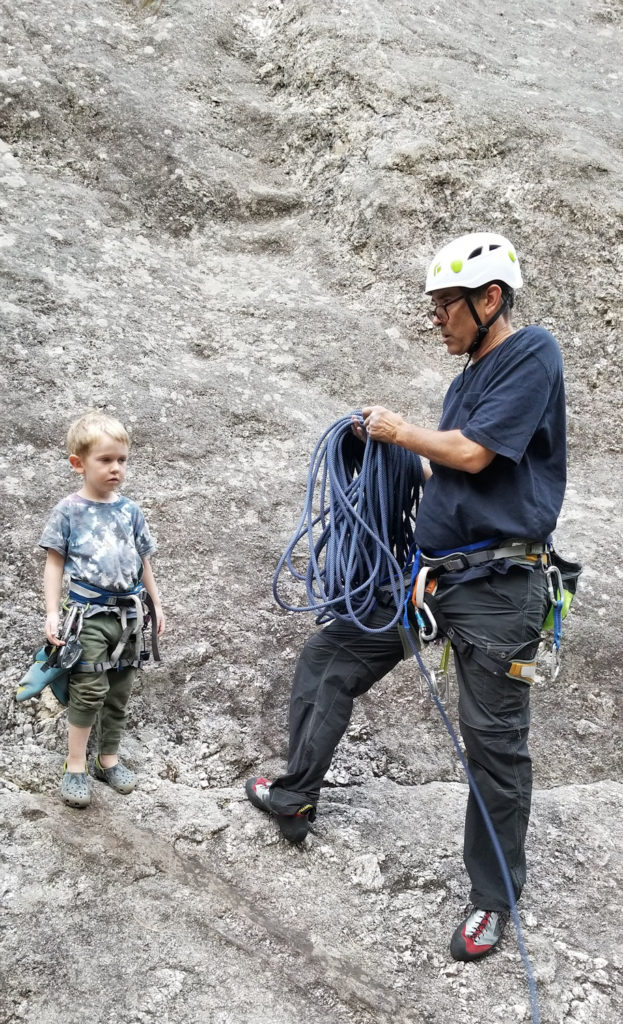 After they were done, we went to Hill City so the boys and I could take the one way ride on the 1880's steam train. When we first arrived in SD, we had to stop for it on our way to the campsite.  You can hear its amazing train whistle echo through the hills daily, so we had to give it a go.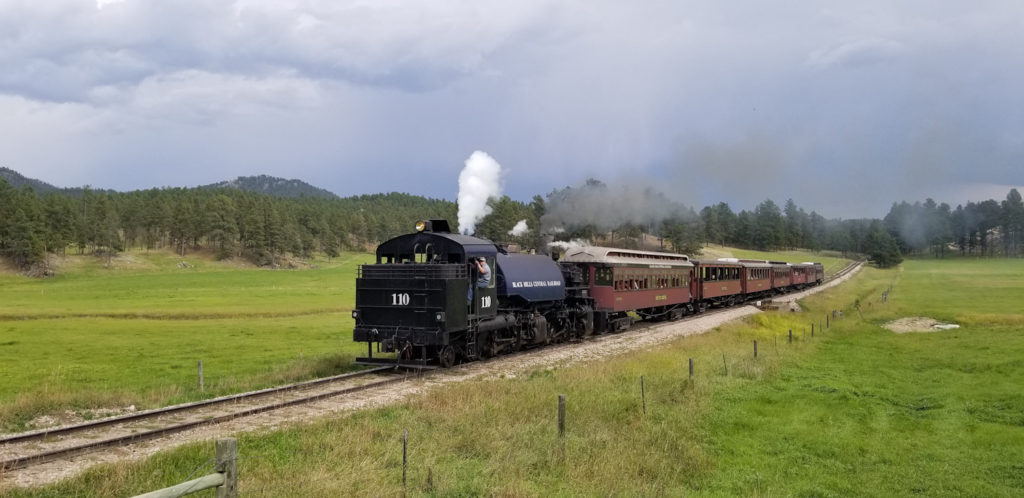 Alan chased the train in his car and surprised us at several road crossings. It was awesome. Everyone in our train car said it was better than Where's Waldo, as the kids looked for Dad each time the train crossed a road.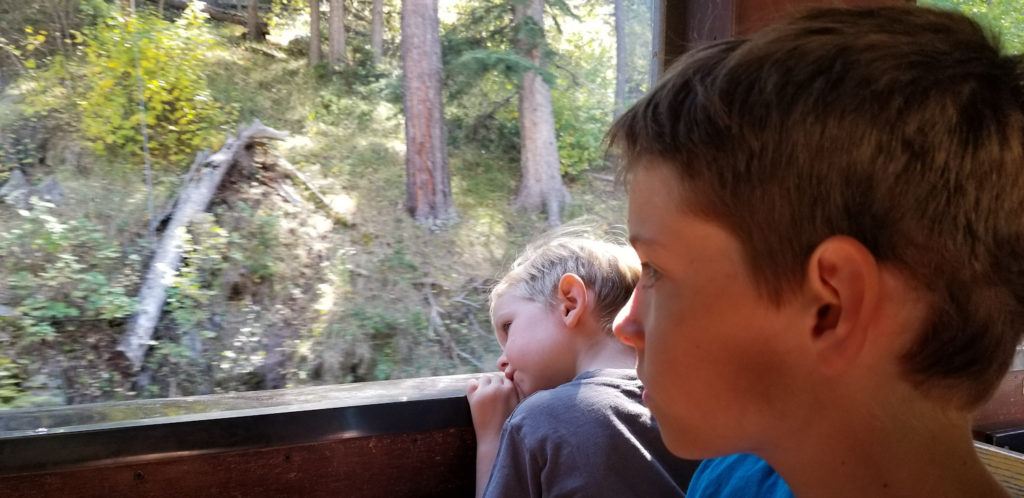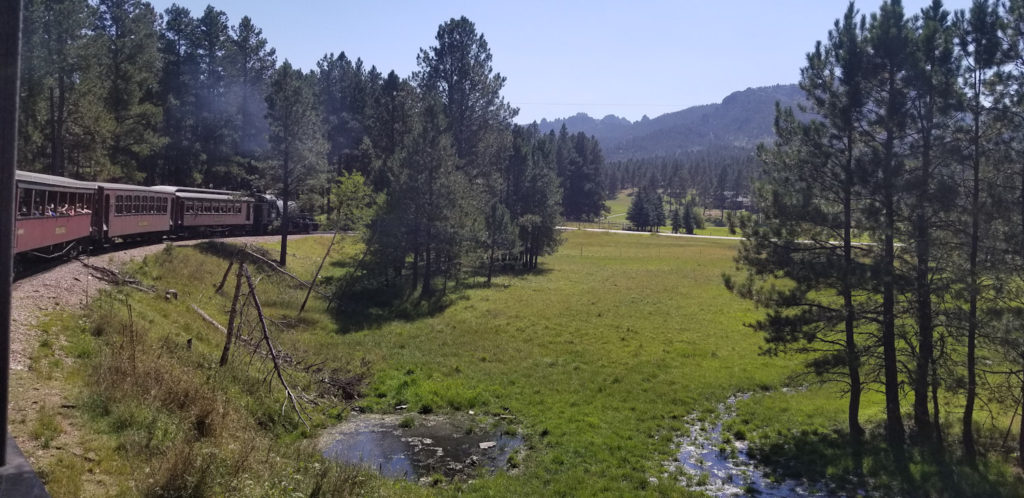 No trip to the Black Hills would be complete without driving the Needles Highway in Custer State Park.
Especially at sunset.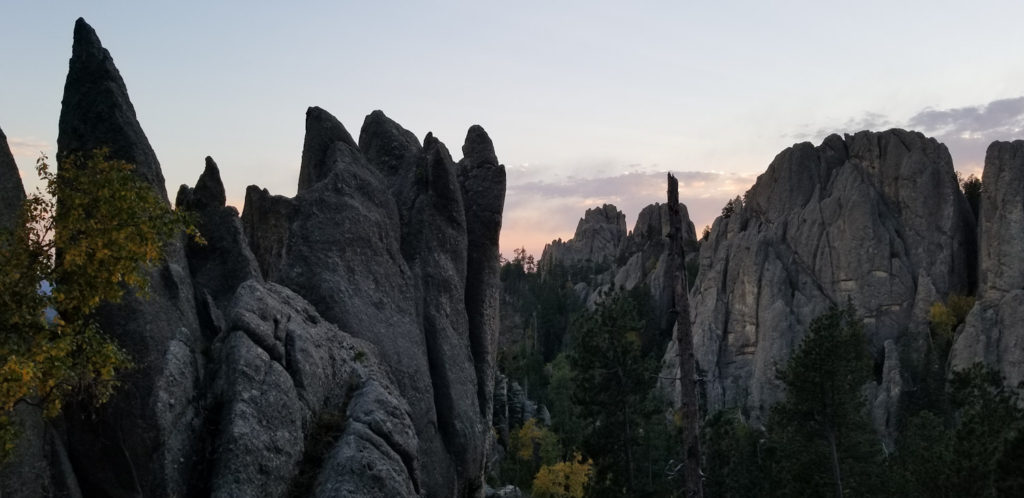 Threading the needle…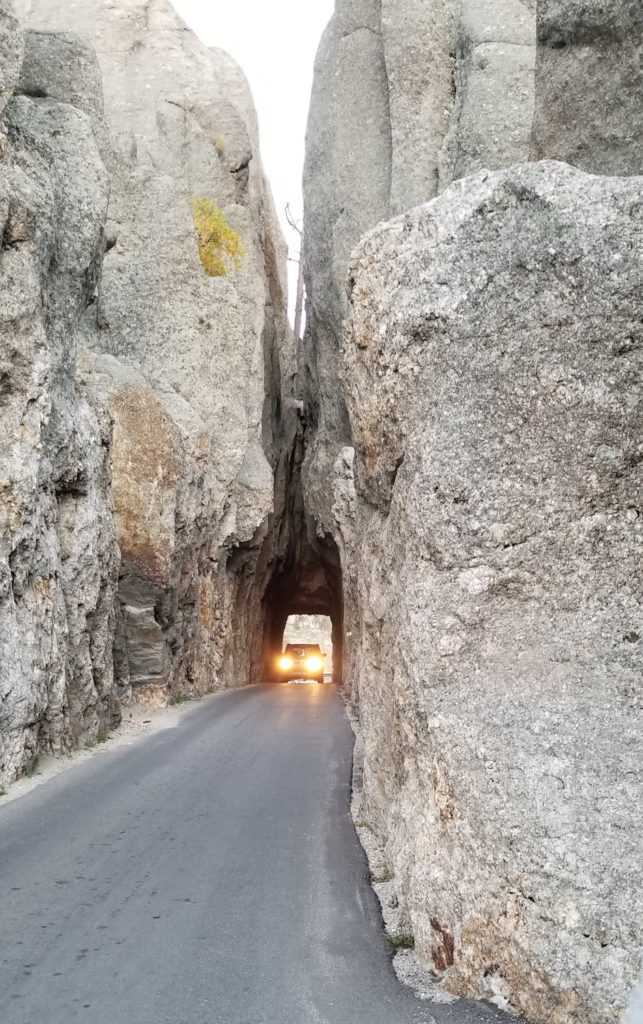 We had to drive through several of these tunnels in the rock, but got stuck at this spot due to some mountain goats finding something delicious on the inside.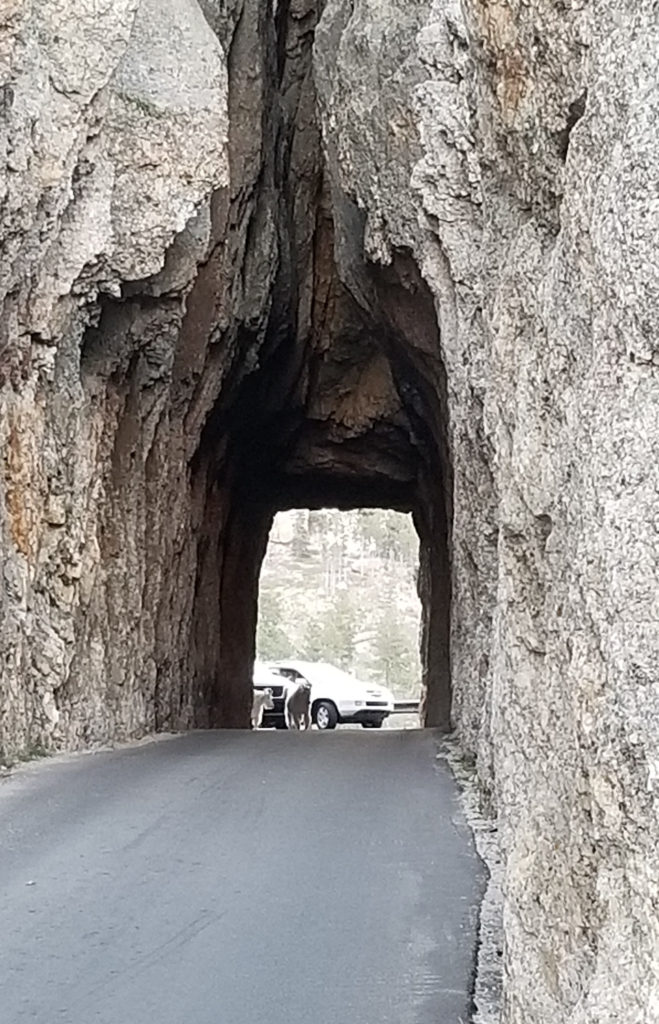 Cars were blocked on both sides for about 10 minutes. Poor goats were totally annoyed to have to keep moving aside.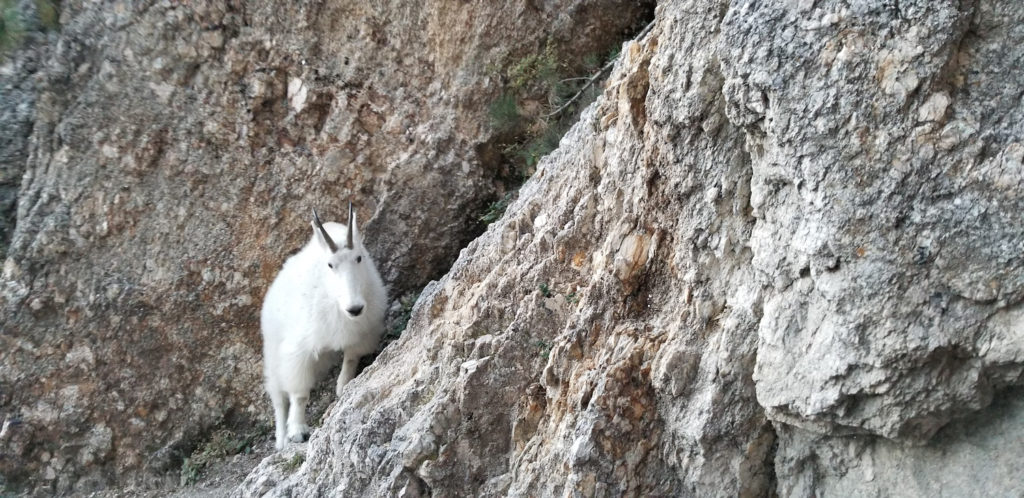 We finally got through but this guy had to hop up on the rock to let us pass.
Other tidbits from the Black Hills? Pie…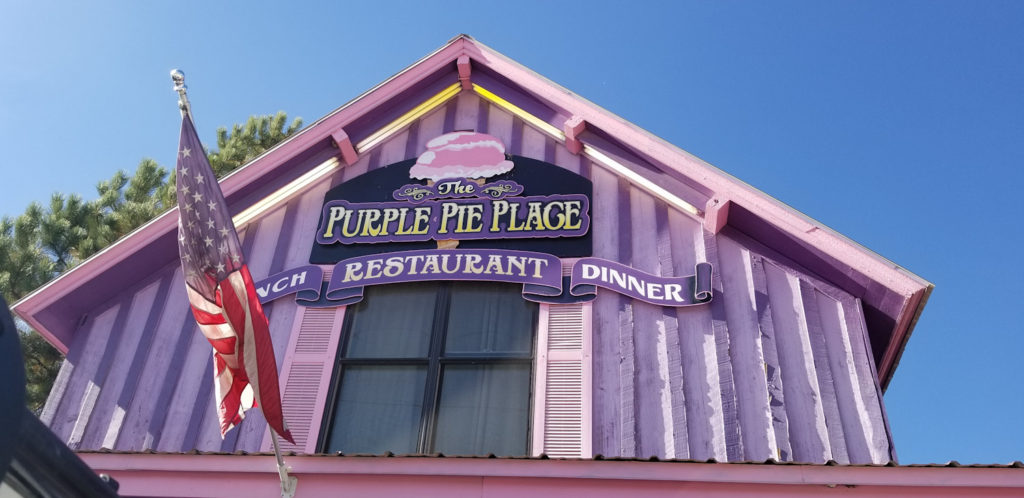 Alan gave the Banana cream a 4, but the Strawberry Rhubarb was a solid 9, and I'm REAL picky when it comes to pie.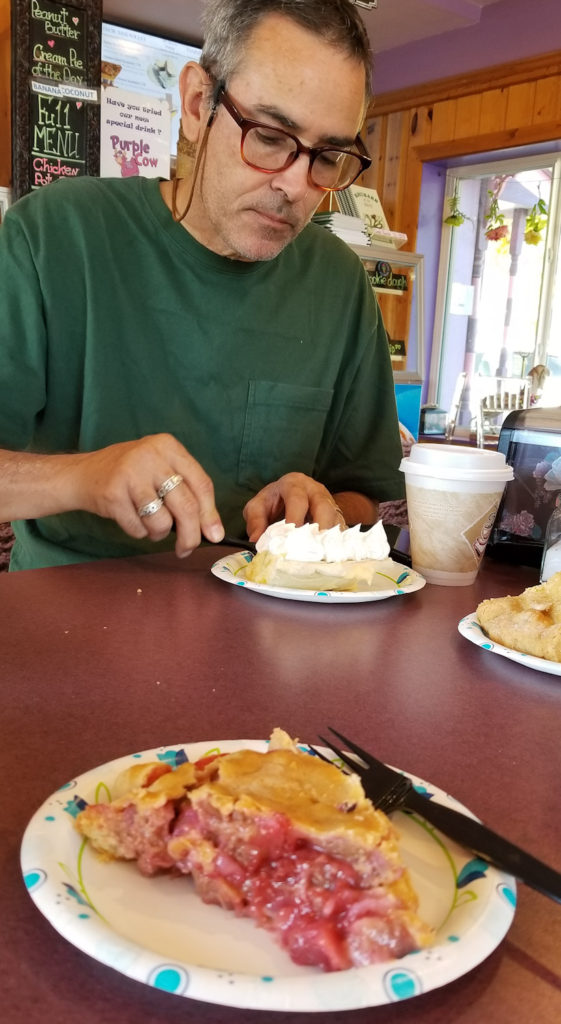 Now there are two National Parks in South Dakota- Wind Cave, and The Badlands.  Due to the extra driving and the fact that we saw some "badland-y" ness in Theodore Roosevelt, we decided to skip it and just visit Wind Cave.
So, Wind Cave. No spectacular pictures here, but it's a fascinating little place. The cave was discovered by a man who heard wind coming out of the ground on a quiet day, pushed a bush aside and had his hat blown off by a constant stream of cold air blowing out of a 2ft hole in the ground. The next time he came back to show his friends, his hat got sucked IN to the hole. Changes in air pressure causes the air to either blow out, or get sucked in. We stood in front of this small hole, and it was wild… constant blowing like an air vent.
There are over 140 MILES of charted tunnels in the cave and only 5% of it has been explored. We explored about 2 miles worth.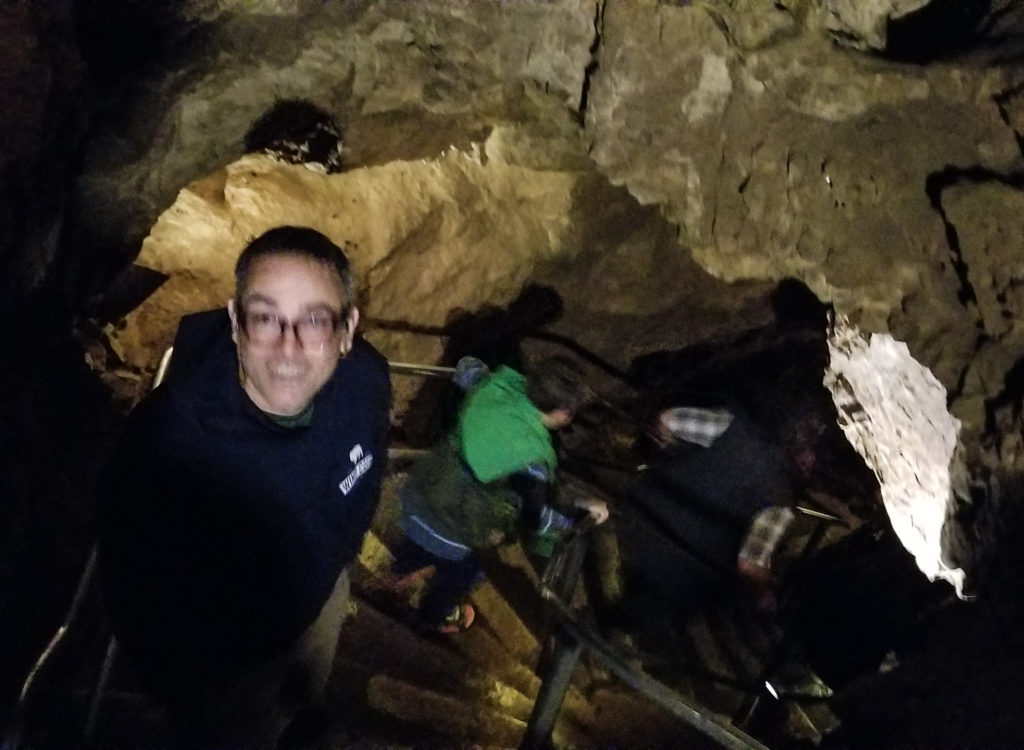 This is Alan descending 200+ stairs. This was unsettling at first, but once we got down, things opened up. We've been in our share of caves on this trip but this one is interesting in that we could just keep walking, and walking and walking…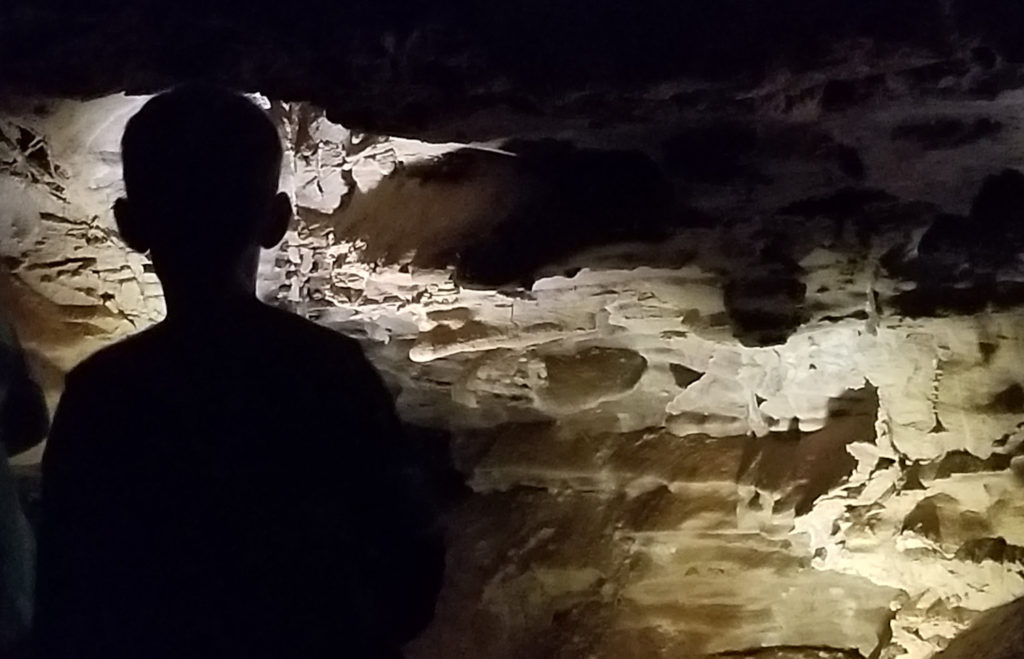 What is significant about the cave is a formation called "Boxwork" and Wind Cave has about 95% of the Earth's supply.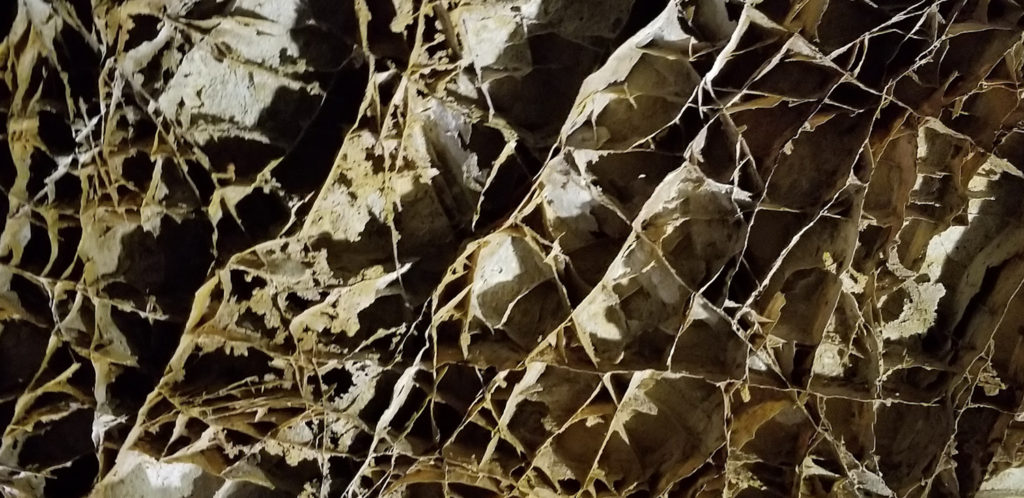 Wind Cave is basically a "dry" cave, so there are no creatures living deep within, or growing formations like stalactites and stalagmites.
Harlan easily earned his badge, but this time, Forest decided to get in on the action, and earned his first badge!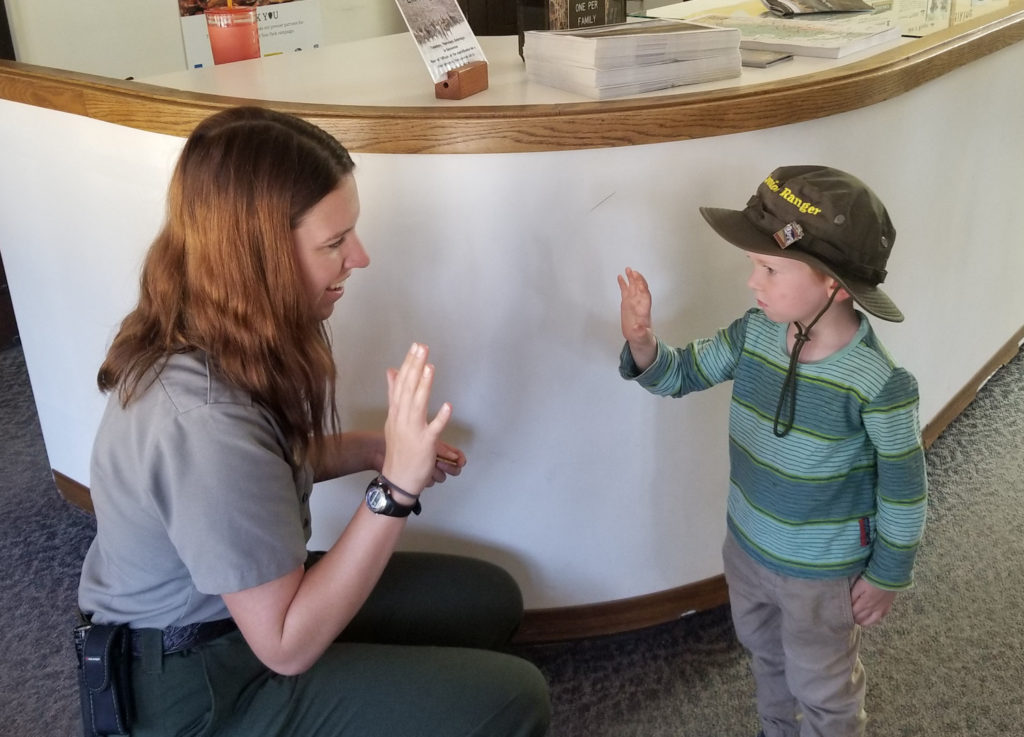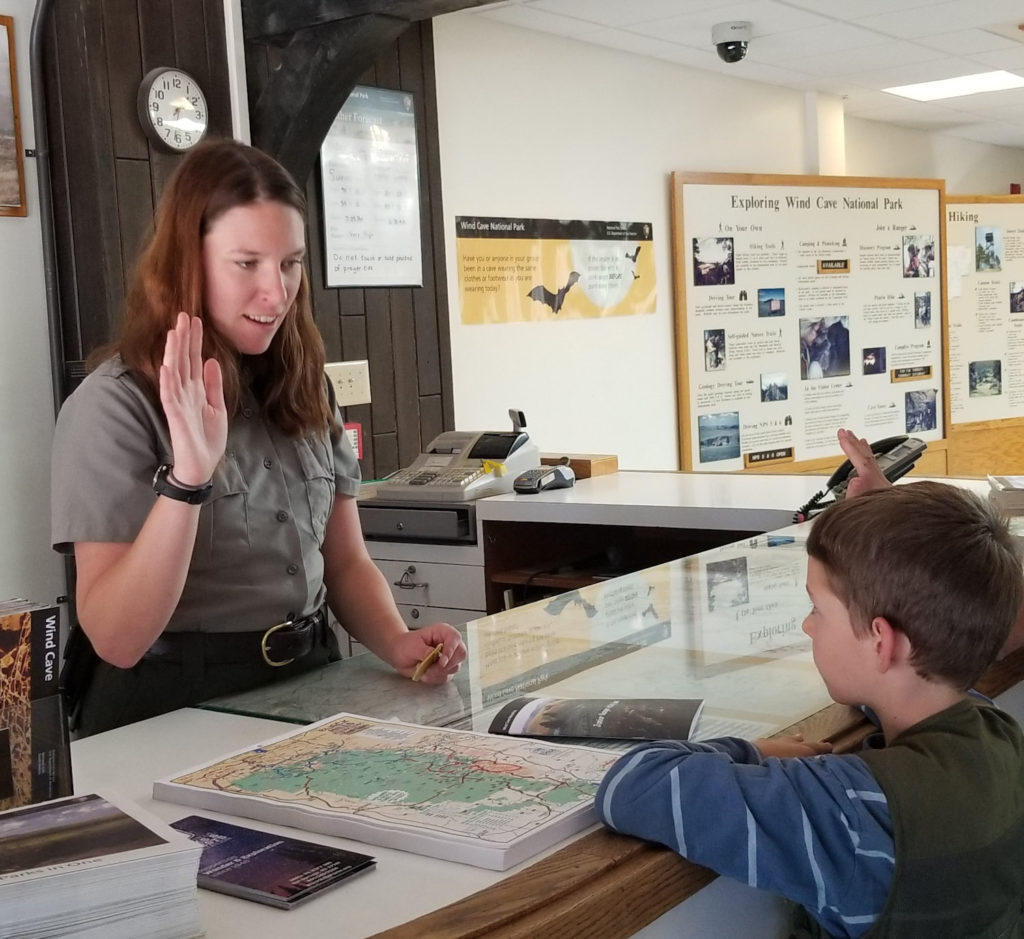 It seems like we can't keep up with the "toast with a glass of vintage Scotch" at all the National Parks, as you will see with the next few posts. Sometimes we forget or are just too darn tired. And not all blog posts can be spectacular, and sometimes we just want to put our cameras down, so this time we'll just end with a look at our map. It's filling in!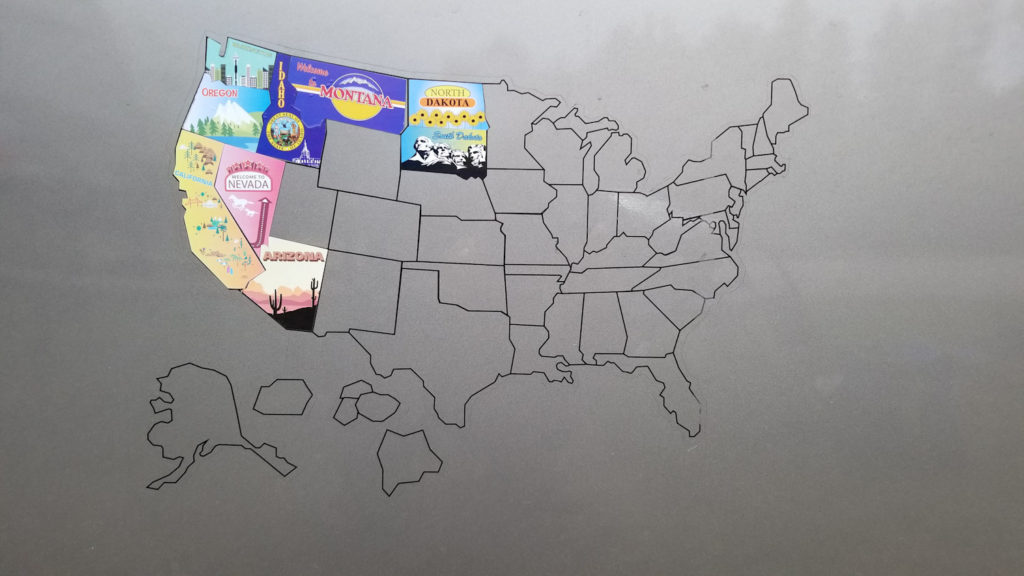 Thanks for joining us on the ride!