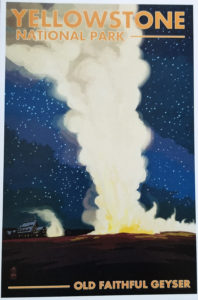 Oh Yellowstone. We were so excited to visit you again, but this time in late September for what we expected to be the beginning of the "off season". Quiet. No crowds.
Well, it appears that Yellowstone no longer has a slow season. I imagine it is less than peak summer, but with full parking lots, BUSS LOADS of people, that aspect was a bit of a disappointment, for me at least.
We stayed just outside the park entrance in West Yellowstone MT, so simply getting to the geothermal features would take at least an hour, barring any kind of traffic or wildlife jam.
Our first day in, there was a LONG line at the entrance, then a little way in, at least a 30 minute wait, fully stopped without any idea what was going on. This, however, was the payoff…a run of at least 40 Bison.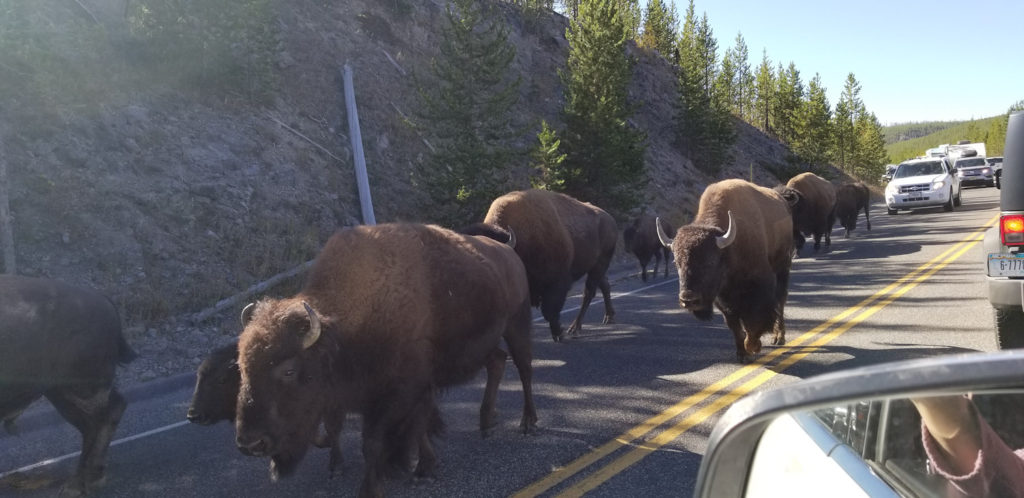 The Bison in Yellowstone are 100% purebred, and look a little different than the ones we had seen in Theodore Roosevelt which over time have been cross-bred with cattle. They are a truly majestic animal.
Our first stop was to see Old Faithful and the Visitor's Center to get Harlan's ranger book and watch the park's movie. Forest was particularly excited this time.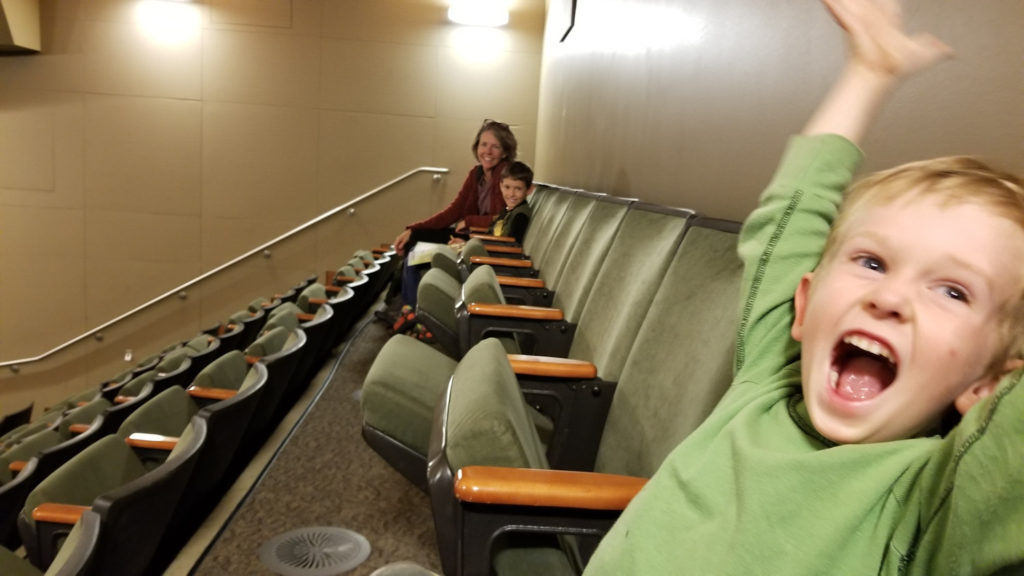 Once again (like last time) we NAILED it, and showed up about 10 minutes before it was predicted to blow again.
Getting ready…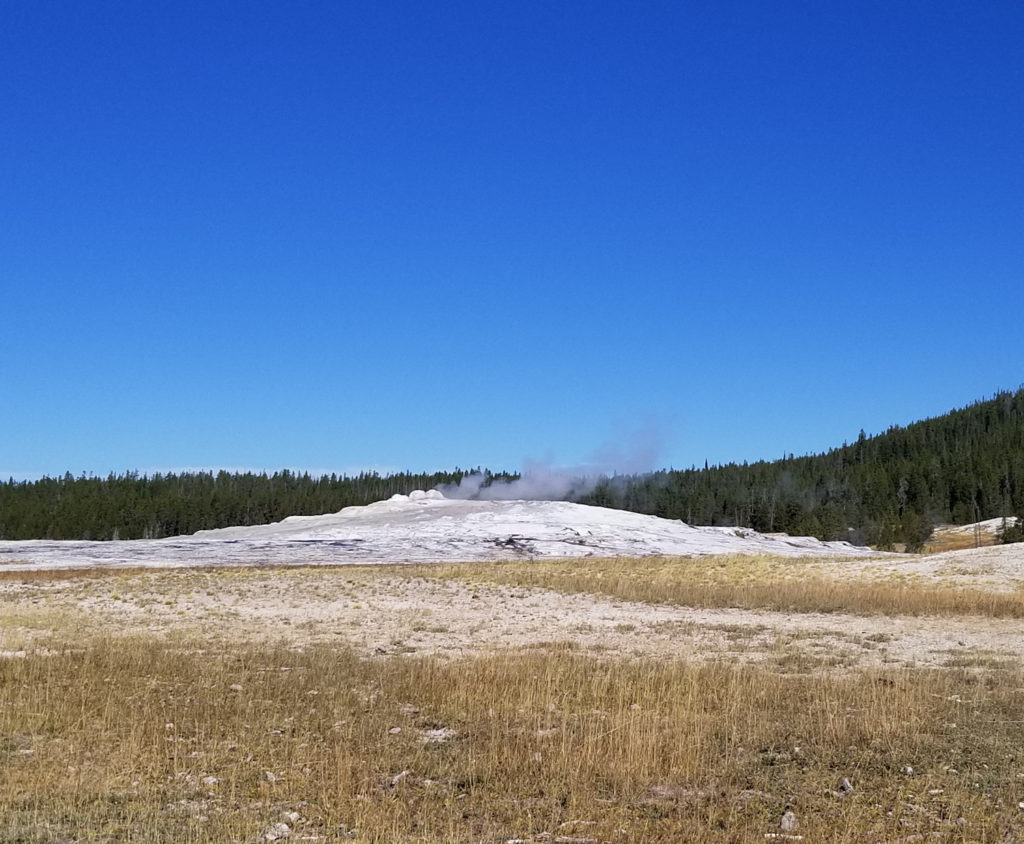 There she blows!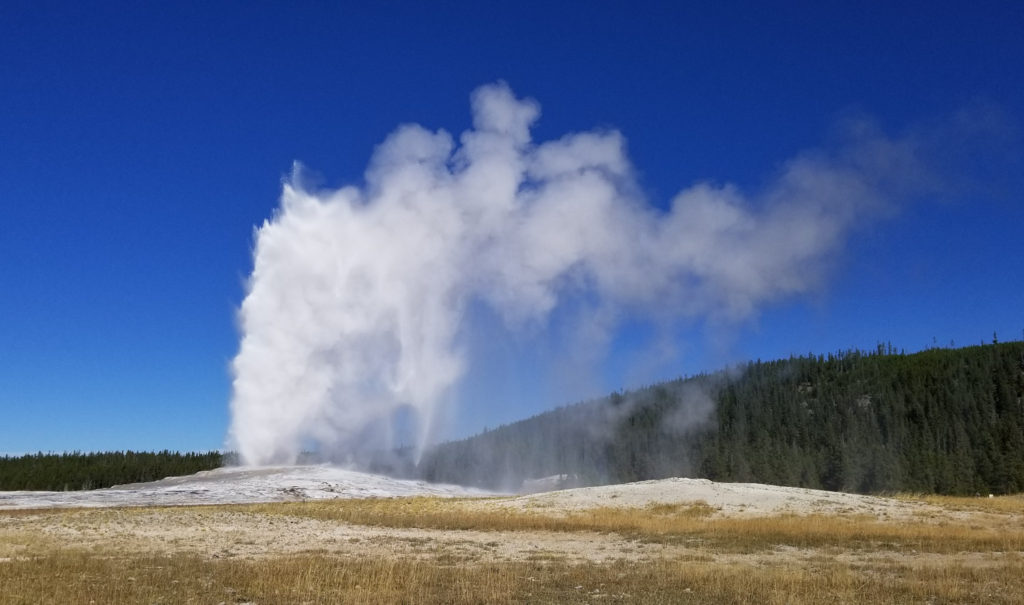 There is so much to see at Yellowstone, but the spectacular geothermal features are our favorite so we headed to the Grand Prismatic Spring next.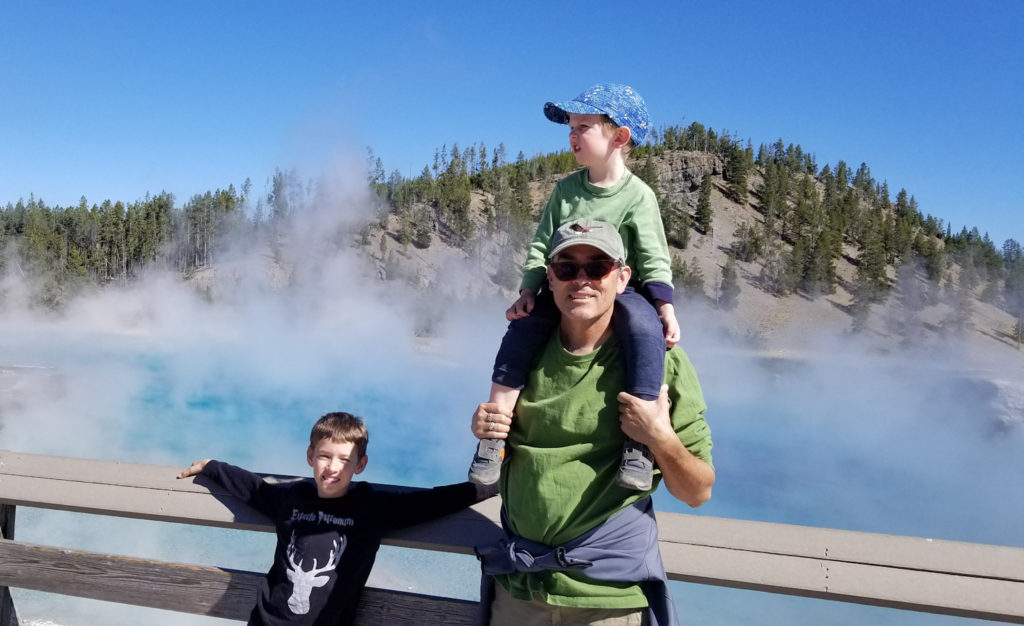 It is truly unbelievable… the colors, the heat. This pool in particular is so clear and so blue it's hard to not want to jump in. Remembering that it's boiling hot and would dissolve human flesh was a good deterrent.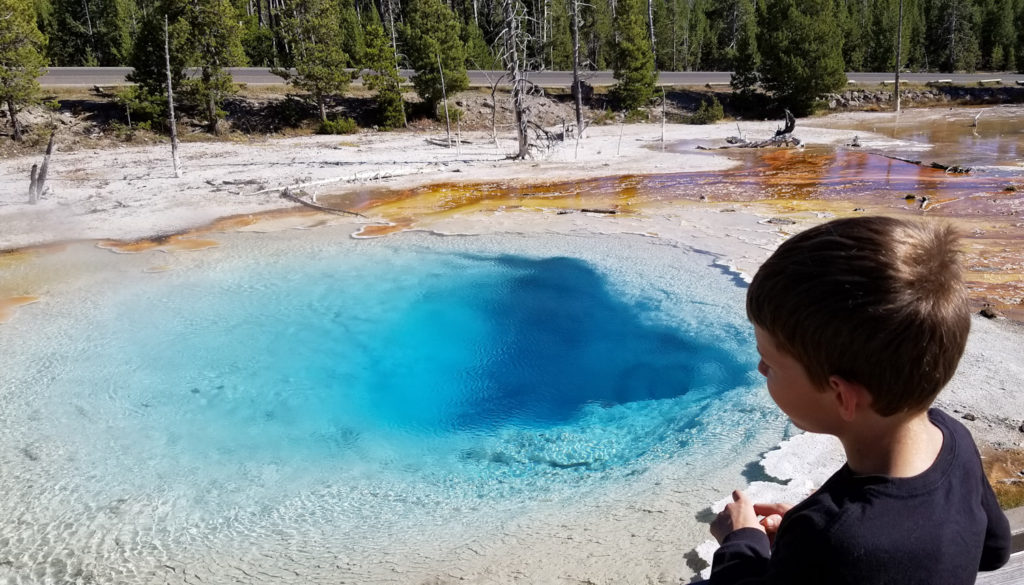 The colors on the mud are what they call "bacteria mats" full of microbes that can withstand the crazy heat.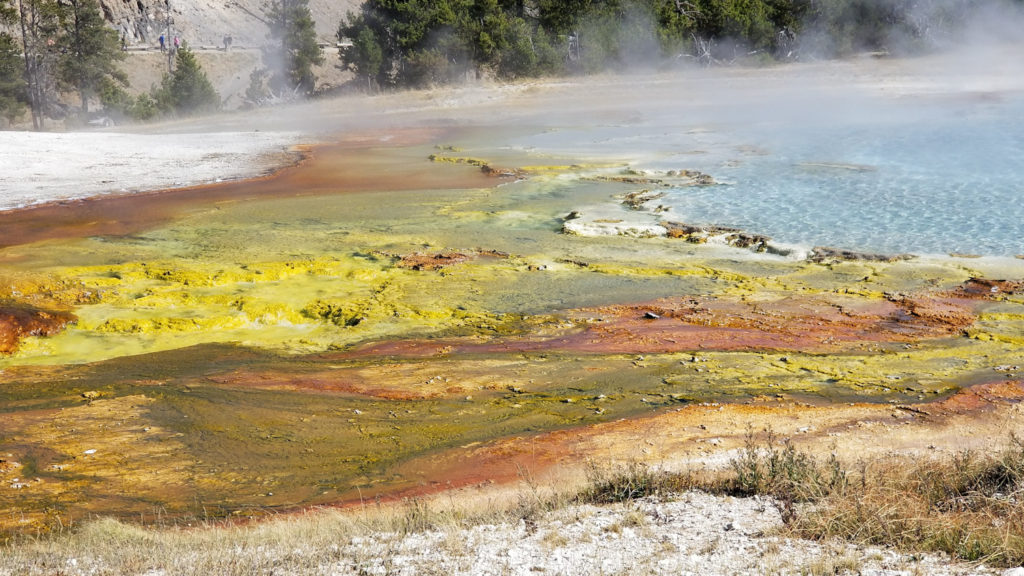 The best part is the boardwalk which allows you to walk all around these magnificent features.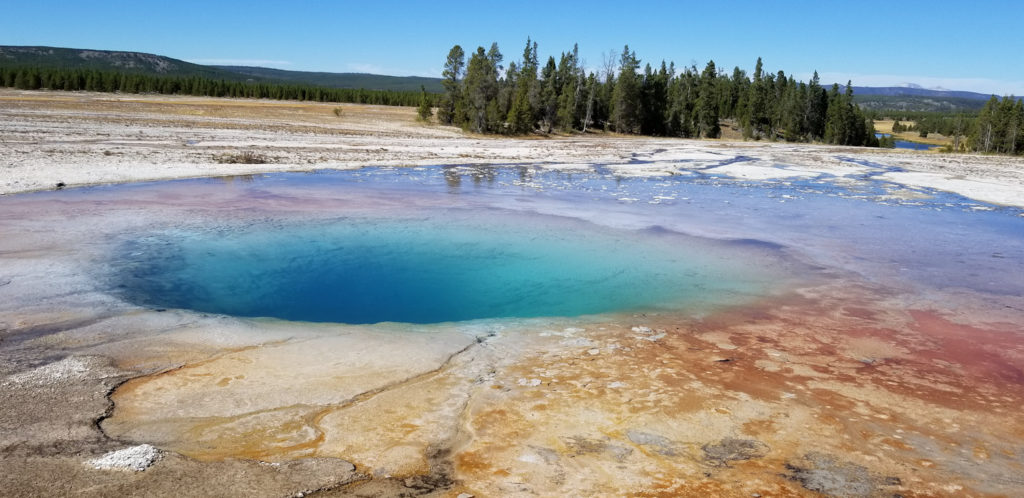 We hit the bubbling mud pots next and what I call the "stinky steam" geyser. I may be smiling, but it is stinky and humid!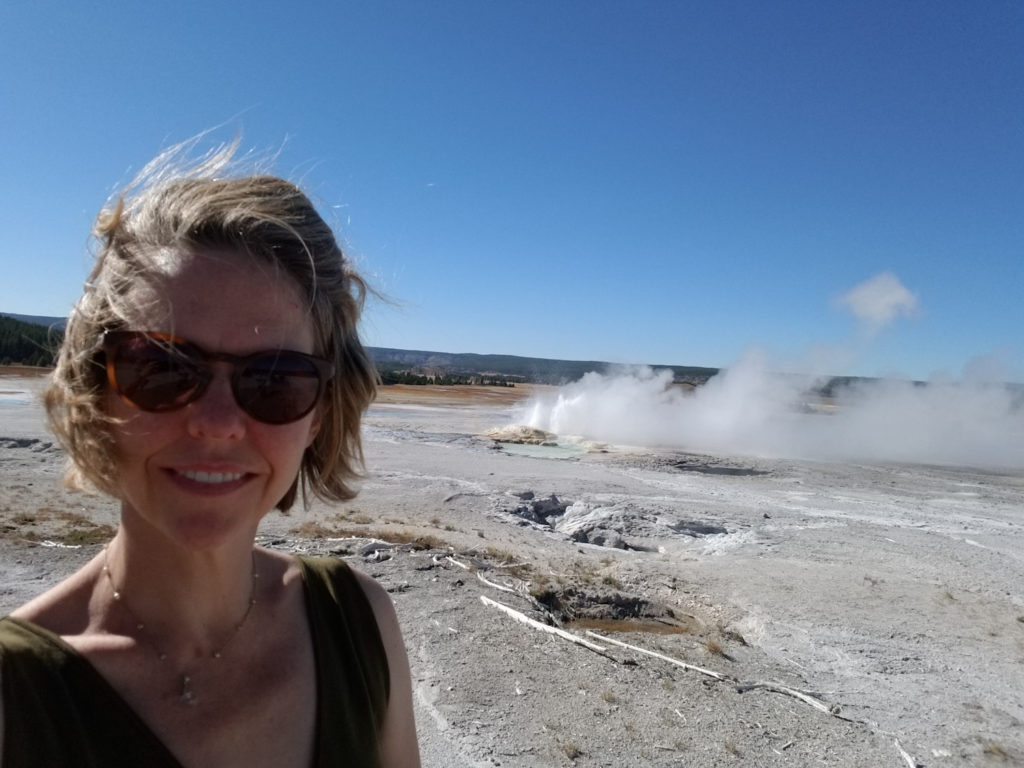 It gave us a pretty good show, however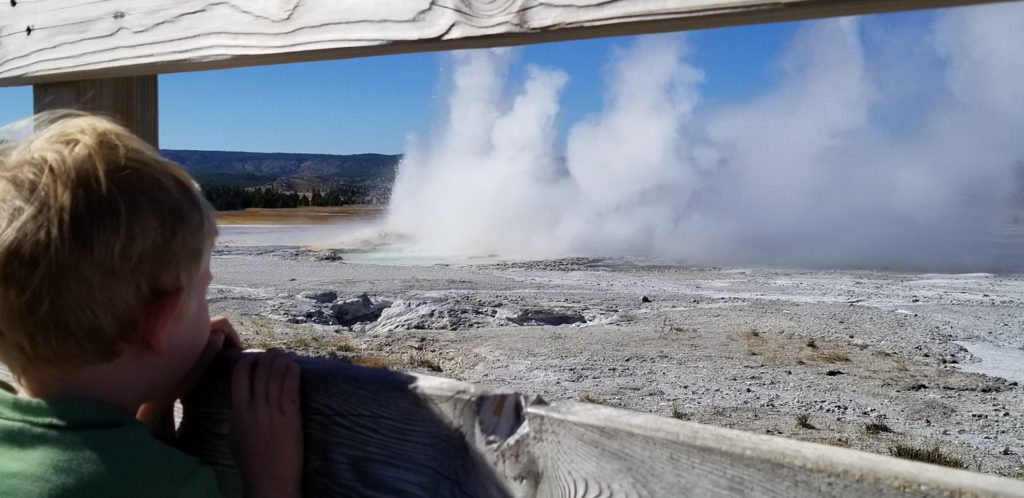 On the way back to camp, we hit another roadblock. This time, Elk. A big one. (stay tuned… we saw a TON of them in CO)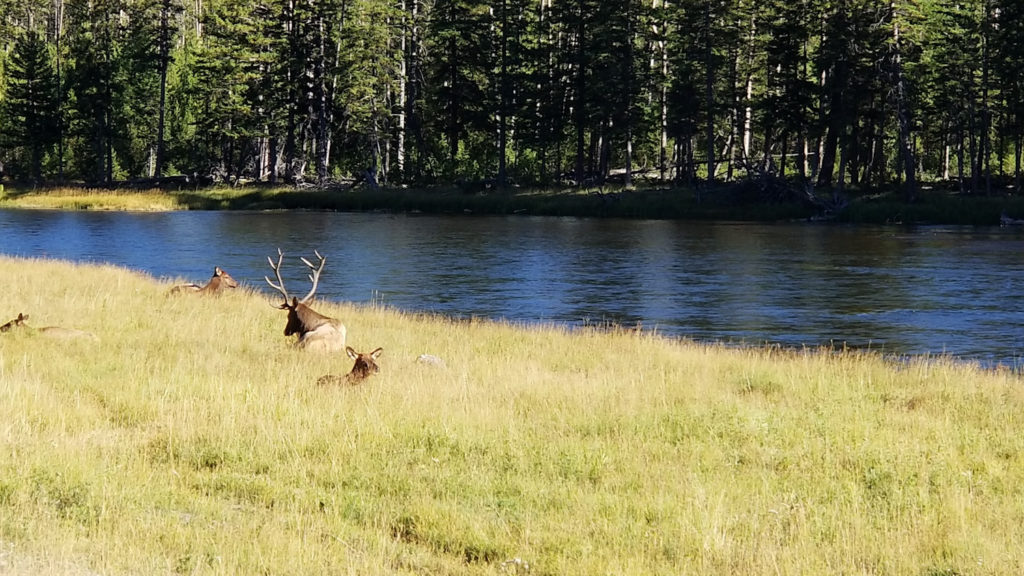 The next day, we decided to tackle a 5 mile round trip hike to  Fairy Falls. The crowds really hit the park around 10 am, so our goal was to beat the crowds and be on the trail by 8. Factor in wrangling two kids and a 40 minute drive, we were hiking by 8:30 AM. A tremendous feat.
The park in the quiet and cold morning is amazing. Due to the cold air, you can really see the hot steam from the geothermal features as you drive in. It looks completely different by the afternoon and these features seem hidden.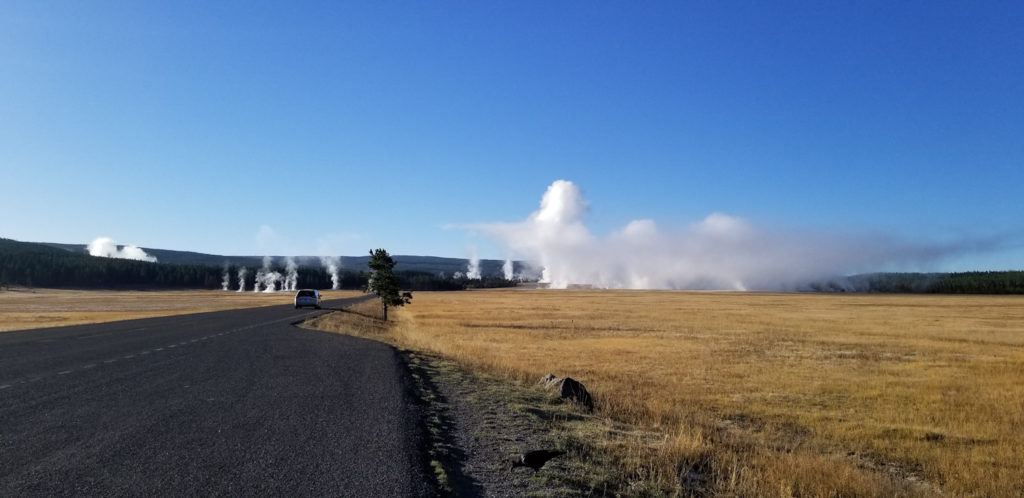 It's almost like you have no idea how many hot spots are really there until you seen them on a cold morning.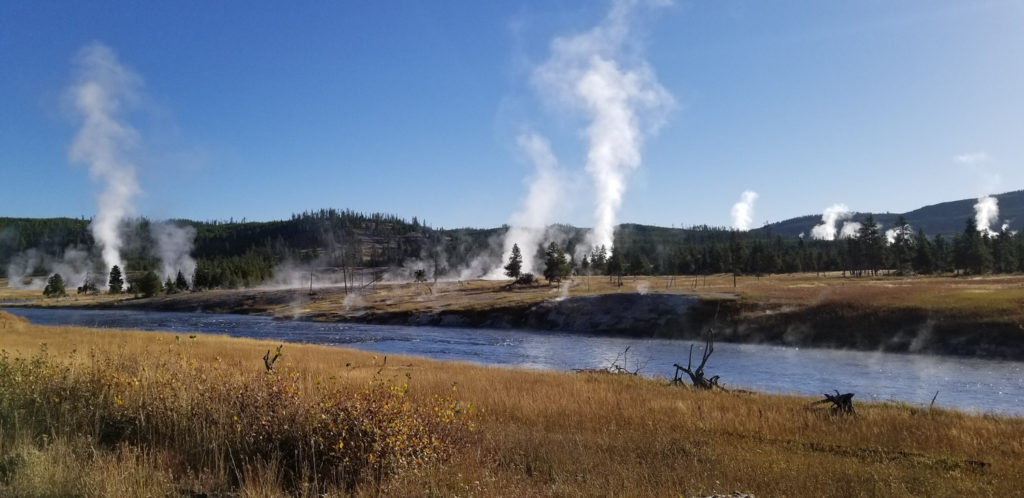 So the cool thing about the hike we took is the trail is on the opposite side of the Grand Prismatic Spring that we had viewed the day before and included a lookout point to be able to see the feature from above in all it's glory.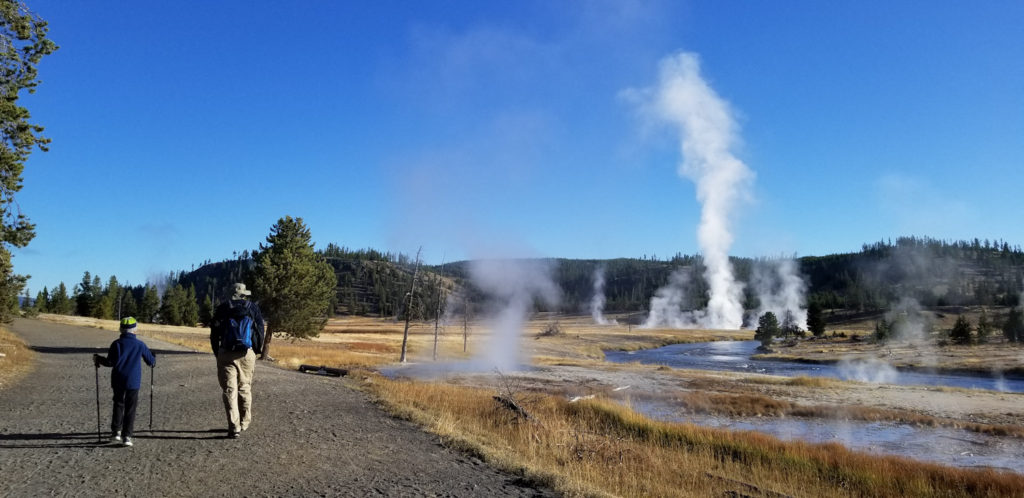 You are so close to everything, that along the path there were 3ft mini pools like this.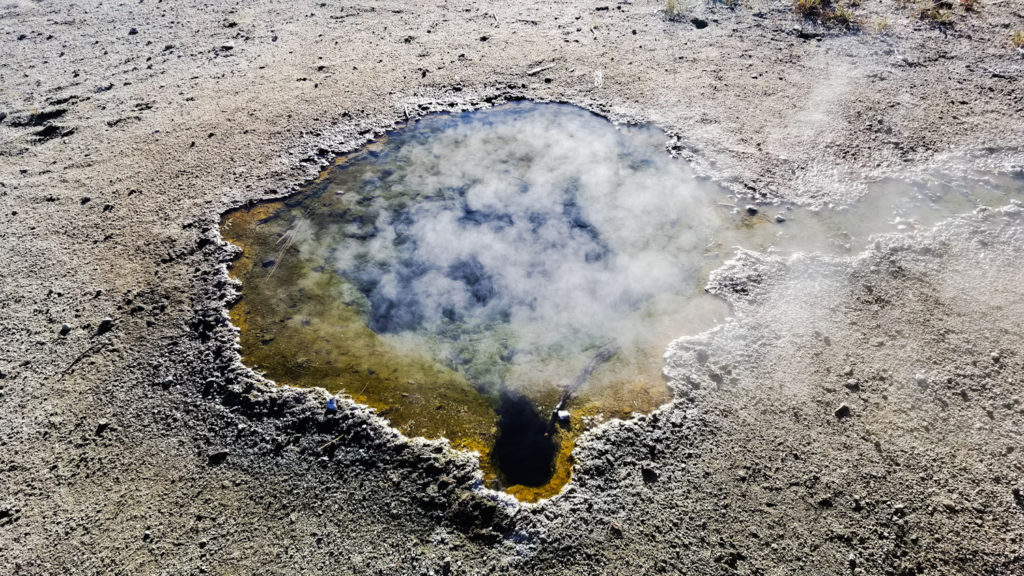 So we hiked up to the lookout point and to our disappointment, there was SO much steam, we couldn't see the spring or it's beautiful colors. Instead we saw something better.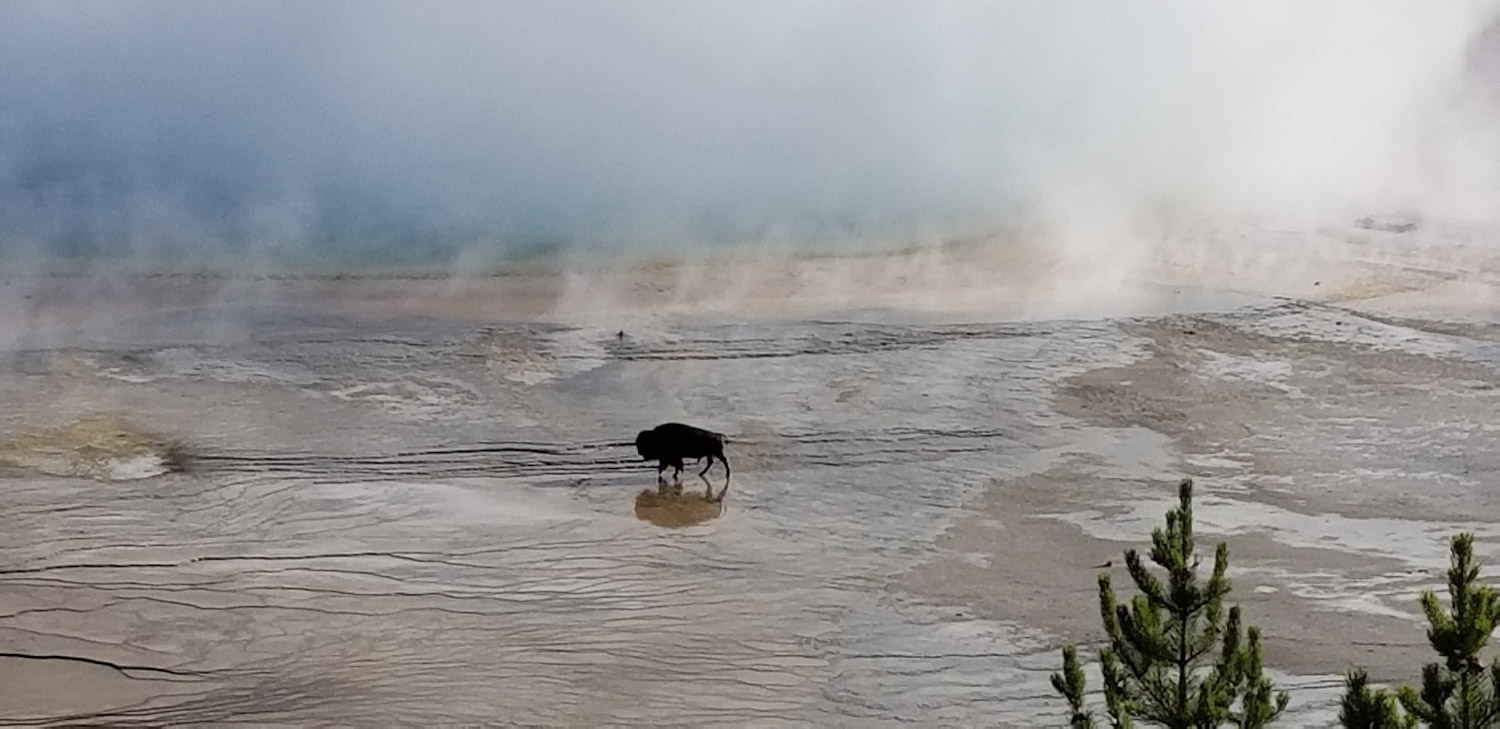 In a truly magical moment, a Bison appeared out of nowhere and very slowly made his way across the field in front of us with the spring behind him.
To get a better idea, here is a pulled back view. Below, you can see the boardwalks that we were on the day before. The people down there couldn't see the Bison until he came out from behind the steam (we'd been watching him plod along the whole time) and you could see and  hear their excitement as everyone crowded on the boardwalks to see. It was breathtaking and a magnificent way to start our hike.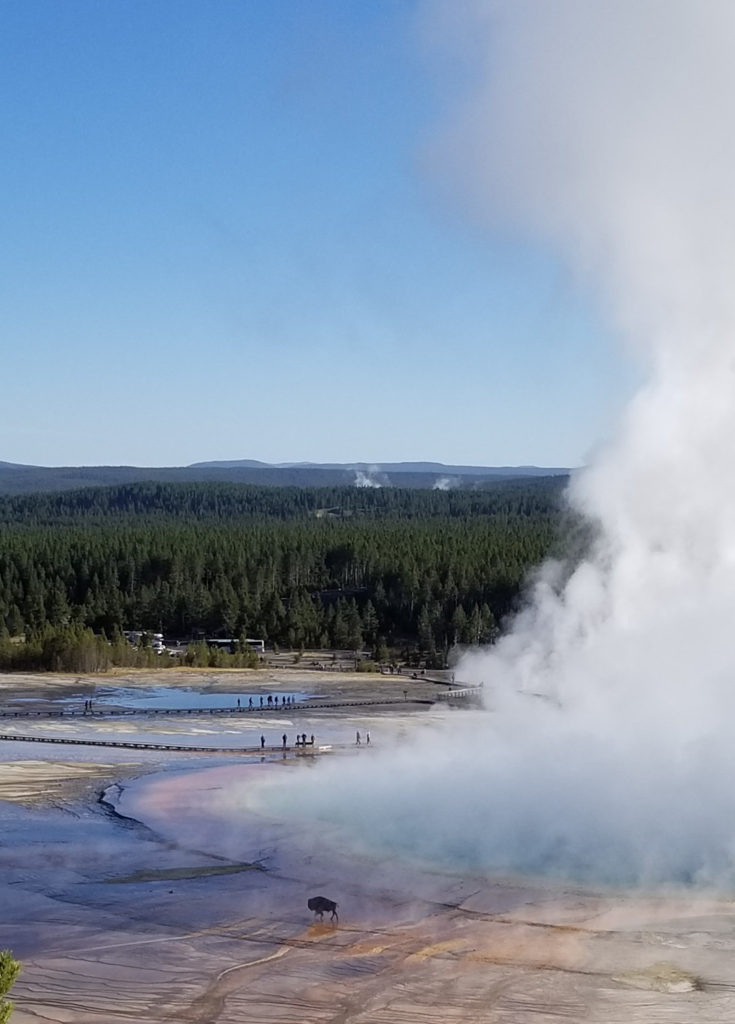 The boys enjoyed playing in half frozen puddles as the steam rose behind them.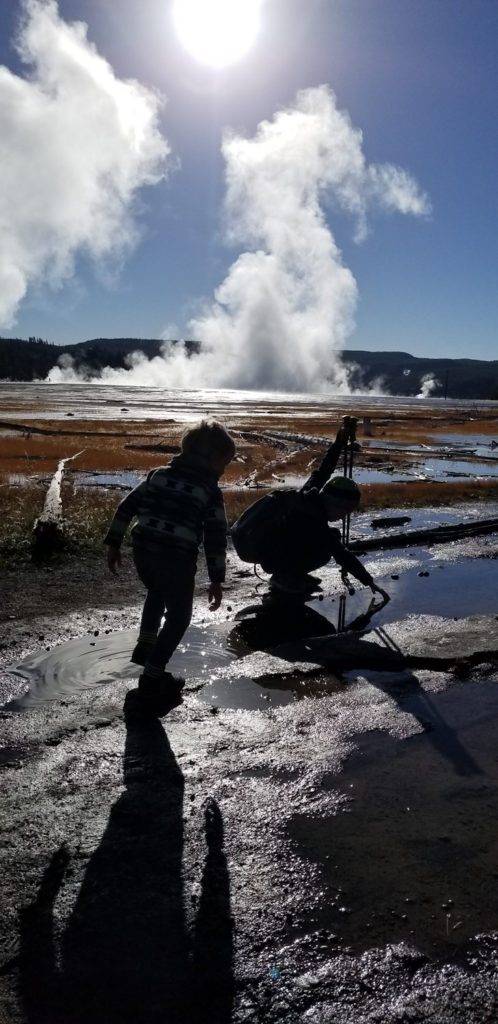 The hike was an easy flat trail, that took us through a burn area from the 80's. It's amazing what has grown back in 30 years.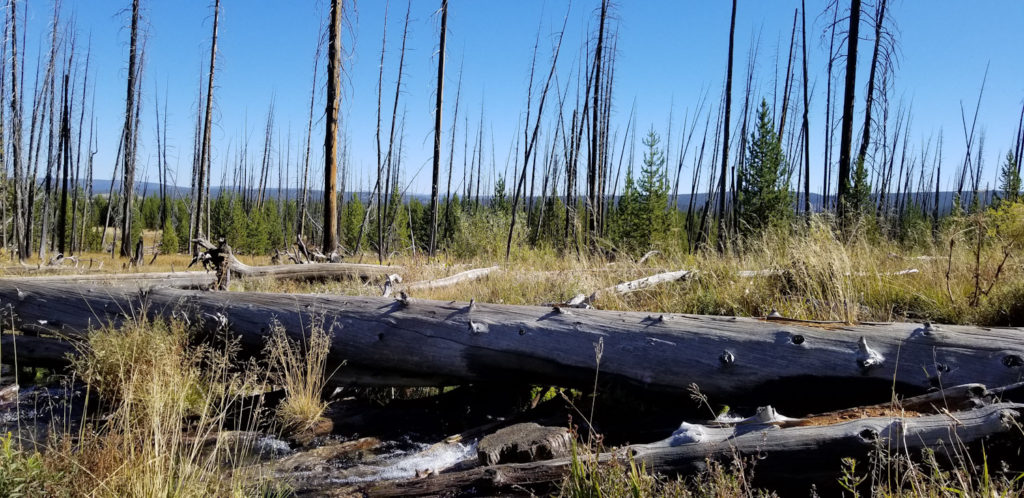 At the end we reached Fairy Falls.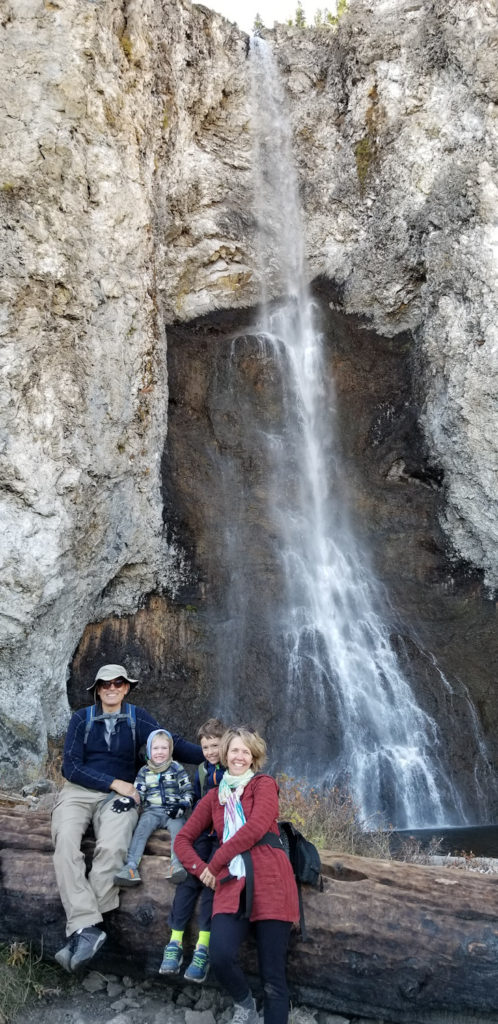 On the hike back, we decided to go to the lookout point again to see if we could have a better look at Grand Prismatic Spring. Four hours later, after the Bison had passed, this is what it looked like…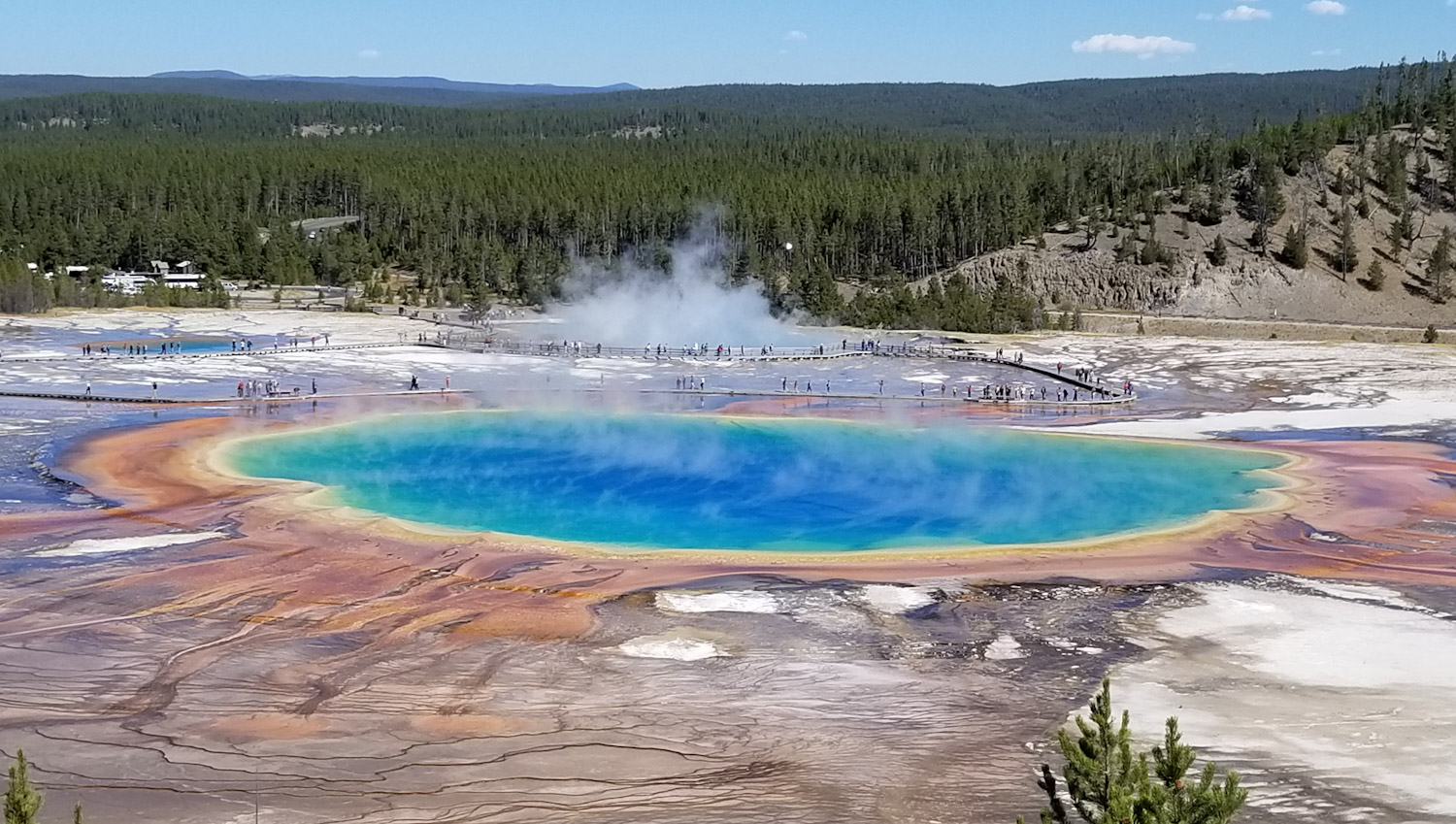 Unreal. Truly unbelievable. We took these pictures with our PHONES! We were so grateful to have seen both views. It was a real testament to the magic of mother nature and we left the park feeling Yellowstone had given us a gift.
One again, Harlan earned another badge. Go H!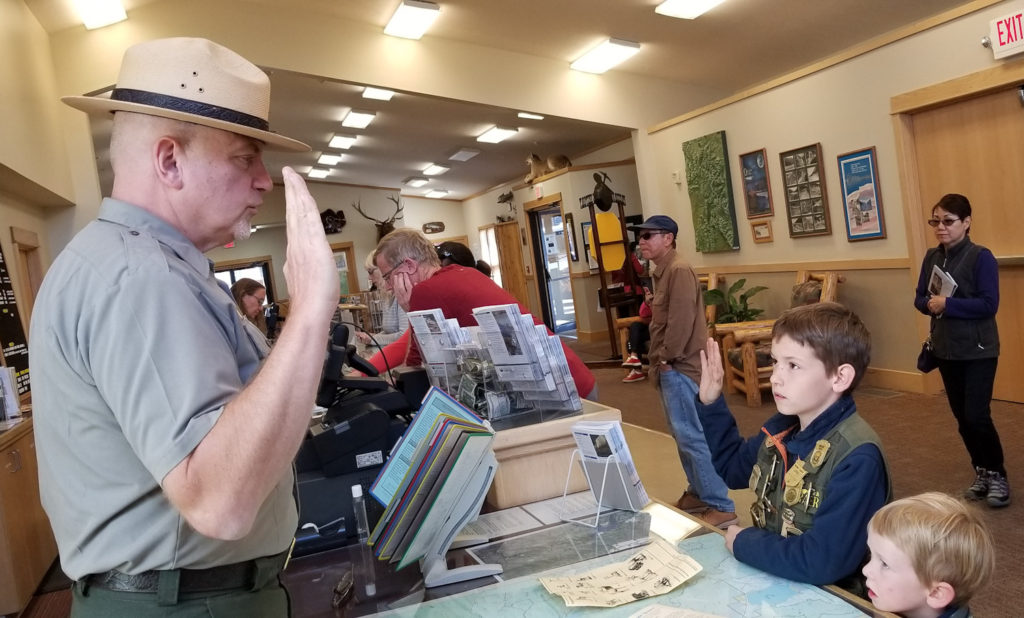 As we had mentioned in the last post, we seem to be unable to keep up with Scotch at each park. So this time we toast to YOU dear readers for hanging with us on our journey!
Cheers