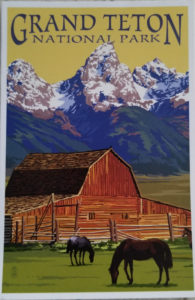 So once again we were winging it and not planning ahead, which left us to hit up a first come first served campground in the National Park as EVERY place in town was totally booked. Luckily, we landed a spot no problem, and a great one at that with amazing views of the Tetons. Now we love staying IN the parks whenever we can but the campground was without "hookups", (no sewer/electricity). The issue was temperatures were starting to drop below freezing at night, meaning we're at the mercy of our batteries and the limited hours in which we could run the generator to keep us warm. We also needed to make sure our pipes didn't freeze.
Gros Ventre Campground… Tetons in the back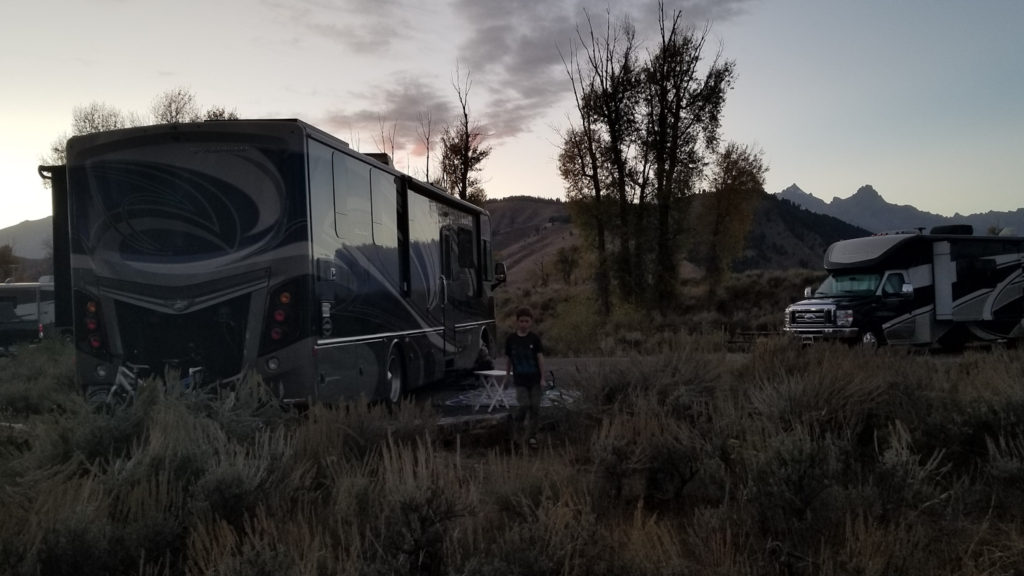 Luckily the days weren't cold so we ventured out to Jenny Lake. We were all pretty tired so we took a short hike to Hidden Falls which required a small boat ride across the lake to get to the trail.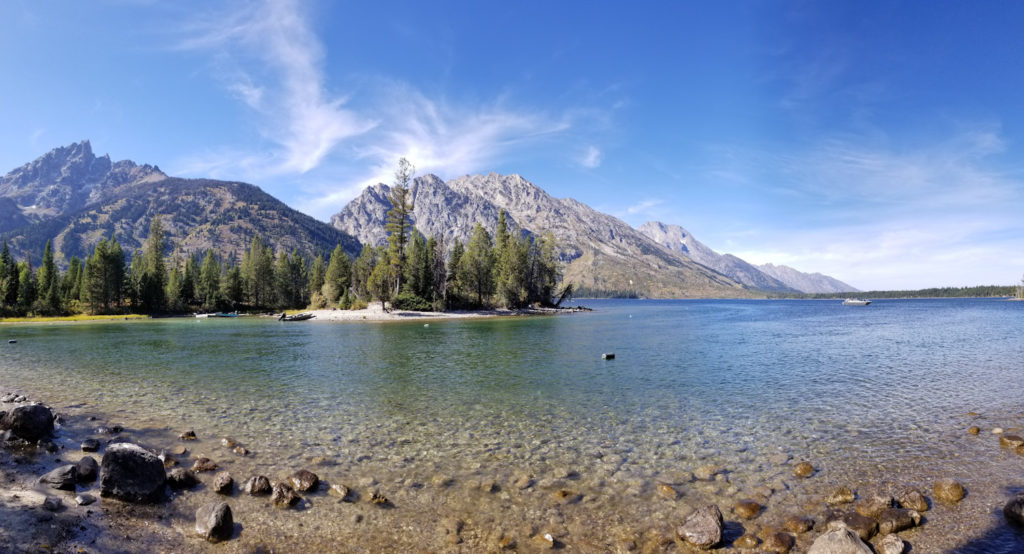 Once there, the hike was just perfect with several places for the boys to play around the rocks.
(Lower falls here…)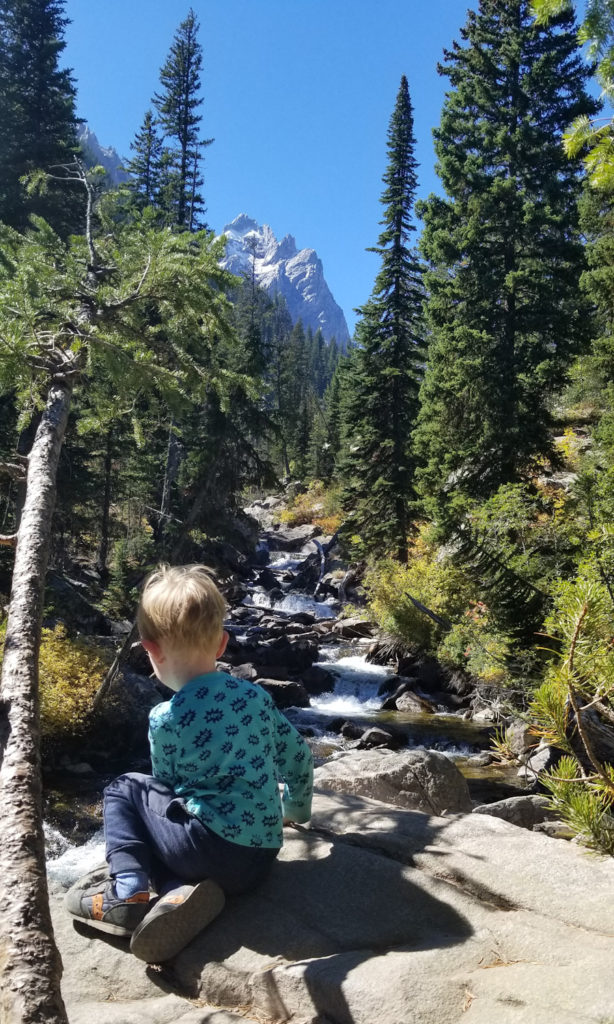 Hidden Falls!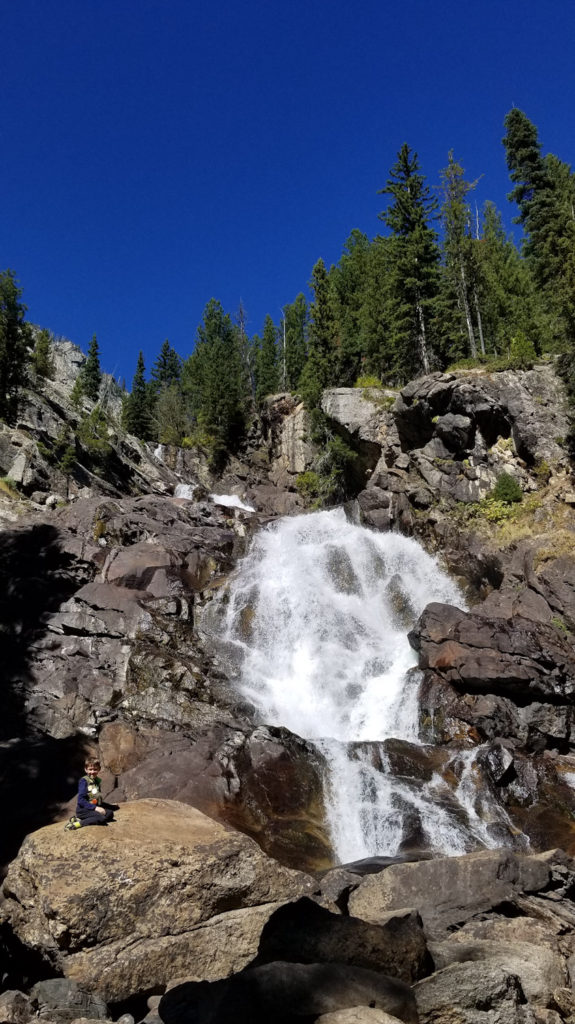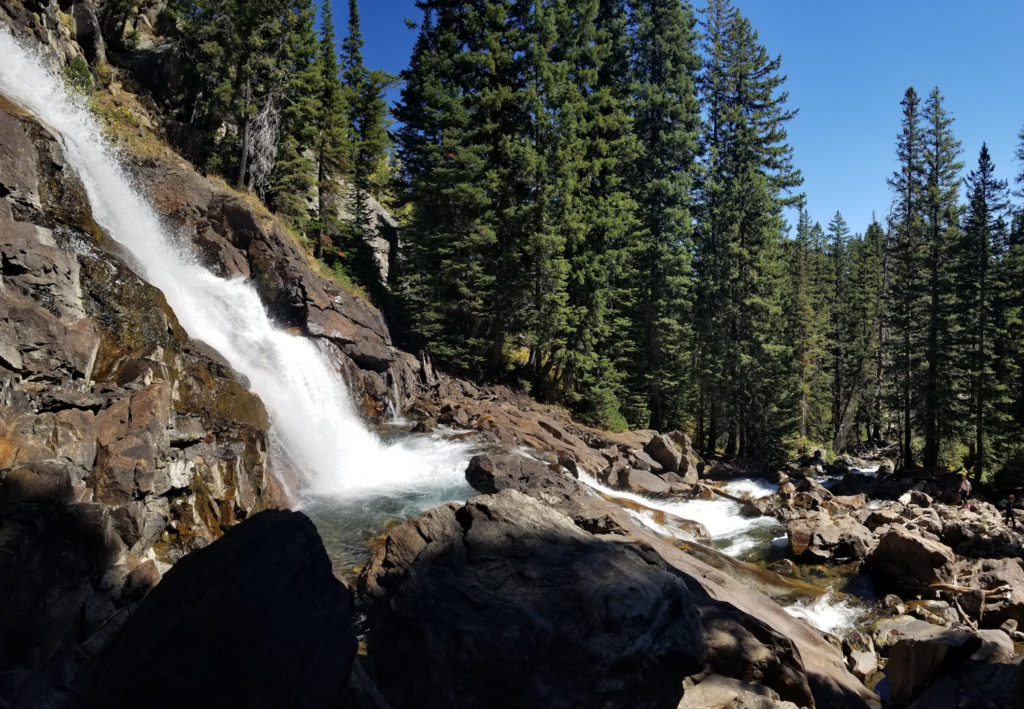 On the way up, Harlan met some "junior" Junior Rangers earning their first badges, so we stopped to congratulate them and take a picture.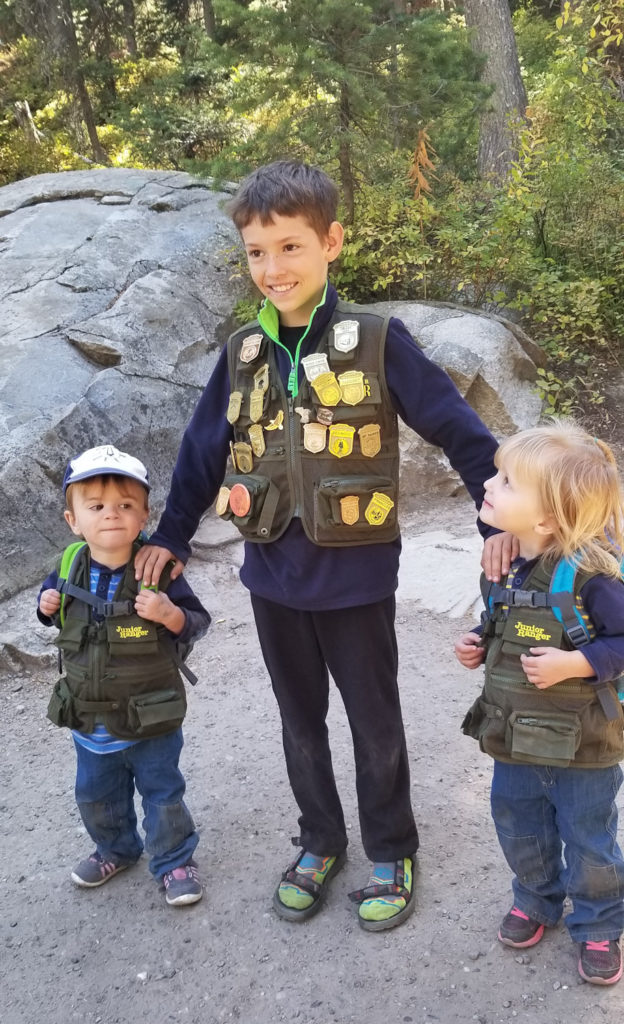 On our way back, a man alerted us to a large Elk sitting just off the trail. We kept looking, then wow, there he was. 20ft from us hidden in the leaves.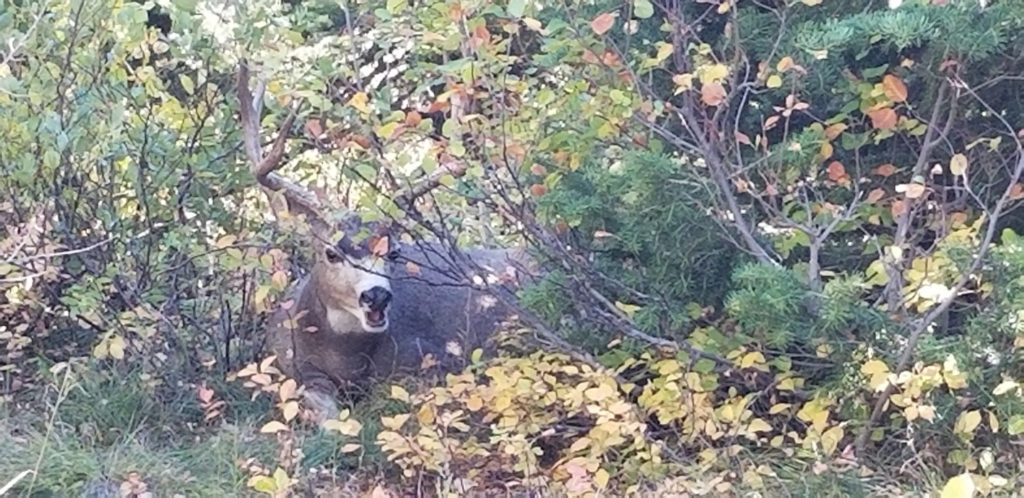 The next day we made the pilgrimage to Taggert Lake. This little hike is very sentimental to Alan. His folks took him there when he was little, we took Diego and Harlan there on our last x-country trip, and this time, Forest got to come.
 I just love the entrance kiosks to the National parks and find them exciting. They're like gateways to greatness. It was a little cloudy out, but it made for great hiking. Man those Tetons are pretty!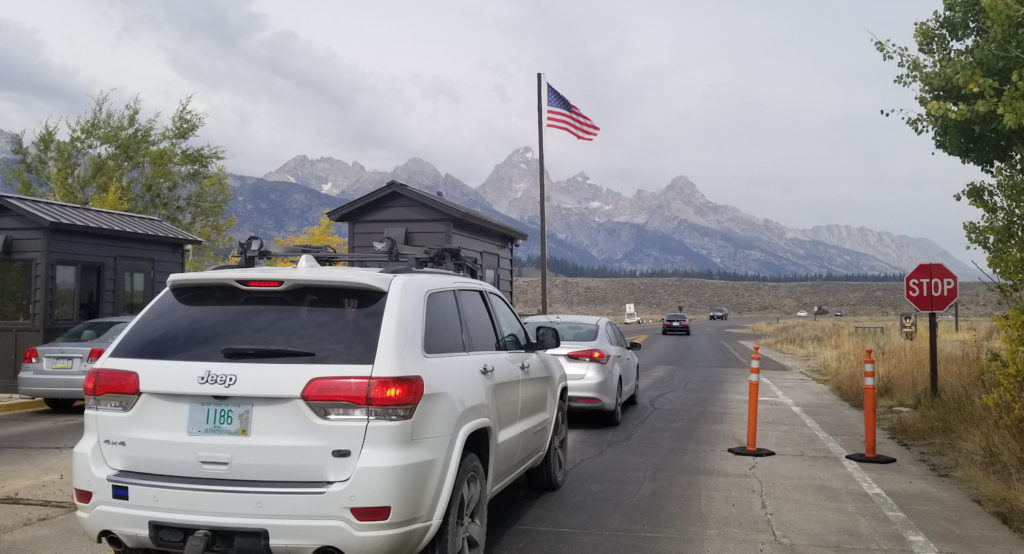 What was so lovely for me is that this time the trail looked completely different in it's beautiful Fall splendor.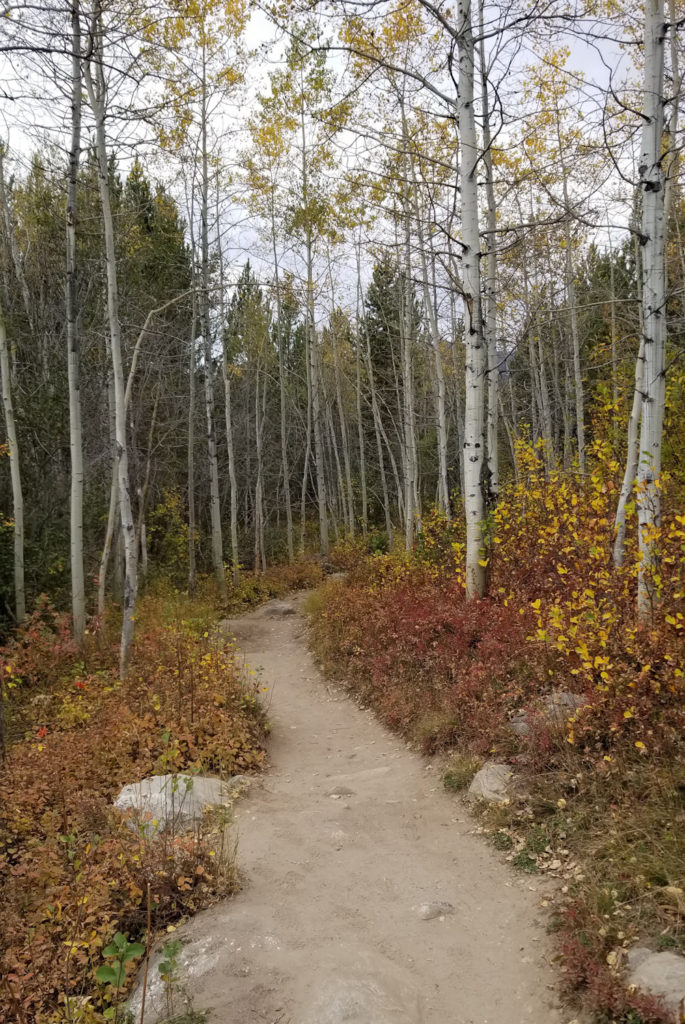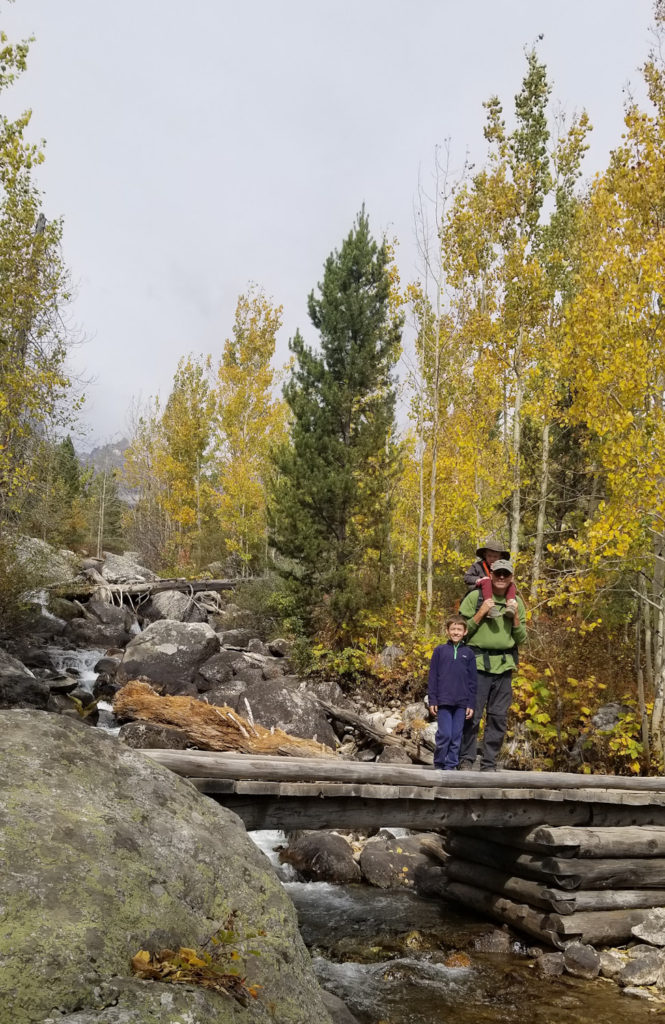 Once again, Forest found bugs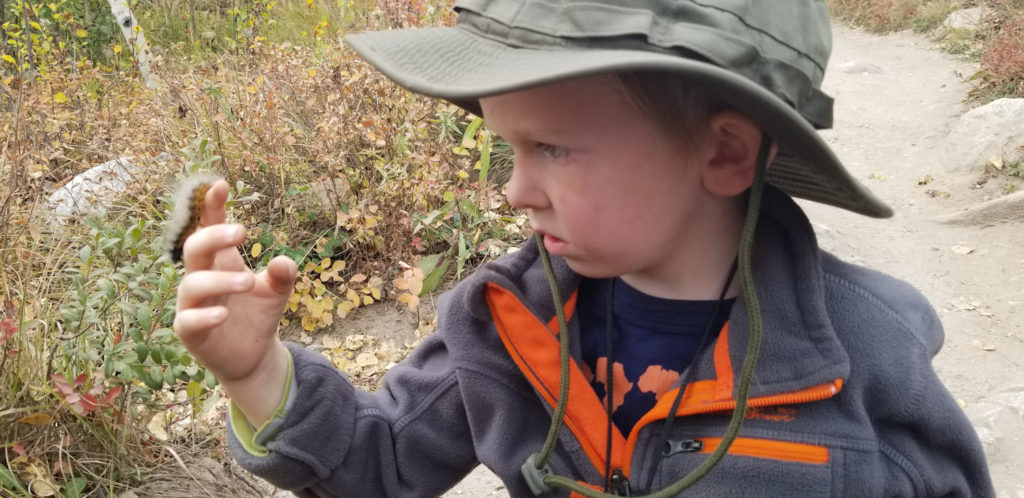 Taggert Lake!
Yes, we carry Forest a lot. That's why I look so tired.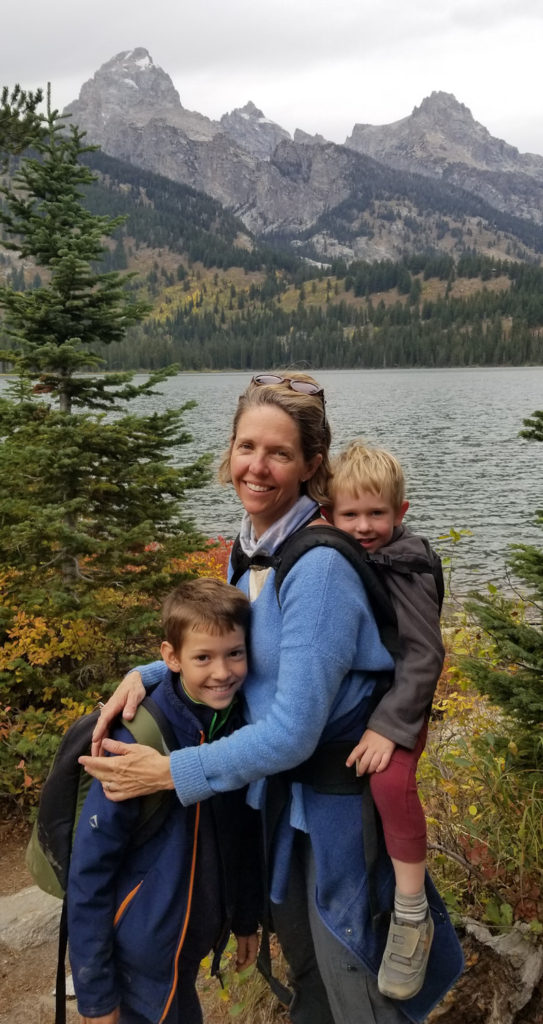 Once we got there, Alan busted out the camp stove and we enjoyed some grilled cheese and tomato soup by the Tetons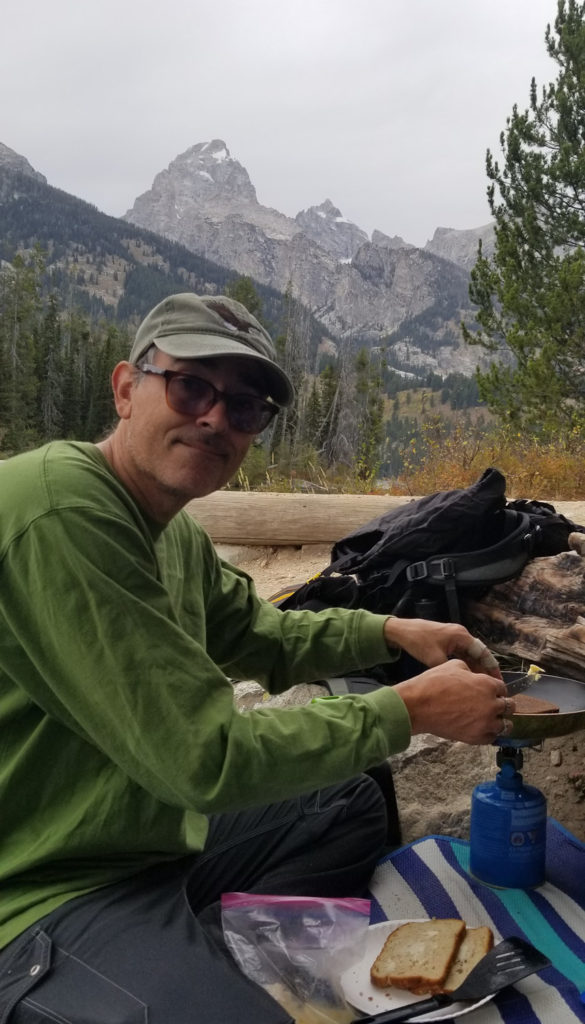 I replicated the photo we took years before with Diego and Harlan…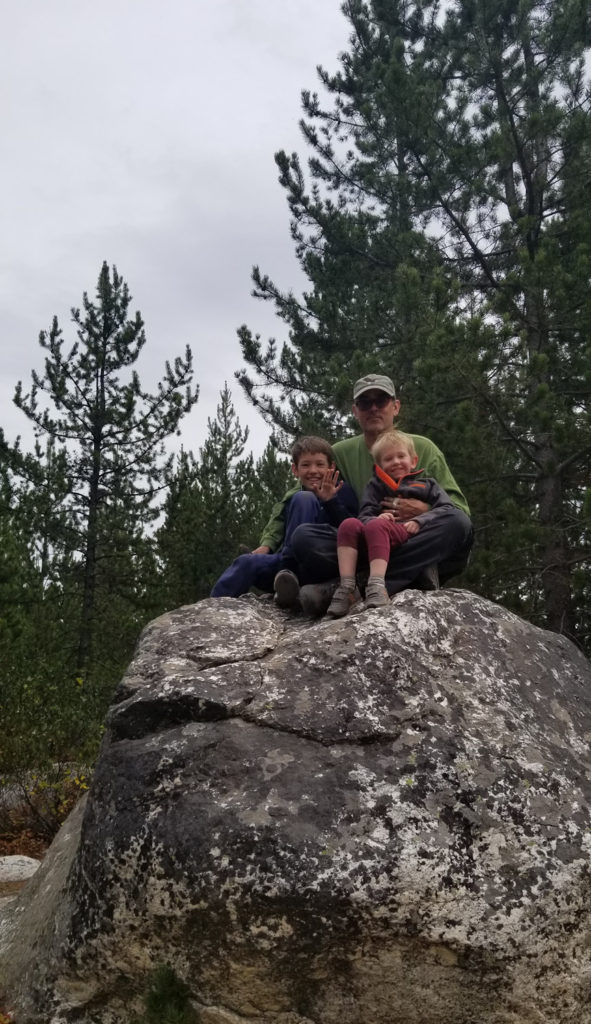 A highlight of the trip to Jackson was visiting with a high school friend that I haven't seen in almost 30 years! She lives in Jackson so not only did we get great local advice, but she pulls up next to our campsite in her "Casita" with her 3 boys, and we camp out together for the night! It was awesome, and my boys were SO happy to have new friends to play with.
Check out Heather's white "Casita" in the background… so cool.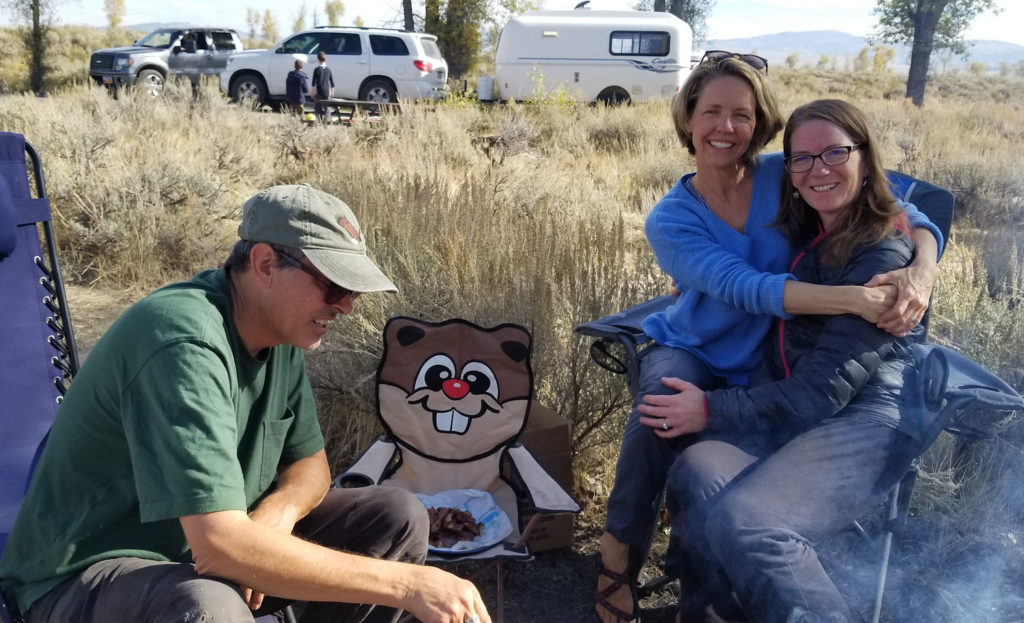 Mountain men in training…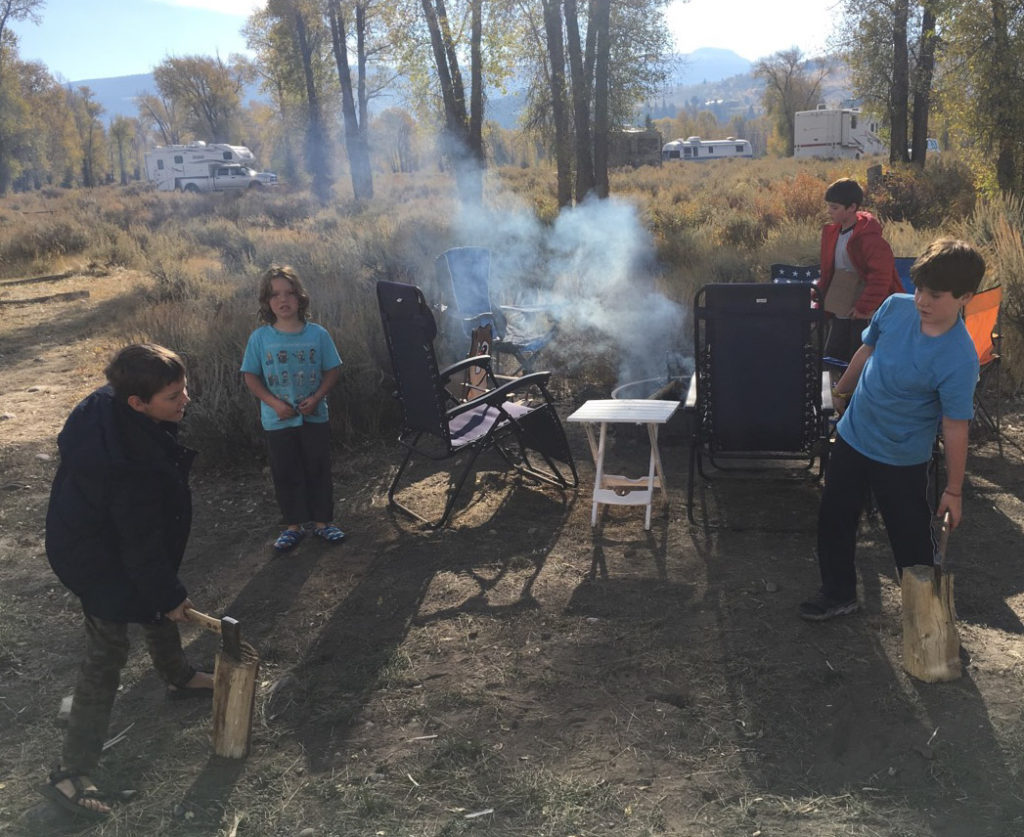 The boys got to hang out the next morning and play games in the rig.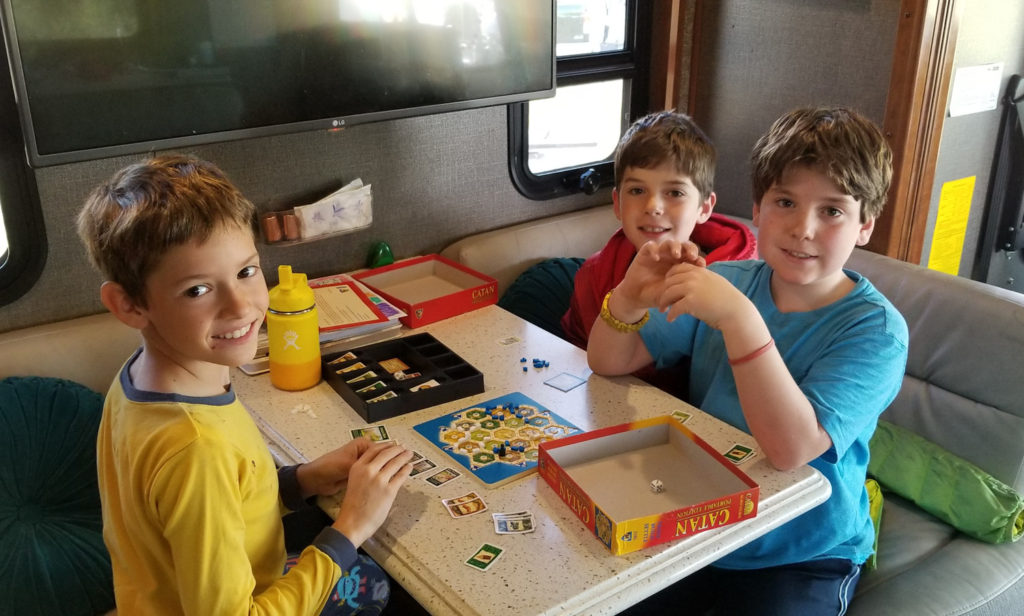 And snuggle up in the "Casita"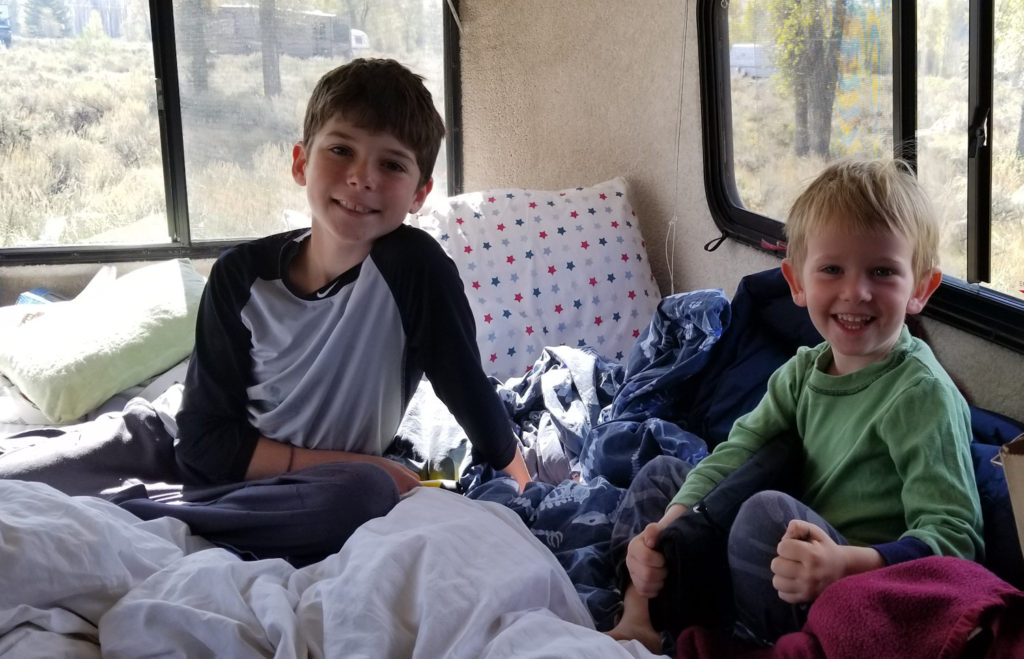 Heather had to leave to continue her camping trip elsewhere, but tipped us off to a really cool hot spring that we checked out the next day.
Hello Granite Creek, in Hobart!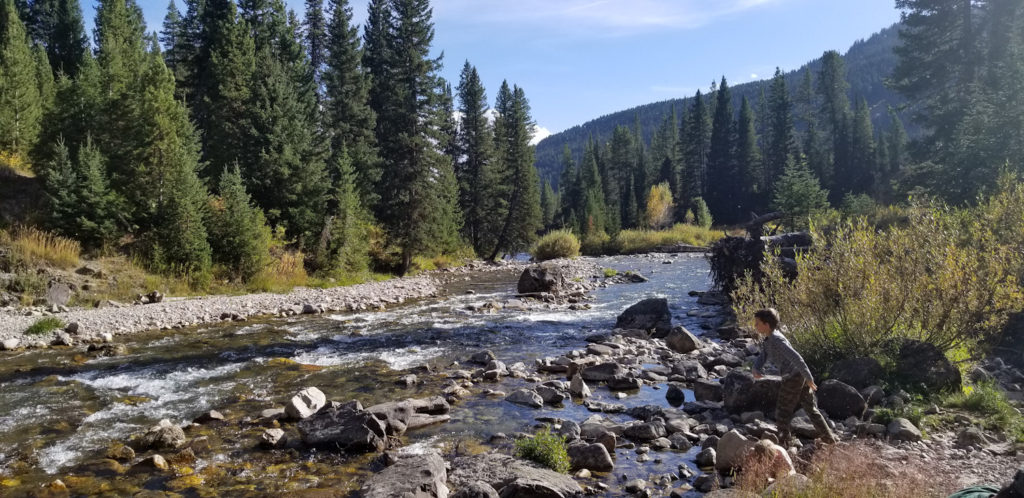 There is a paid facility you can go to to soak in the waters but we hit the local spring that took very specific instructions to find. Not to mention, we had to cross this creek to get to it and it was FREEZING!!!!!
The tiny pool is to the far right of this picture below, in the alcove. Did I mention the creek was FREEZING? And not super shallow. And slippery. And FREEZING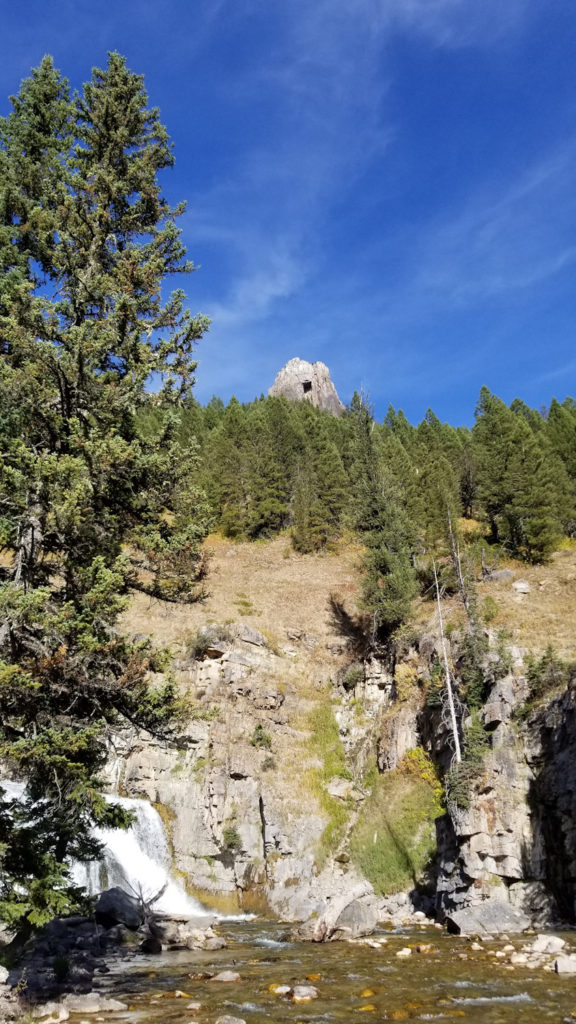 Thank god for hot water. Even if it's a teeny tiny pool.
And what you're not seeing is that I'm standing on a boulder surrounded by leg numbing water, in order to get this picture.  All the rocks are there to keep the cold water from coming in, but the water trickling from the rock was seriously HOT.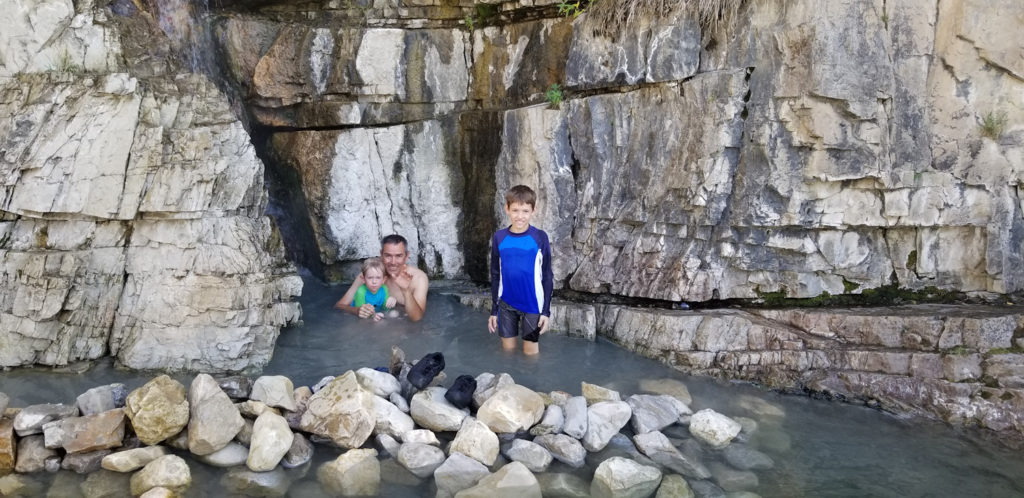 It was definitely a great local adventure
The rest of the visit was pretty relaxed. We need down days, need to run errands, grocery shop, etc… Heather tipped us off to a great local playground where Harlan got his climb on. THIS is how Jackson does local playground…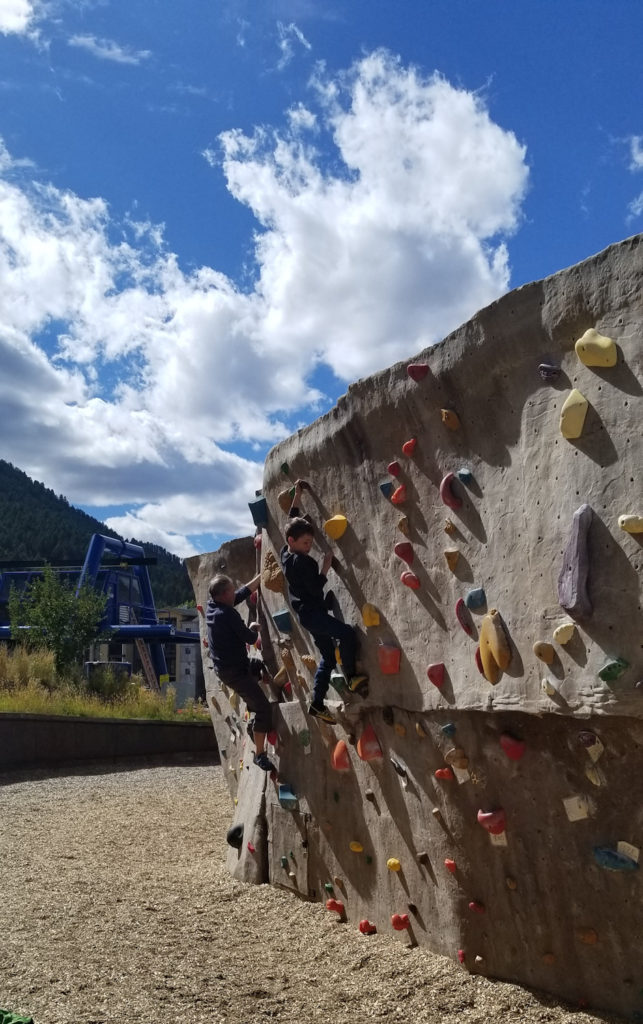 And THIS is how my guys goof off at the campsite.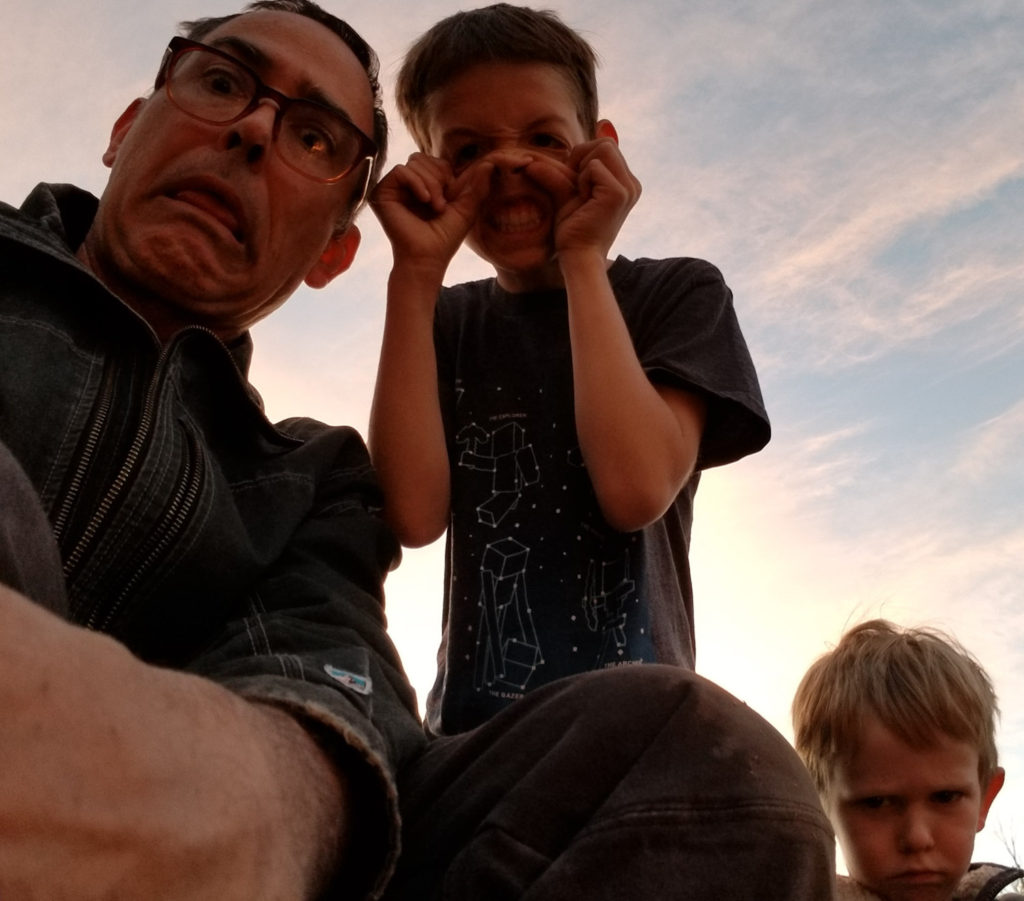 And this is Harlan working on his Ranger book at the beautiful Visitor Center
And this is his brother goofing off while he waited for Harlan to finish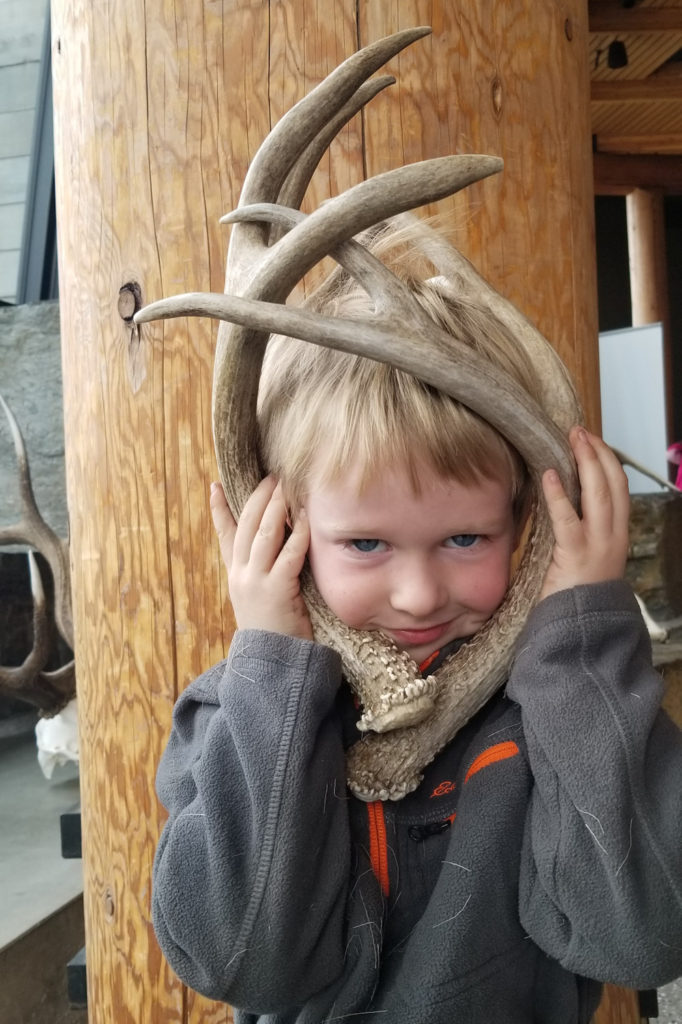 And this is Harlan killing it, getting another badge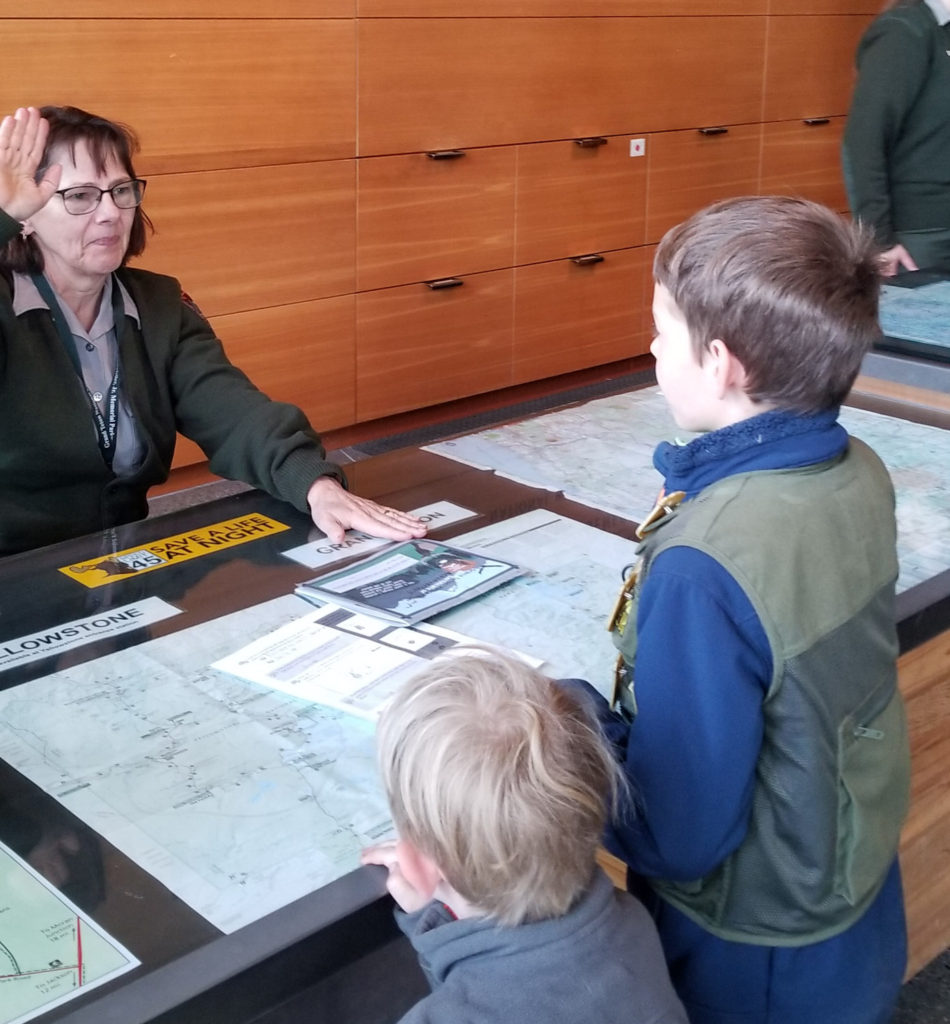 And THIS is how cold it got the day we left…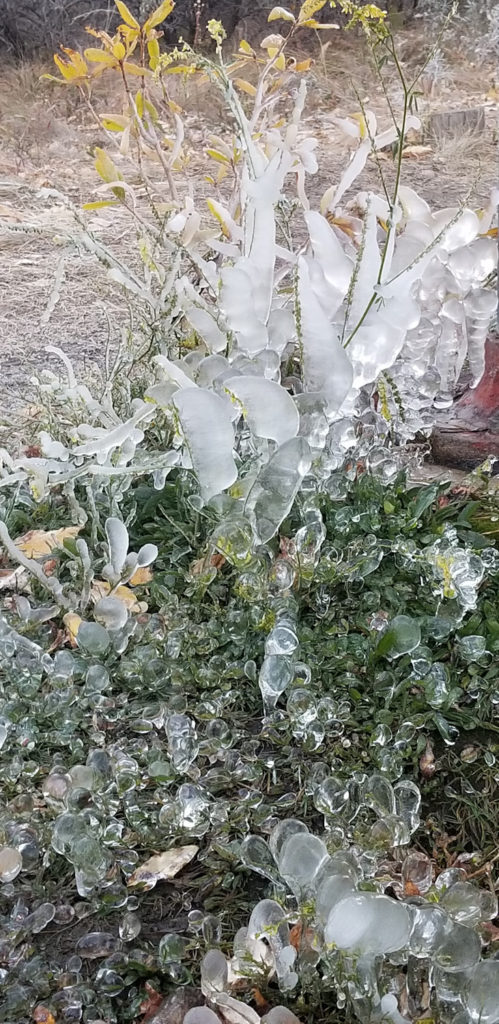 You see, before you leave a campground without hookups you need to dump your tanks. This was probably the prettiest place we've dumped our poop tanks.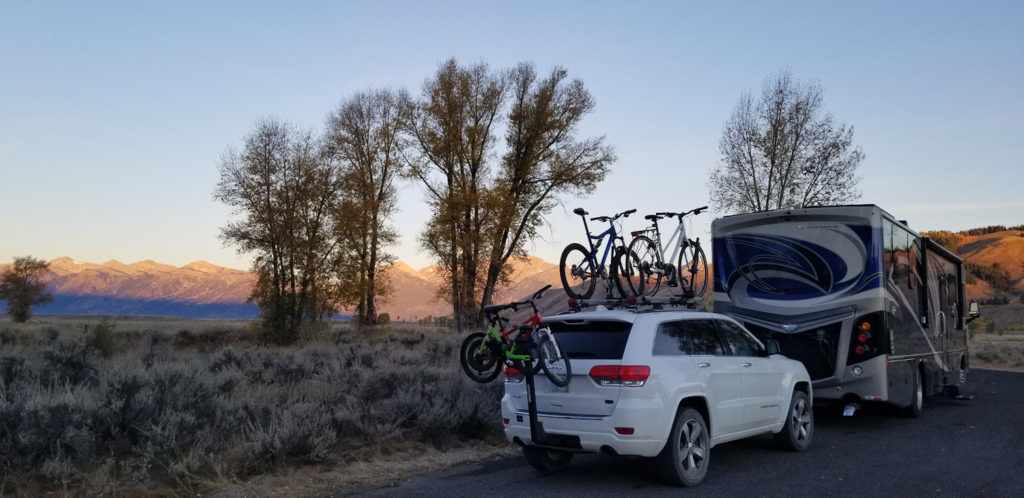 You can see Alan pulling out the hose and the water frozen all around the dump station.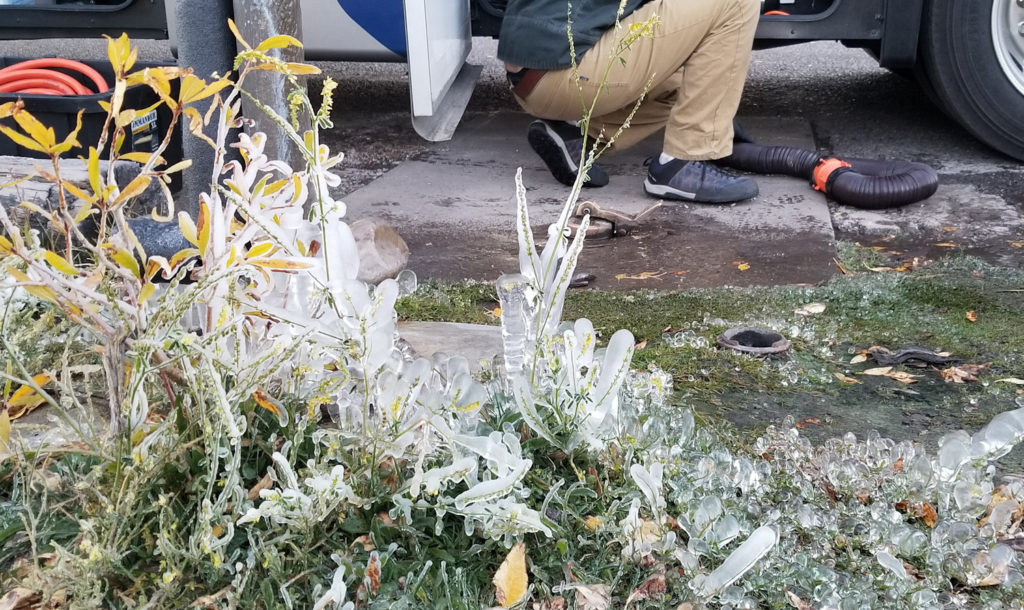 Unfortunately as we left, we hit fires again and drove through an area that closed down several hours after we went through it.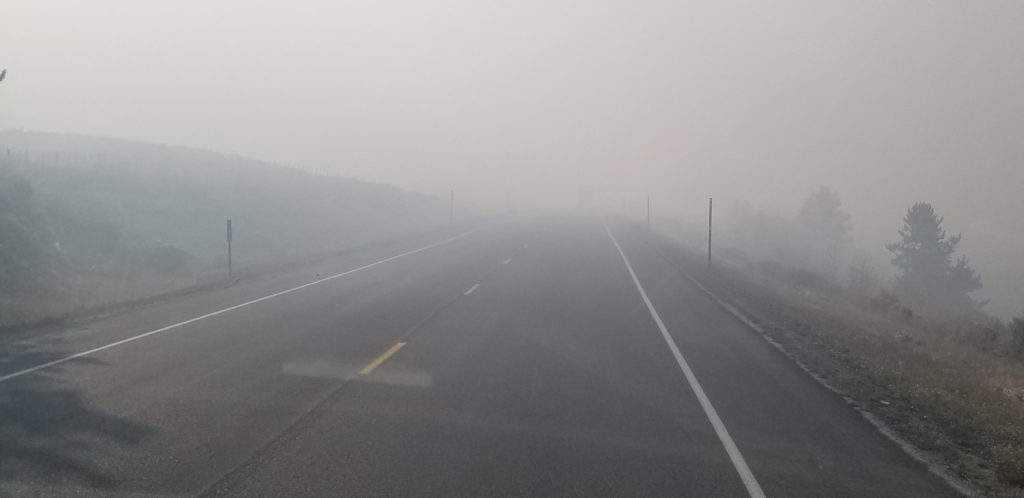 This was the view after we had passed through. Apparently 11 structures were burned. Fire devastation has been unbelievable this year.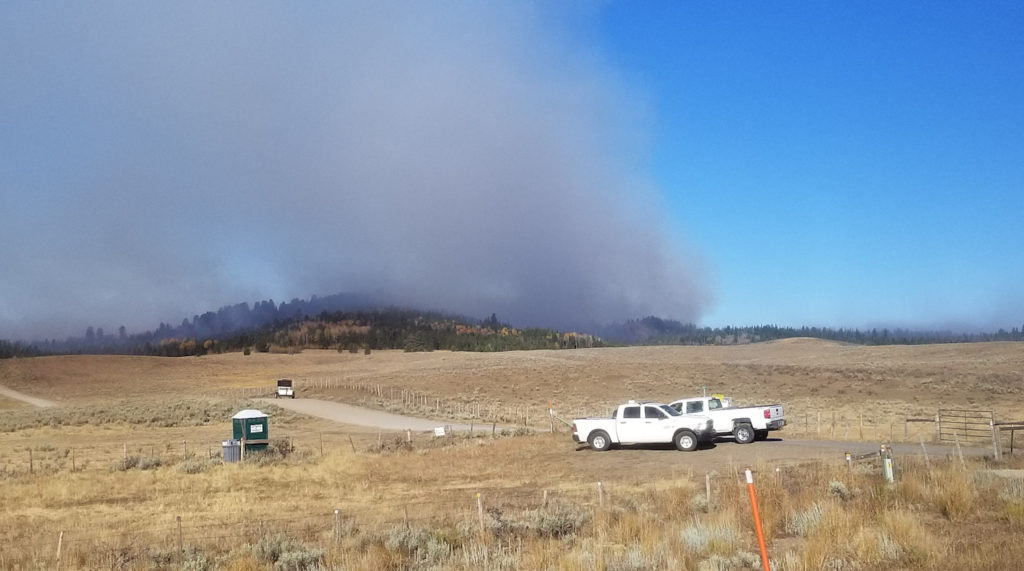 We're off to Rocky Mountain National Park next.
Thanks for coming along.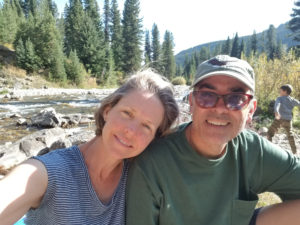 Cheers!