Lassen Volcanic National Park. I had never even heard of it until we started planning this trip, and had no idea it was in California. For one of the least visited of the National Parks, it was quite spectacular and one of the few places on Earth where you can see all 4 types of volcano formations in one place. (plug dome, cinder cone, composite and shield)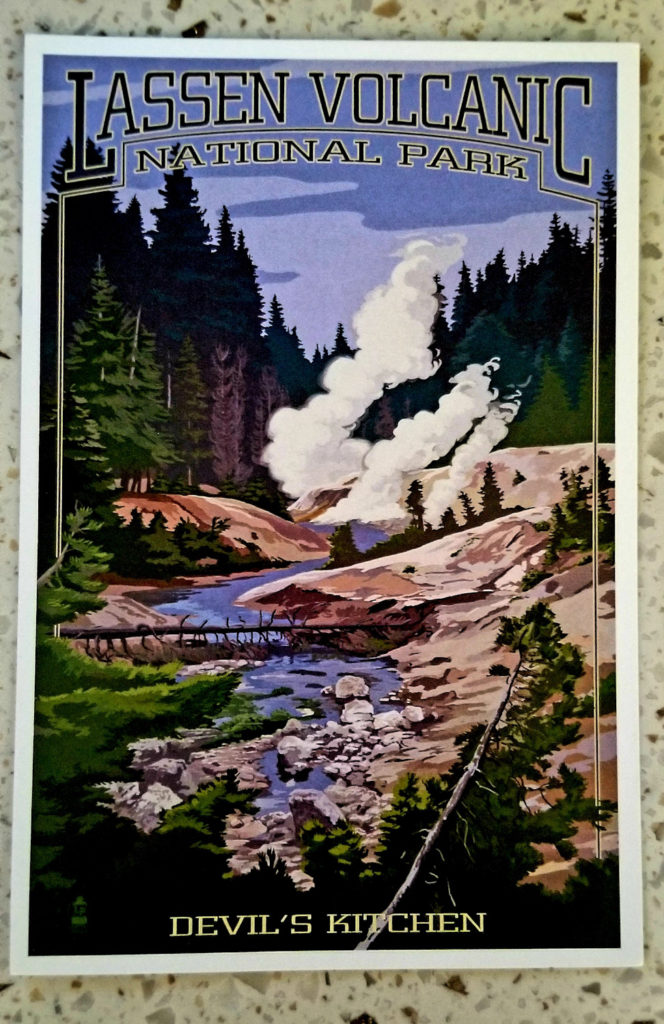 It's out of the way, but so worth it. Not crowded, and so many pristine lakes and creeks, and fascinating geological formations. And it is QUIET. It's hard to find true quiet these days and we found it here.
We stayed at Hat Creek RV park in Old Station California, which also happens to be a half way point for hikers on the Pacific Crest Trail. It was so cool to see these weathered folks coming through the park, on their way to the store to pick up packages, a cold drink or simply a shower. I was fascinated and in awe by these hikers and wanted to hear all their stories.
LASSEN
Our first day in the park was Alan's birthday and he wanted to take the maiden voyage on our new inflatable Kayak.
Hello Manzanita Lake and Lassen Peak
(and this is a mere 5 minutes past the main entrance.)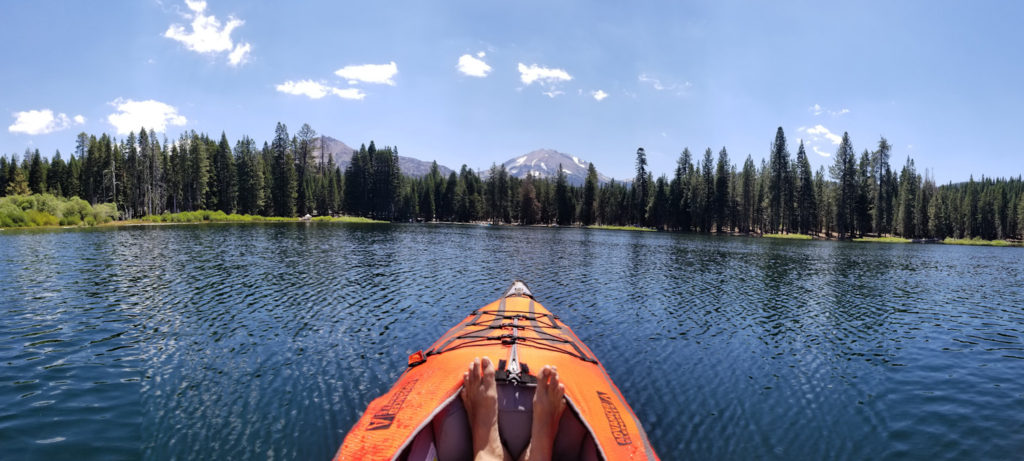 First trip out!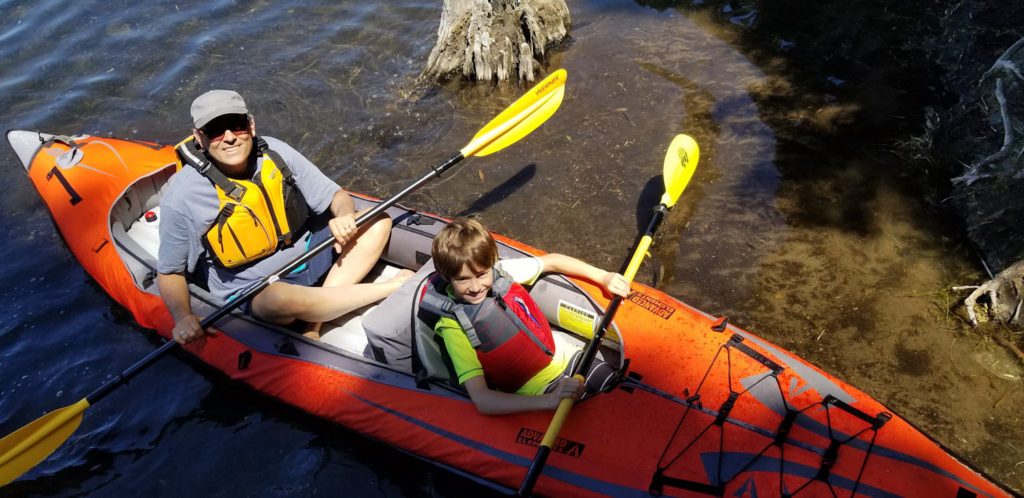 Forest makes some friends while he waits for his turn on the boat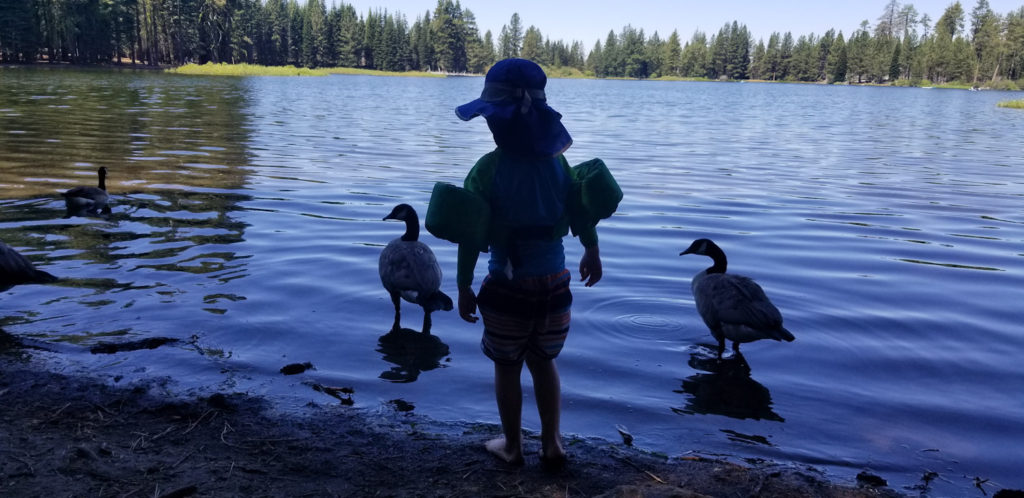 The next day we drove through the entire park to check out it's various features. There were names such as, the area of devastation,  Devil's Kitchen, Sulfur Works, and Bumpass Hell. No joke. That's the last name of the early explorer who literally stumbled upon the geothermal features in the 1860's by stepping into a boiling pool and burning his leg. Unfortunately, the Bumpass Hell trail was closed due to renovations, so we had to skip it.
From our Drive through the park…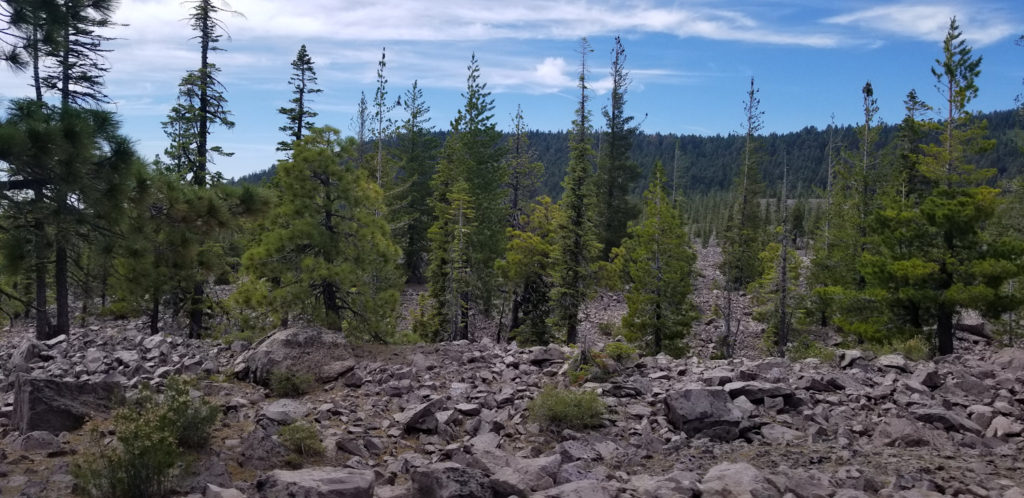 "Chaos Crumbles"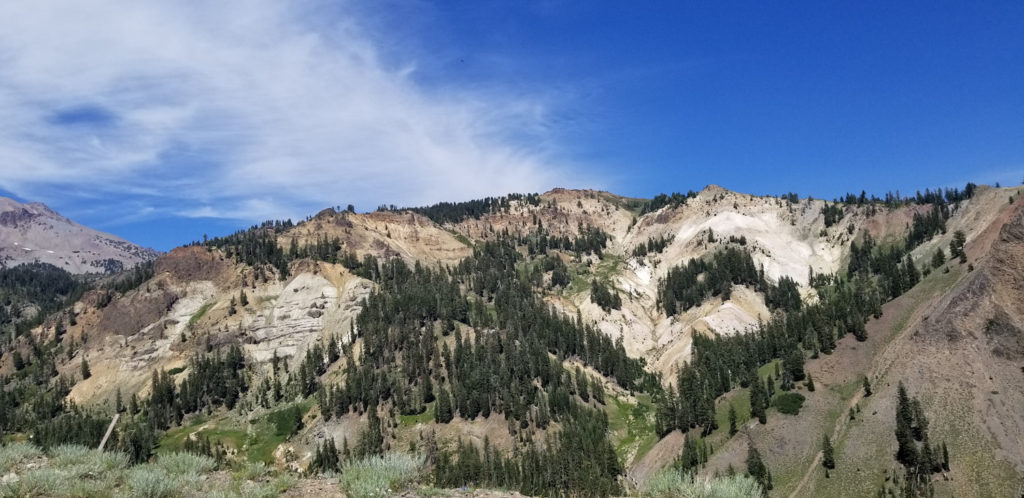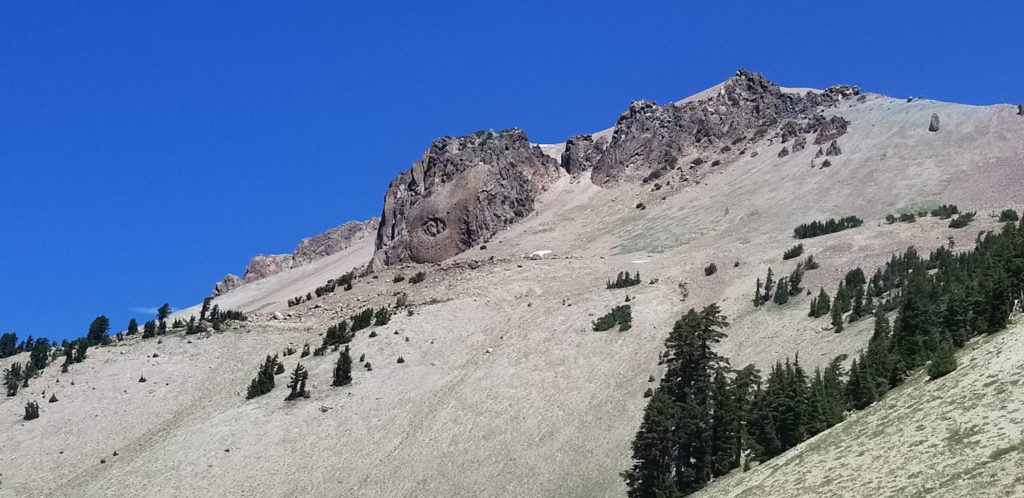 Backside of Lassen Peak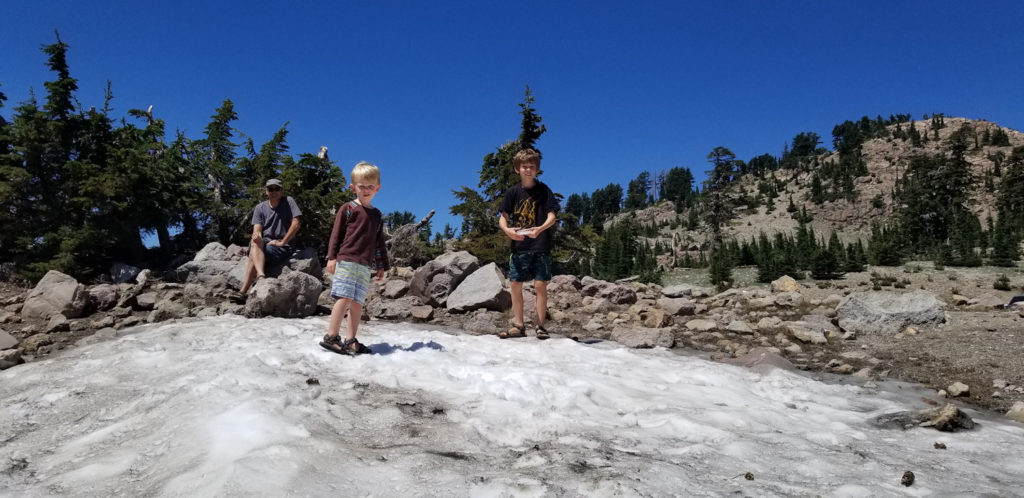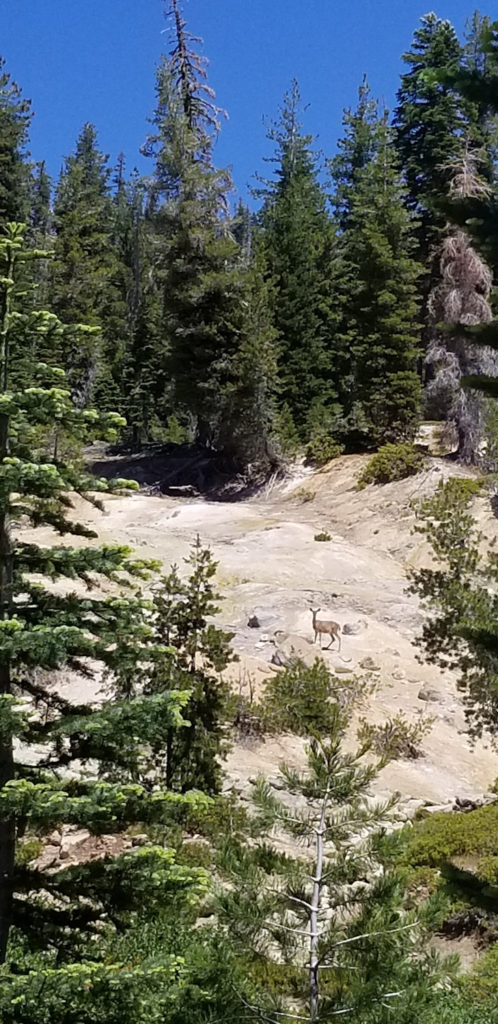 Deer at Sulfur Works. This deer is climbing about 30ft above boiling mud pots.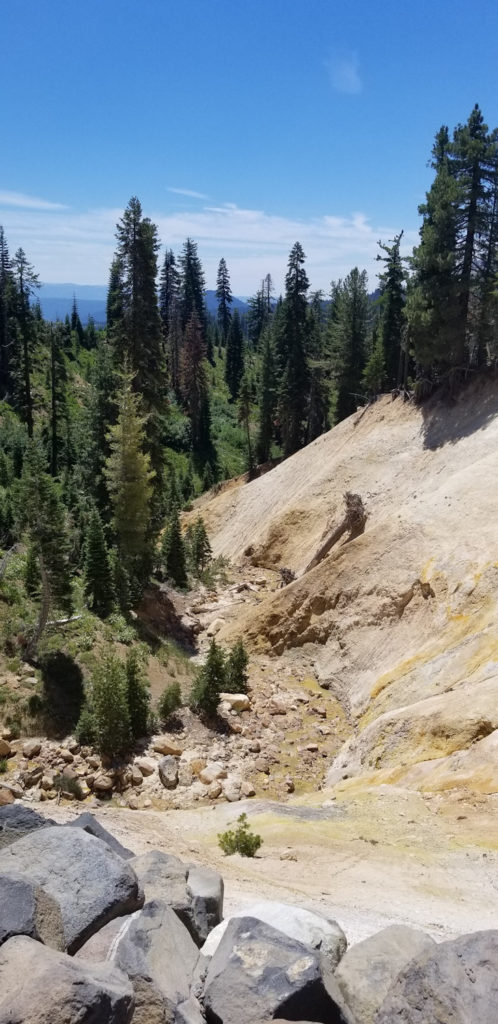 Another View from Sulfur Works. You can't tell, but there is boiling water down there and steam vents at the bottom. The yellow discoloration is from the sulfur.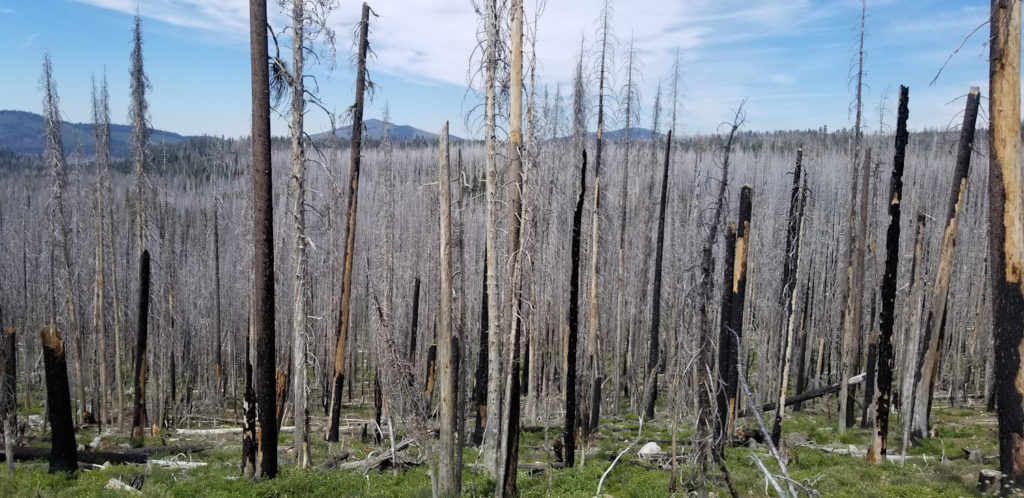 burn area…
Outside of Lassen park are many other beautiful and interesting features. Since it was his birthday, Alan wanted to cap it of by visiting the Subway Lava Tube, and fish on Hat Creek which runs through the area.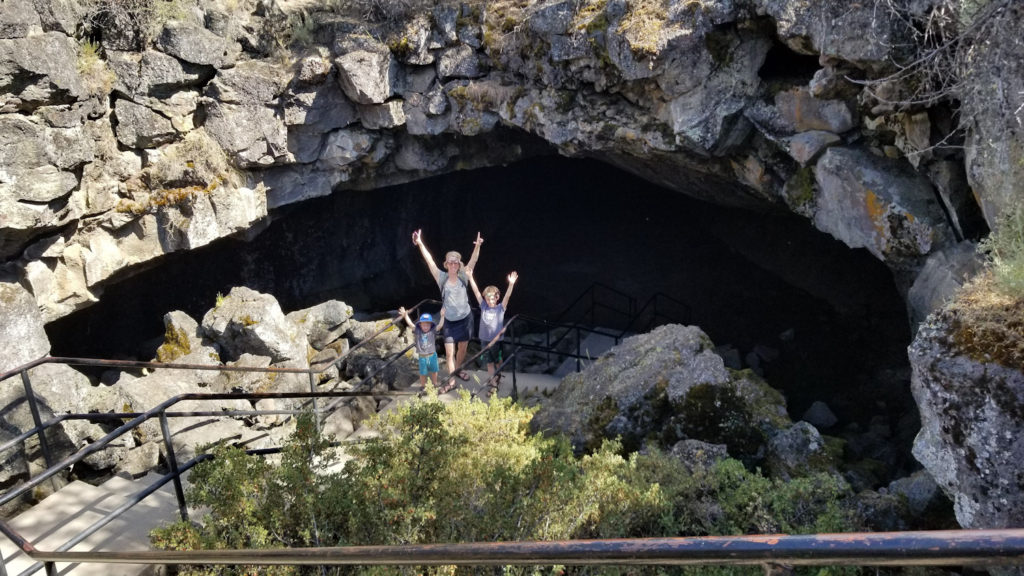 You don't need to go to Hawaii to see some awesome lava tubes, folks.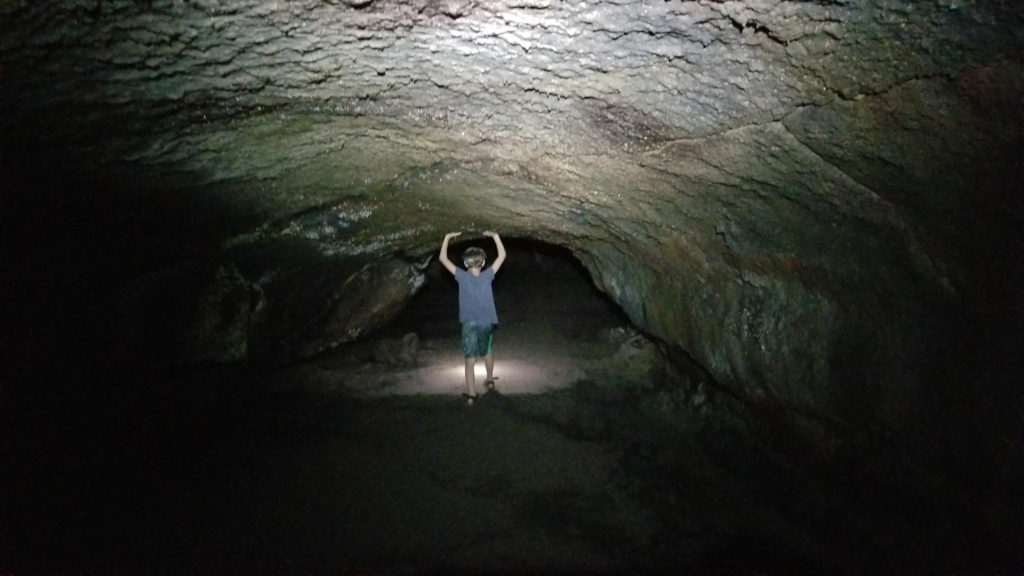 Fear not… it wasn't that low the entire time.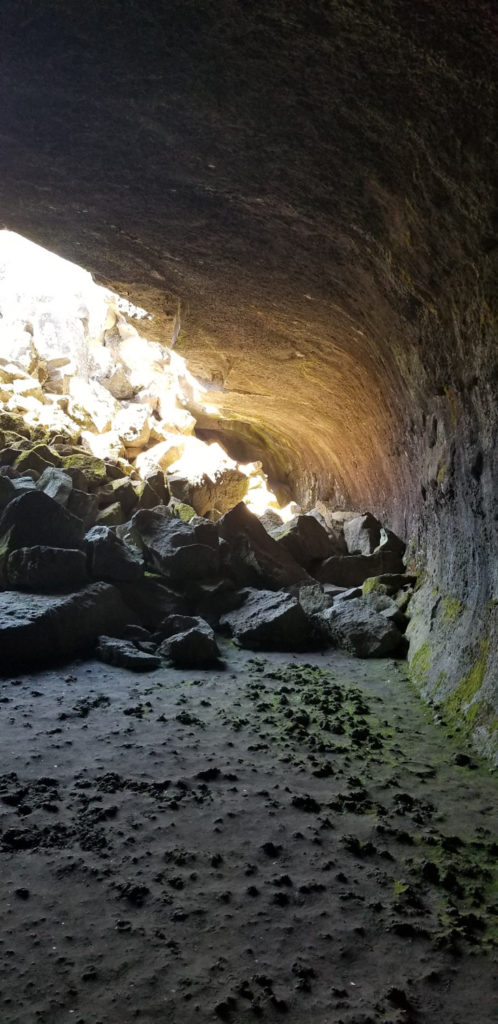 Best thing about a lava tube? When it's 100 degrees outside(which it was), it's a cool 58 in there. We didn't want to come out.
Then, for more birthday extravaganza…. fishing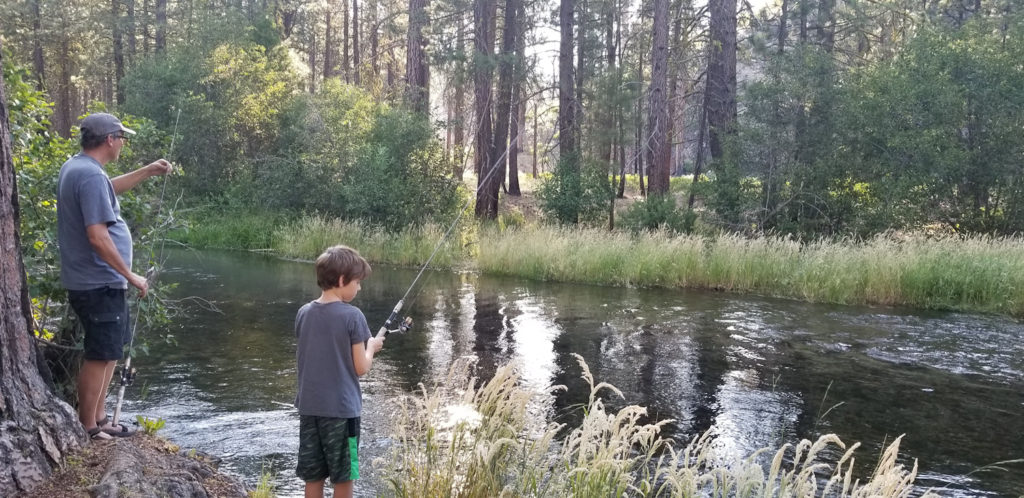 Hat Creek is cold, pristine and FULL of trout that we didn't catch.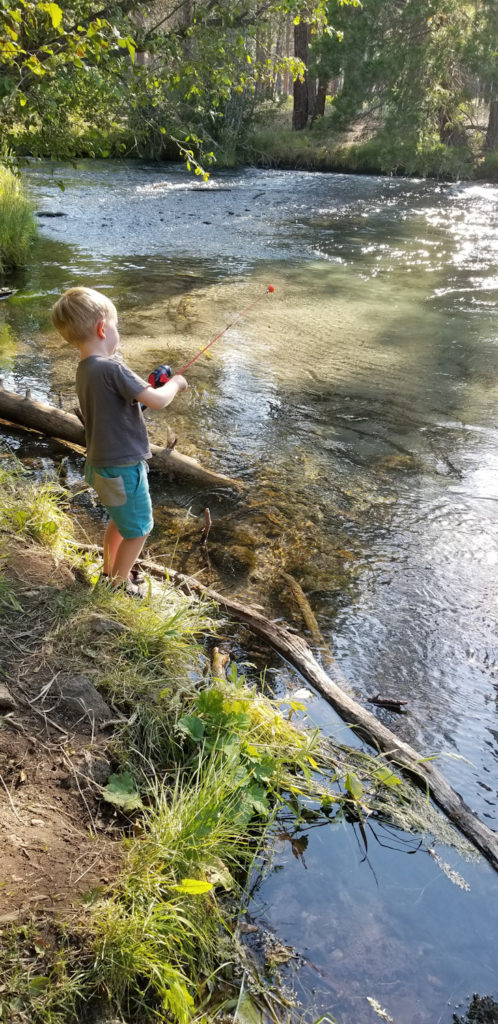 BUT… that didn't stop Harlan. He's caught the most fish out of anyone on the trip so far!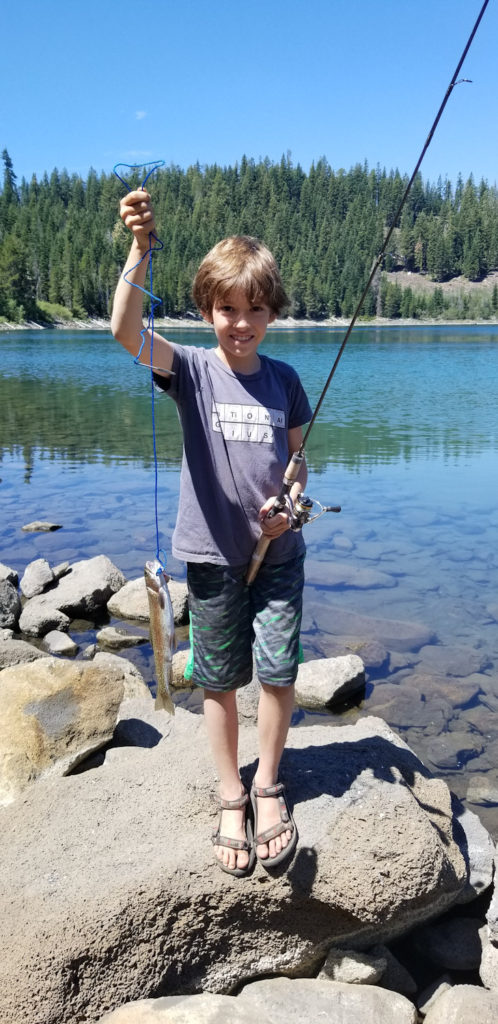 First trout at Crater Lake. Not THE crater lake, but that's what it's called. And it is a crater. Just much smaller.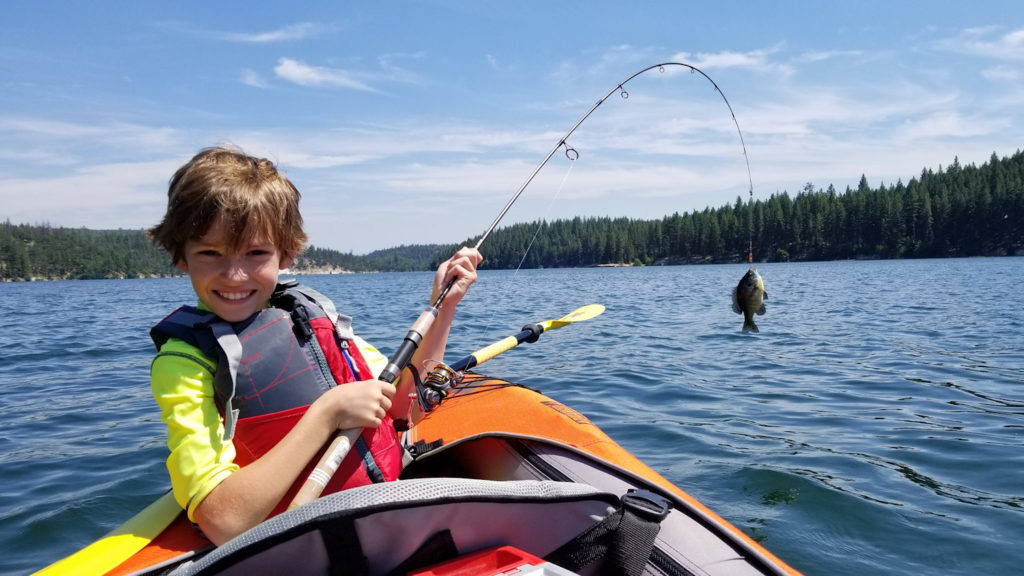 And another one, on Lake Britton! The water was so nice.
Another beautiful local spot we visited outside the park was Burney Falls. It was so hot out we wanted to swim, but descending into it was like descending into an ice box! The beautiful water is a consistent 48 degrees, so no.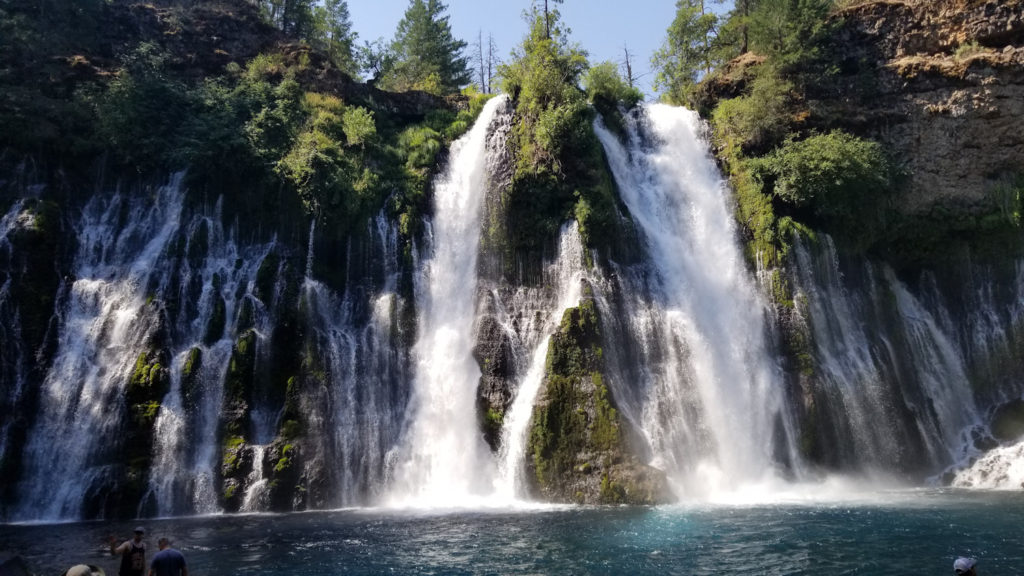 It's so blue, you just want to go in, but even the mist is freezing.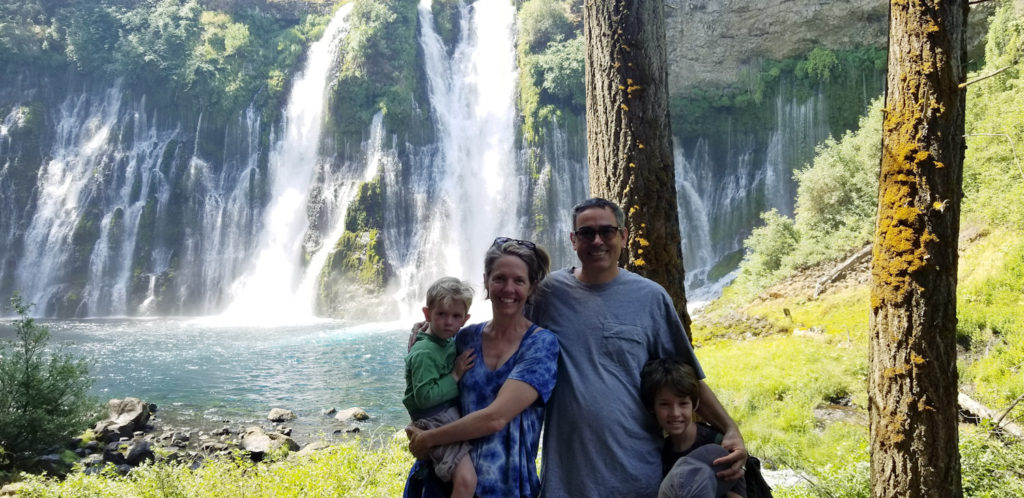 Looks nice, right? Still freezing.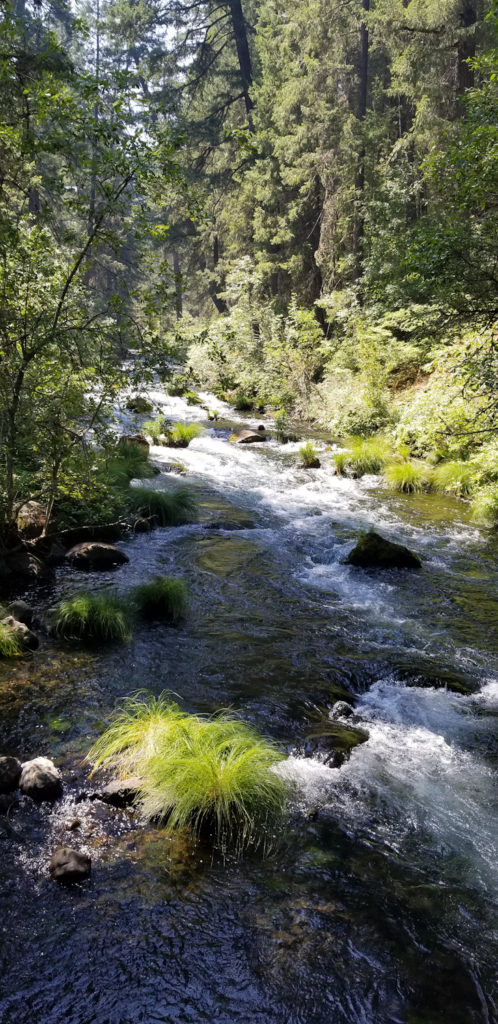 The beautiful river from the falls.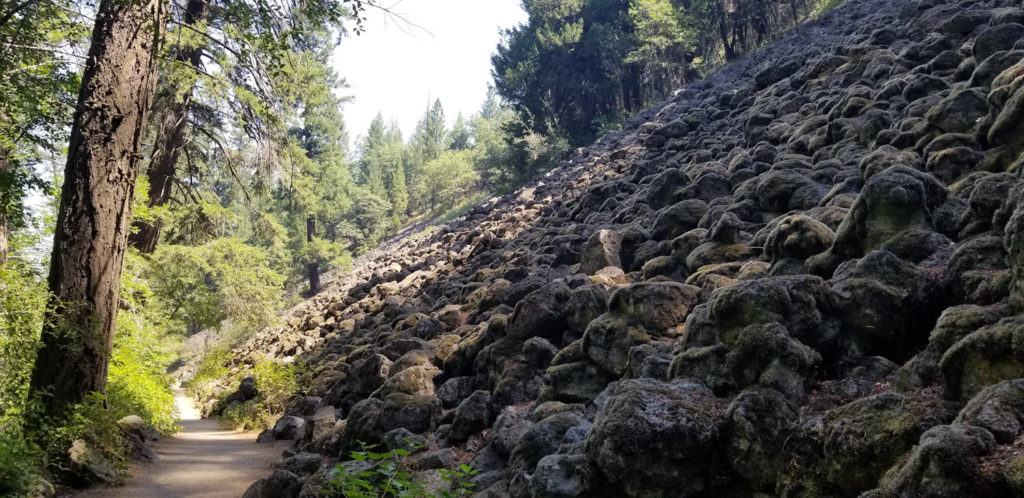 This wall of Lava is right next to the river. It was weird because everything was lush green up to this point, then this.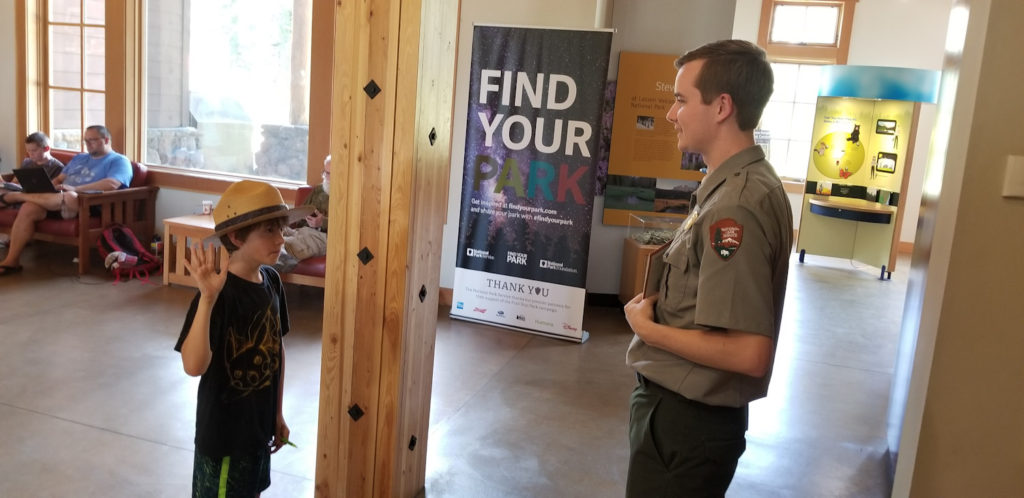 By the end of our stay, Harlan had earned his Junior Ranger Badge for Lassen. Way to go kiddo!
I know this is a long one but in case he's reading this, we have to give a BIG shout out to Nick… the AWESOME manager at Fedex in Redding, CA who PERSONALLY drove our package out and hand delivered it to our campsite, when the driver was unable to complete his rounds. An HOUR away. On a FRIDAY EVENING.Thank you Nick. You went above and beyond!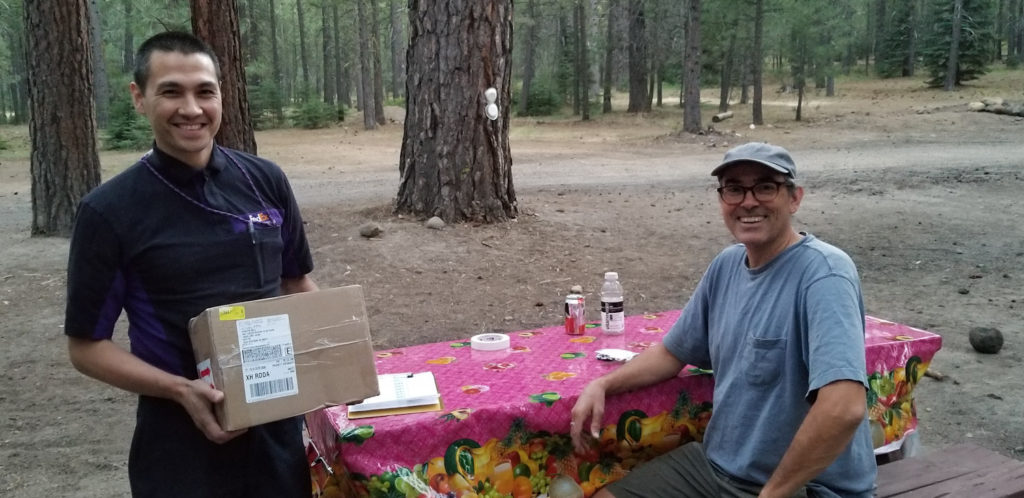 So that was Lassen. Hope you enjoyed the pictures from this beautiful part of the country. Another one down, another glass of Scotch.
Cheers!